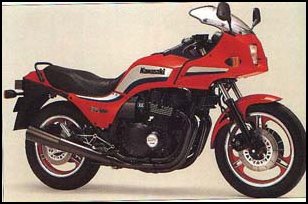 This is a Uni-trak GPz750, designed and manufactured in the early 80's by Kawasaki. These bikes became class leaders in thier time. By todays starndards thier a bad handling pig with one redeming quality there engine, its basically bullet proof.
I own a 1984 GPz750 A2 in silver.
I decided that the handleing needed sorting and I wanted a better choice of tyres, out came the Hacksaw and the angle grinder!.
Off I went to the Breakers and came back with a set of forks, yokes, front wheel and calipers off a ZZR1100 C1, to make that lot fit I basically had the yoke spindle punched out and machine to take the smaller GPz roller bearings. Bolted it all up and put the front wheel in NICE NICE!
Off to the breakers again for the Handle bars, ZZR1100 risers and ZZR600 bars, ZZR1100 front master cylinder, lever and and switch gear, ZXR400 clutch lever in ZZR600 mounting and ZZR600 switch gear.
Next came the back end, off to the breakers again, and I came home with a ZZR600D1 rear wheel, caliper and mount, ZR750 Zephur sprocket carier, to make this lot fit I measured all up! and done a bit of guessing and then went and got the caliper mount machined down and the sprocket spacer carrier spacer machined down. I hade to remove the chain guard inner lug, out came the grinder! You'll also notice I spun the chain adjuster upside down.
I kept all the original body work with the addition of a GPz1100A1 belly pan and the ZZR1100 front mud guard.
Go take a look in the gallery and the GPz you'll be surprised at how its changed the bikes character! You'll also find pictures of a Modified 750 Turbo, and my other to a SR650.
Next on the list is to mount the clocks up and fit a set of idoit lights off a ZXR400L. Convert the chain from a 630 to either a 530 or 525, depending on what rear sprocket I use and to also fit a rear shock of a ZX6R G2 so I can have full pre-load and rebound adjustment.
I haven't decided wha set of foot pegs and hangers to fit yet, bear with me for that one.
Take a look around you'll be surprised how easy it is to make a older bike look more modern, look nice and hopefully HANDLE!