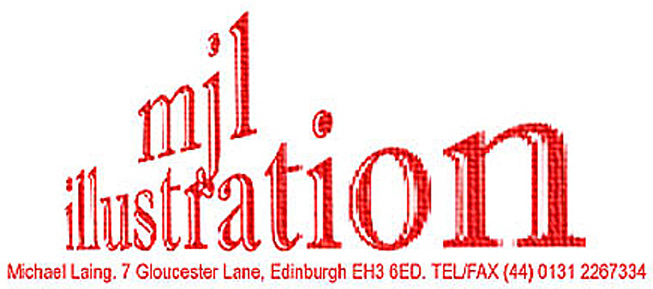 I, Michael Laing, am a graduate of Duncan of Jordanstone College of Art, Dundee, Scotland, where I studied Drawing and Painting. Since graduation in 1996 I have had five exhibitions of my work. My main interest is in figurative work whether it is from life or imaginary. I believe that I possess as strong style together with confident composition, creating powerful imagery. I am interested in undertaking commissions, either commercial or private. If you would like to discuss it further, then please do not hesitate to contact me.
Moving Torso. 1997.

Oil on Paper:

My obsession with movement resulted in this recently created image based on life studies.

Portrait of a Young Woman. 1996.

Oil on board:

This is one of my more intimate head studies and reflects the familiarity with the sitter.

Shapes in Life. 1996.

Oil on board:

This complicated and somehow humorous study involves bringing together Still Life and Life, which have always been represented historically as separate images.

The Pianist. 1995.

Oil on Canvas:

Music and Art have always had close assimilation's, but never more so than in this dark study of a pianist in which the predicament of the artist is also reflected as he creates in complete isolation.

Head II. 1996.

Oil on canvas:

One of my personal favourites. Head is a study into the subject of Auras and the vibrations of colour and mood which are emitted in the human condition.

Head III. 1996.

Oil on canvas:

In the third in the series the tension is created by the unusual composition.

Head of a Pianist. 1996.

Acrylic on Canvas:

While working with paint in the animation process, this image came about. The paint has been applied sparingly, with no more than three colours creating the whole painting.

Artist in Studio. 1997.

Oil on canvas:

Every artist tries to create paintings which evoke the mood of the sitter. This is not so much a portrait as a characterisation.

Lily. 1998.

Oil on canvas:

Seeing nature in unusual perspectives have always facsinated me. Especially in this close-up view of a Lily.

Cyclamen. 1998.

Oil on canvas:

This is slightly unusual in it's use of a vibrant orange to create a negative space. The petals almost take on human attributes of form.

Cyclamen(detail). 1998.

Oil on board:

A close view of the previos painting reveals more clearly the animated forms.

Stargazer Lily. 1998.

Oil on Canvas:

Creating unusual composition comes from the study of Classical painters. Intrigue is created by that which we cannot see.

Freesia. 1998.

Oil on canvas:

When I painted this image, I wanted to paint colours which can create vibrations of our senses. I was influenced by such painters as Tiepolo.

Peace Lily. 1998.

Oil on canvas:

This painting for me is very symbolic. It is a personal attempt to try to bring the viewer back to understanding the beauties of nature.