---
Gaz's AMC Javelin page...
---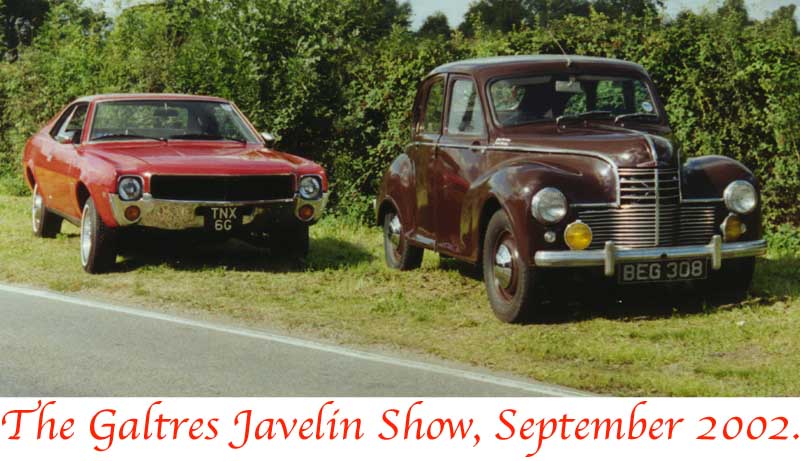 Spot the difference! Both are Javelins, and I've lost count of the number of people who've come up to me and asked if mine is the other one! Still, it's good that they remember either of them I suppose, they're both pretty rare. The car on the left is a 1969 Rambler Javelin, and on the right a 1953 (I think) Jowett Javelin. Exact details to follow, when I get them! The photo was taken at the 2002 Galtres Javelin Show, held on the outskirts of York for about 10 minutes one nice, sunny Sunday afternoon, with a total attendance of 3. Got to start somewhere! ...
---
1969 AMC/Karmann Javelin SST 79K
232ci (3.8l) I-6

Javelins

were made by the American Motors Corporation (AMC) between 1968 and 1974, their rival to the Ford Mustangs, Chevy Camaros, Pontiac Firebirds, Dodge Chargers and other similar "muscle" cars of that era. They were (still are, if you can find one) very nice cars, but didn't sell as well as the others just mentioned for various reasons, the main one being that AMC were a relatively small, independent manufacturer, with a history of making less sporty cars under the Nash and Rambler names, and this was a gamble to take on the big names in the muscle car market.

AMC weren't the only ones to have made Javelins over the years though, the name has been used on a variety of vehicles. The following table shows a few interesting details of the five that I know of (please let me know if you can fill in any of the gaps!)...
AMC Javelin
Jowett Javelin
Mazda Javelin
Dennis Javelin
Gloster Javelin
How they
compare...
Made in
1968 - 1974
1947 - 1953
1988-ish
1994 - 1997-ish
1951 - 1958
Engine size
3.8 litre (232ci 6cyl)
to
6.6 litre (401ci V8)
1.5 litre (1486cc 4cyl)
1.3 litre (1324cc 4cyl)
8.3 litre (6cyl)
(Cummins turbo diesel)
Twin Armstrong Siddeley
Sapphire Jets
Power
330 bhp gross / 255 net
50 bhp
66 bhp
211 - 240 bhp
16,000 - 24,000 lbs thrust
Torque (ft.lbs.)
430 gross / 345 net
76
76
560 - 645
(n/a)
Top speed
120mph
80mph
99mph
76mph
610mph
0-60mph in
6.9 s
23 s
12 s
?
?
Quarter
14.6 s / 97mph
22.7 s / 59mph
?
?
?
Fuel usage
13-20mpg
30mpg
36-51mpg
10mpg
1mpg
Weight
3,430 lbs. (1.53 ton)
2,156 lbs. (0.96 ton)
1,925 lbs. (0.86 ton)
10,769 - 11,625 lbs. (5 ton)
39,500 lbs. (19.7 ton)
Length
15'11" (4.85m)
14'0" (4.27m)
12'9" (3.90m)
36' (11m) - 40' (12m)
56'3" (17.1m) - 59'11" (18.3m)
Despite being more than an adequate match for the other similar cars, and winning the 1971 SCCA Trans-American Road Racing Series, low sales figures and the fuel crisis of the early 70s signalled the end of the road for AMC. The Javelin disappeared in 1975, leaving AMC with only a few smaller cars in their range, until in 1979 Renault bought AMC out.
Still, a fair few Javelins were built (approx. 215,000 over the seven year production run), some even made it to England to be sold as "Rambler Javelins", and in knock-down form to Karmann in Germany and AMI in Australia, to be built and sold there. There are still a few around! However, tell most people you drive a Javelin and the usual response is : "Oh, a Jowett?! I remember those - years ahead of their time, lovely old cars..." etc., then you spend the next ten minutes trying to explain who AMC were, never mind what cars they made ("Is that Ford then, or Chevrolet?", etc.!). Understandable, all things considered, but hopefully they will read this page and become enlightened (well, at least they'll know what one looks like)!
---
The Gaz+Liz Javelin Gallery...
| | |
| --- | --- |
| | Most of these are our Javelins at various times over the past more-than-I-can-believe years. The yellow one is the 1969 Karmann Javelin I bought in 1987 and had resprayed purple in 1992. It was laid up in 1996 after a tour of Sweden and Norway, taking in the SARS Euromeet in Skara (central Sweden), and making it all the way back again (via Scandinavian Seaways ferry) without any major problems. Currently a variety of colours (although mainly purple still) and undergoing protracted rust repairs prior to another respray, final colour scheme not yet decided. |
| | |
| --- | --- |
| The red one is our second one, a UK model (RHD) Rambler Javelin, also from 1969. It was even more rusty than the first one, so drastic measures were called for, and rather than spend a fortune on fabricating just about the entire body from new sheet metal and welding it all together, we managed to find a donor car with a solid shell and body but worn out everything else, and swapped all the good bits (running gear, suspension, engine, interior, etc.) from ours into that. Thanks to Auto Services Colne for all their hard work in doing that! Still not convinced it saved us any money actually, but the end result is rather nice. | |
| | |
| --- | --- |
| | This was resprayed as near as we could find a match to the original AMC "Matador Red" (actually Honda Sicilian red metallic, but don't tell anyone!). Now back on the road after I finally sorted out some requirements such as fitting and wiring up all the lights, new front brakes, refitting the interior, and fixing the broken gear shifter and windscreen wipers. Got it through its MOT in August, sorted the odd rattles and squeaks, now running smoothly and a pleasure to drive! |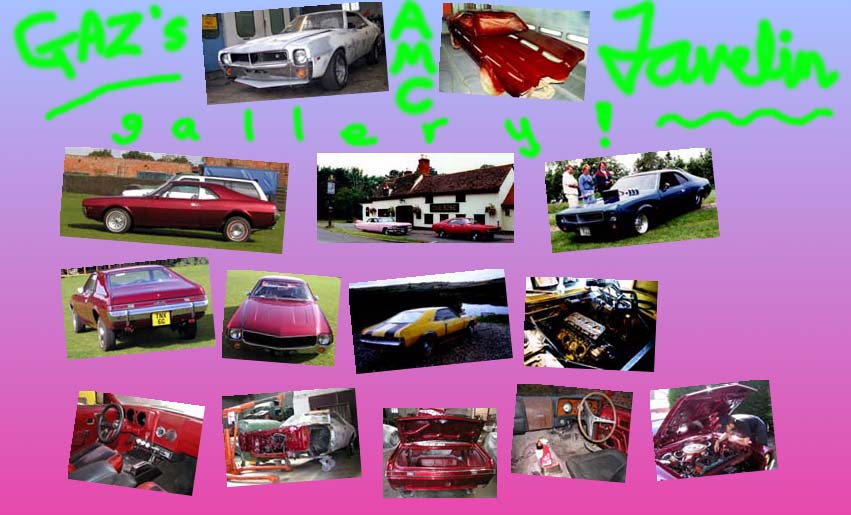 ---
---
---
Web design by ME on an Apple Mac using Adobe Photo Deluxe/Photoshop Elephants for the pictures, BBEdit Lite for editing html, & iCab web browser for testing.
Want something similar but don't know how to do it? I might be persuaded to design something for you for the right price!
For contact details see my home page.
Last update : 8th April, 2006.
---