Graham's Third World Page - Especially CAFOD
---
This page was last updated on the 4th January 1997.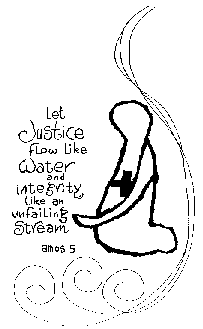 Welcome to Graham's Third World Page. Here you will find info and links on CAFOD, other Third World Development agencies and related links.
---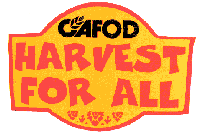 Harvest Fast Day
Last CAFOD Supporters raised £450,000 for Harvets Fast Day, which focussed on the suffering in Sudan.
Stop Child Sexploitation
The first World Congress against the Commercial Sexual Exploitation of Children took place in Stockholm last August. 1,341 people from 132 countries attended this unique event, including representatives of 119 governments.
A Declaration and Agenda for action was unanimously adopted, committing each country to introduce measures to help end the sexual exploitation of children, a highly organised and rapidly growing industry.
The congress followed a major victory for CAFOD and other agencies who successfully lobbied for the introduction of laws to prosecute British Citizens who abuse children overseas.
CAFOD's Monica Dolan, who attended the Congress said "Britain's signing up to the Agenda for Action puts this country firmly on the side of the world-wide efforts to protect children"

---
Shoe Mountain
A 1.5 ton mountain of shoes appeared on the steps of St Martin-in-the-Fields in Trafalgar Square in October, at a vigil for the 26,000 annnual victims of landmines.
In a continuing campaign to ban landmines worldwide, organisers including CAFOD built the shoe mountain tp represent the massive loss of lives and limbs to these terrible weapons

---
CAFOD Official Home Page
CAFOD Diary of Events 1997

---

UK Aid Budget - Support is Needed


Last year the aid budget was cut by 5.4 percent.... £124 Million. The UN recommended level which Britain has pledged to achieve, is 0.7%. In the November budget, the British Government cut overseas aid by £180 Million. CAFOD is now putting pressure on all political parties in the run-up to the next General Election. If you haven't already done so, please write to your prospective parliamentary candidates asking them to pledge their support for the UN target of 0.7% of GNP. Britain's overseas aid budget now stands at just 0.265 percent of GNP. CAFOD also recommends that aid is focussed more directly on the poor rather than on large capital spending that relies on a 'trickle-down' effect.
It is vital to let the Government know that people DO care about aid. One of the best ways to do that is through your MP.


"It really does make a difference to the actions MPs take if constituents write to them in their own words about an issue," says MP John Battle.
"If we know our constituents really care about overseas aid then we can lobby much more strongly in favour of it."



Write to your MP at the House of Commons, London SW1 0AA and ask him or her to write to the Treasury.
Or phone on 0171 219 3000.
Write to Kenneth Clarke, Chancellor of the Exchequer, The treasury, Parliament Street, London, SW1P 3AG
or Fax him on 0171 270 5653.
Plans for this year's election are already being made so don't hesitate, act today.


Given the poor press often given to aid, it may be useful to remember that:
Good aid spending helps people to help themselves, unlocking currently under-used potential
Complex emergencies like that in Rwanda are highly expensive for western governments. Judicious spending now can help to stabilise extremely poor countries
Aid helps everyone, including British business, by opening up new export markets.

---

Graham's Human Rights LinksLinks to Amnesty, and Street Children Information
---




---
CAFOD DIARY January 1997 - April 1997

Date
Event
CONTACT
Jan 18th
No Room at the Inn? - Refugees conference, Beaumont Leys, Leicester
Details Tel 01509 212698
Jan 26th
London Campaign Launch, 3.pm Westminster Cathedral Hall, Ambrosden Avenue, London SW1
Details Tel. 0181 502 9722
Jan 28th
Southwark and South Campaign Launch, 7.30 pm St Mary's Church Hall, 70 Wellesley Rd, Croydon, Surrey
Details Tel. 01483 898866 or 01322 294924
Feb 1st
North East Campaign Launch, 2.30 pm, All Saints Lower School, Nunnery Lane, York.
Details Tel 0191 228 0200
Feb 2nd
North West Campaign Launch. 2.30 pm, The Parish of St Walburges, Weston Street, Preston
Details Tel 01254 678 244
Feb 3rd
Liverpool Campaign Launch. 7.30 pm The Irish Centre, Mount Pleasant, Liverpool L3.
Details Tel. 01695 633 284
Feb 4th
West Midlands Campaign Launch. 7.30 pm. Grimshaw Room, Metropolitan Cathedral Church of St Chad, St Chad's Queensway, Birmingham B4.
Details Tel 01922 722 944
Feb 8th
Wales Campaign Launch, 11.00 am, Nazareth House, Colum Road, Cardiff, CF1.
Details Tel 01267 221 549
Feb 9th
South West Campaign Launch, 3.pm Taunton Catholic Centre, The Mount, Taunton, Somerset.
Details Tel 01823 678 244
Feb 16-22
Katamavik CAFOD schools day. West End Youth Centre, Blackburn
Details Tel 01254 678244
Feb 23rd
Lent Fast Day
Mar 15th
CAFOD/Christian Aid Joint regional campaign conference, 10am - 4pm, Methodist Church, Chandler's Ford, Southampton
Details Tel 01483 898866
Mar 15th
Millenium Conference (Joint with Clifton Justice and Peace), All Day, St Brendan's SIxth Form College, Bristol.
Details Tel 01823 338903
Mar 22nd
World Day for Water
Apr 6th
Singing Friar Concert, Theatre Royal Drury Lane, London
Details from Dorothy Kenny, Tel 0171 733 7900
Apr 13th
Youth Leaders Training Day, Thornleigh College Bolton.
Details Tel 01254 678 244
---
---
You are visitor number