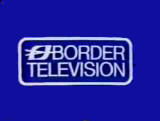 Border Television History
Doing the sums
By the time that television for the Borders was under consideration the idea adopted by the ITA was that they would always try first of all to obtain a suitable locally-based organisation, rather that adopt the more cautious 'satellite' approach they had adopted in south east England. However, the Borders posed an interesting problem. Two transmitters would be needed, one near Carlisle, the other near Selkirk. The split between English and Scottish viewers would be 70/30 for the former, and 15/85 for the latter, but Carlisle would serve a larger Scottish population than Selkirk.

Although the ITA had no doubts that the best course was to offer the two transmitters together, Granada and ABC made a detailed bid for Carlisle to be added to their Northern franchise, and Scottish made hints about wanting Selkirk. The ITA made it clear in their franchise advertisement that they considered even the combined area `marginal' and wanted potential contractors to almost justify how they could survive.

Two applicants made interviews, both held on 3 May 1960. The first called was `Solway TV', a mixture of two earlier groups, one from each side of the border. The other was Border Television, who had a much greater array of big names, including the chairman of Reuters, Sir John Burgess OBE and Sir Michael Balcon, a film producer. An unusual feature was the participation of the Vice Chancellor of Glasgow University and Brasenose College Oxford, although they weren't proposing to focus on education.

Both companies seemed to have sound business cases and be mainly locally based. In the end the ITA came down in favour of Border, although they required an additional Scotsman to be on the Board.
Scheduling the transmitters
With the area being low in population, Border was keen to start only when both transmitters were available. Work on the 1000 foot `Carlisle' transmitter (from a site at Caldbeck) was adversely affected by winds during the winter of 1960/1, and could only be ready by May 1961, about three months later than the original plans. This was not a good time to start for advertising revenue, and Border asked to delay their start until 1 September 1961. Selkirk had delays arising from its novel nature: it was an unmanned repeater, picking up Caldbeck, and rebroadcasting it on a different frequency. Border's MD, Robin Gill persuaded the ITA to erect a temporary 200 foot mast to provide coverage over some of the eastern part of their region for the lucrative pre-Christmas period before the proper installation could be completed.
The Black Hole of the Isle of Man
It was clear to Gill and the ITA engineers that Caldbeck would provide coverage of the eastern part of the Isle of Man, including Douglas. This extra area could be attractive for advertisers. However, the 1954 Television Act did not extend to the Isle of Man, and the local parliament had been lobbying the Postmaster General for some years for the right to licence both local television and radio. Although the ITA had not previously stopped either UTV or Granada from showing portions of the Isle of Man on their coverage maps issued to potential advertisers it would not allow Border to, even though their signal was likely to be stronger than either of these. However it was a typical compromise in that there was no restriction on advertising their reception on the Isle of Man itself, but the ITA would not levy additional rental for extra viewers.
'Get Ready to Switch to Border'
The advertising campaign was initiated in July 1961. The station symbol had been chosen - officially 'to suggest in abstract design the two distinct parts of the region brought together by the electronic medium', although to many it was a rather squashed 'B'.

There was a ceremony, albeit a brief one on the opening day of 1 September 1961, where there was the obligatory on-screen appearance by the station's bigwigs who were never seen of again. After the ITN news at 17:55 they reverted to local programmes of news and current affairs; they managed a very creditable two-and-a-half hours of local material during their first week. One notable absence was schools programmes; it was considered that no schools in its area had a television set, and probably they thought such a service to be too expensive. Another missing feature was the epilogue.
An almost instant success
Unlike some of the other larger regionals, Border turned an operating profit in its first year of operation, and paid off its start-off costs by the next. This can be attributed to a very quick penetration of its market with an audience share normally of 60%. The local programmes too had gained a greater than usual following.

... to be continued ...
Transmitters
VHF

Caldbeck     11H  1/09/61
Selkirk      13V  1/12/61
Richmond Hill 8H 26/03/65
Whitehaven    7V 30/01/68

UHF (main)

Caldbeck 28H 1/9/71
Selkirk  59H 1/3/72

---