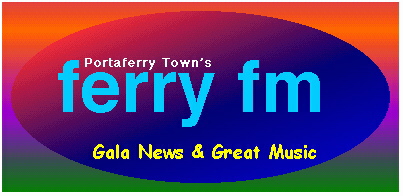 and welcome to our site. Ferry FM commenced its third year of broadcasting to cover the 30th Portaferry Gala on Saturday July 19th 1998. The station was set up in 1995 by Galax Broadcast Services of Cloghy to enable the organizers to fully publicize each of the Gala's exciting events, many of which, are given live coverage on the station. Sadly, due to the withdrawal of two of the stations major sponsors, Ferry FM did not broadcast during the 1999 Gala, however the Gala Float Pages are updated as usual - thanks to Kevin Byres. We do hope the station will be on-air, in some form or another, for the Gala in July 2000.
Ferry FM is self financing and run by professional broadcasters, who along with a wealth of local talent, produce each day of the stations week long programming output, which culminates in live coverage of the town's annual float parade.
Broadcasting 9am - 12 midnight, from the town square, Ferry FM sticks to it's promise of "Gala news and Great music": from traditional sessions in a local pub, to the Sports Day in the town's football field, listeners can hear it all on 105.8 FM, along with a mix of Pop, Rock & Country classics plus the best music of today.
---

---
You are visitor number
since 19/7/97, please click here and sign in.
View our Guestbook !
Surf to Belfast City !
---
GALAX BROADCAST SERVICES
51 MAIN ROAD CLOGHY CO.DOWN
BT22 IJB
012477-71496
Sales and Studio Line : 0410-379937
E-MAIL : ferryfm@theoffice.net