Joanna Pacula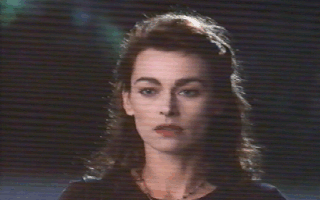 This is a review of all films I have seen to date starring the wonderful, talented Polish actress called Joanna Pacula. Always very much underrated and little known in the UK, this situation is now beginning to change, well, it appears to be in the US at least!! Her work on all her films is always 100% excellent, in my opinion.
If, Joanna, you are reading this now, or if any of her close friends are reading this now and know where she is at this moment, please tell her or (if you are reading, Joanna) to get in touch if you can with me !!
Joanna, you are such a talented person and I don't know how to thank you for the many pleasures you have given me in seeing you act in your films. The best of luck comes from me - Richard - and I wish you all the best for the future!!!
Anyway, here is a rundown of her films so far seen by myself.
GORKY PARK
The first film introducing Miss Pacula to our screens. Also starring a host of other names including William Hurt and Alexei Sayle, this film is about the Soviet Union, pre-Glasnost and the ending of the Cold War. It tells the story of murders by a popular ice-rink of 2 men and 1 woman and the web since then. Joanna stars as the Russian girl, Irina. The woman who was murdered at the ice-rink was wearing Irina's boots at the time, and so the story goes on.....However the film was and probably still is a hit in its time. Well worth watching.
NOT QUITE JERUSALEM
An excellent comedy about some people who go to live on an Israeli kibbutz for 2 months. Here Joanna plays Gila, a foul-mouthed "kibbutz-nik". But she meets one of the male characters, falls in love, and tones down her language to the real Joanna we have all come to know. Some hilarious moments in the film are with all of the characters, especially Bernard Strother and Kevin Mcnally, who play the characters of Dave and Pete. Well worth watching but I think it is a bit hard to get hold of now.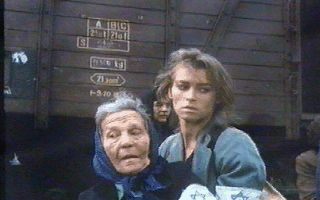 ESCAPE FROM SOBIBOR
Probably the best film about the Nazi death camps to ever hit our screens - what is deadly is that the film is based on a very true story. Joanna teams up with Alan Arkin (Edward Scissorhands) and Rutger Hauer (Guinness adverts) in this $4 million screen epic. She plays the character of Luka, who survived the Nazis games etc and managed to escape into the woods. Many of the German stars who were not so well known before this film was made have now become celebrities. Names such as Hartmut Becker, Kurt Raab and Emil Wolk come to mind. Overall, an excellent war drama. *Screened on TV the first time, every pub in the UK was watching it!* Well worth watching.
THE KISS (of death)
A bit far-fetched this one, but a well-made shocker that puts the jitters up anyone. Joanna plays Felice (the witch) in the film. Her sister Hilary has a daughter called Amy (Meredith Salenger). Using a potion of witchcraft, Felice kills Hilary in what is termed a "freak accident". Then Felice turns up in New York to see Amy. Her visit strangely coincides with a series of deaths to Amy's friend, her boyfriend, the local Reverend etc. Amy soon realises that, like Felice, she will be the next one to get the curse - but is saved in the nick of time. Well worth watching - it is now available to buy on video. 100% excellent.
MARKED FOR DEATH
This is Stephen Seagal's most recent film. Joanna doesn't appear much in it but when she does appear, she is excellent. Seagal stars as John Hatcher, whose family was murdered, now he is for the chop. Joanna plays the anthropologist, who helps Hatcher (Seagal) find out what various drawings etc are in his house etc. Some excellent work with the special effects leads Hatcher to a showdown with some coloured guys - one good effect here is that he has cut off the head of Mr Big (whoever he is) and this head comes back to life again, complete with body etc!!! An excellent action film - well worth watching.
Since the first part of this article was written, Joanna Pacula has starred in a few more films than the ones mentioned above. It is a crying shame that the distribution of Joanna's films in the UK is so lacklustre - after all, the facts are clear. Her films may not get the hype than - say - an Arnold Schwarzenegger film - but remember the GOLDEN RULE! Rather than 'What a load of hype, shame about the film/game etc' the rule is 'Where's the hype, this film is brilliant!'. Makes a change, doesn't it?
Still, on with the review. All of the following films are excellent (as is usual with any film starring Joanna Pacula) and are well worth watching.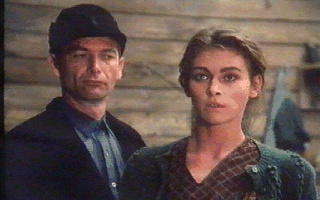 OPTIONS
Matt Salinger (Revenge of the Nerds) and Joanna Pacula both star in this comedy-adventure-style-romp. Matt plays Donald Anderson, whose job it is to 'option' the life stories of the rich and famous for television. However, Donald, being a little bit 'bumbly' tends to make mistakes, sometimes putting other people's life in jeopardy. When Princess Nicole (Joanna Pacula) gets kidnapped, it is up to Donald to rescue her. Some hilarious jokes and antics by both Matt and Joanna in defeating the kidnappers are certainly original and very funny. The film ends in happiness, when the characters get married. In any other dress, Joanna looks beautiful but in a wedding dress, she looks very stunning indeed! The antics of Matt Salinger didn't appeal to me at first, but the role that Joanna Pacula took more than made up for this. An excellent film - well worth watching.
DEATH BEFORE DISHONOR
This film is quite topical for the moment - it returns to the Middle East, pre-Gulf War, back to the time when the Arabs and other religions were fighting against each other, taking hostages as well as running full-scale massacres and shootouts. The film starts with the Arabs using the same set as in the earlier film 'Not Quite Jerusalem'. However it is more developed than in the earlier film.
Fred Dryer plays Jack Burns, who is one of the captains of the US Marines. During an ambush, Jack's Colonel and his right-hand man are captured by the Mossad (Arab murder fanatics). Here, Joanna Pacula comes in as Ellie, the photographer, who takes pictures of the hostages and other general action. The Colonel gets injured and is right-hand man is killed in a shootout, but not before he has killed an Arab first with the ingenious use of an electric drill. A van goes into the US Marines' base, exploding in the main office wing, killing all of the staff and everyone else in the building at that time. This is when Jack loses his cool, and sets out for the Arabs' residence, shooting them all and killing the main ringleaders in the subsequent car chase through the desert. Out of all the people who were killed, the Colonel, Ellie (Joanna), Jack and his two fellow-men survived the shootout. Overall, an excellent action film and well worth watching.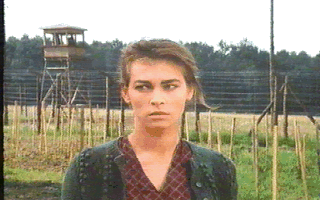 SWEET LIES
This film tells the story of how three girls seduced a young man and what actually happened with each one. The man (Treat Williams) plays Peter, who goes to Paris to catch an insurance swindler. First he meets Lisa, an innocent 16-year old, who tries to seduce him but fails miserably. So, she hands the challenge up to her 2 older, more experienced friends Joelle (Joanna Pacula) and Dixie (Julianne Phillips). The film continues with Peter's experiences with Joelle and Dixie (seeing them separately but they both know this) in various places. One hilarious scene is where Joelle (Joanna Pacula) is sitting in the car while Peter is driving, and as he drives like a maniac - moaning about how slow the French drive - he nearly causes problems by his driving, forcing Joelle to scream. (Believe me, I know what it's like - I have a mate who is just the same). This film is well worth viewing - it is a pity the distribution of it is so weak. It is out on the SONY label - the same label who released Zenith Production's excellent film 'Escape From Sobibor'.
BREAKING POINT
Corbin Bernsen and Joanna Pacula star in this made-for-Canadian TV special, only recently released in the UK but not so well heard of (until now). Corbin plays Major Jefferson Pike, an American soldier who was betrayed by his friends to the Gestapo.
Deep within Pike's mind are the secret plans for the Normandy landings - something that the Nazis want to know about. They torture him with various implements and drug him, leaving his mind with the nurse who looks after him, Anna (Joanna Pacula). As he feels so alone he has 2 choices, to either suffer or co- operate with the Nazis. Using the greatest war on nerves the Nazis try to go to any length to break him - but when he is pushed to the edge of sanity no one knows how far he would go to survive.
This is actually a clever film in the way that the atmosphere 'drags' you in as well. Joanna also plays Pike's wife, Diana, making it altogether strange for Pike to realise that his long- loved wife is dead, even though, in reality, she isn't. A great suspense thriller - one that will certainly knock your socks off!
I am also pleased to say that this article also contains the first review, this side of the Atlantic, of Joanna's new film "Husbands and Lovers". Before I present the review to you all, I would like to thank everyone for reading my articles concerned - for Chris H and Mike for gratefully including them in the Maggie - and special thanks go out to Richard Karsmakers -- editor of ST News for mentioning my articles about Joanna Pacula in his recent review of diskmags in issue 7.3 of ST News. As I have already said, Joanna is very much unheard of here in the UK, but I am very interested in seeing any special films that she may have played a part in, no matter how small, for other countries. I am also interested in anything else anyone may have - ie if Joanna has appeared in any magazines (all over the world), released any calendars etc - I would like to see anything like this. If any magazine publishers are reading this now and would like more information on Joanna Pacula and would like me to write something for them, then please feel free to contact me through the official Maggie contact address Understandably, please make sure that any enquiries are GENUINE, obviously I do not wish to be pissed about by people who are not genuinely interested.
Now, on with the review....
HUSBANDS AND LOVERS
Husbands and Lovers is certainly a new departure for Joanna Pacula, as this is a 'love story' type of thing, BUT with the facts that both the man (Julian Sands) and the wife (Joanna Pacula) are both unfaithful to each other, even though they are married (not in real life, I hasten to add). Joanna and Julian go to stay in a villa in what looks like a sleepy American or Spanish village, while Joanna's lover, Tcheky Karyo (this isn't his name in the film) lives in a house on the sea-front. The storyline in this film is basically about Joanna's character finding out about various sexual matters, such as sado-masochism, bondage etc with her lover, while her husband makes love to other women and appears to enjoy it. There is a fair bit of nudity in this film, a bit more than you would normally see in Joanna's other films, but BE WARNED that this is not a pornographic film, far from it.

The performances of both Joanna and Julian Sands are as excellent as usual but I feel that the storyline has, unfortunately, let the film down somewhat. The nude parts in the film are tastefully done, but, take it from me, even though Joanna does look very nice nude, she looks a lot more stunning in clothes. A red dress that is worn by Joanna during the film certainly makes her look very stunning indeed.
However, even though this film is not quite as good as her other films, it is still very presentable as far as films go. By the way, this is one of the many 'restricted' adult movies that can be bought in the United States - hence availability in this country (the UK) will probably be very poor, if at all. It is worth seeing the film if you can, but make sure that it is an uncut version you see.
Well, I'm afraid that is all for the time being. Obviously, as new films starring Joanna Pacula are launched and heard about by me I will make an effort to review them when they turn up. This could take some time - but - if anyone out there in America, Canada, Eastern or Western Europe has anything of Joanna's that I haven't got, then please inform me of these care of the MAGGIE.
(c) 1998 Magnetic Interludes, Inc and associated parties ...
Back to Maggie homepage