Our music is inspired by the music of Latin-America, Brazil and the Caribbean. We don't try to recreate the authentic sound of these types of music, but rather to get into it's spirit.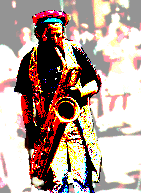 Our line-up is always changing, not just as people come and go, but also as people learn new skills and take up new instruments. Our current line-up includes trumpet, saxophones, accordion, sousaphone and lots of latin and brazilan percussion.
An understanding of the the rhythms is essential to the way we think about the music, and everyone in Zabumba is involved in playing percussion, regardless of what other instruments they play.
We play various styles including afro-cuban 6-8, baion from the North-East of Brazil, Trinidadian carnival calypso, slow calypso, conga habanera, the cumbia from Columbia, maracatu (from Recife, Brazil), salsa, samba (Batucada from Rio), Samba-reggae (from Bahia, Brazil) and Ska.
From time to time, we organise workshops with guest musicians, and collaborate with other community-based music or percussion groups.
what we play