---
Press Releases & Match Reports
Pre-Season
Superbowl Start for Senators
As the NFL season draws to its climax in the Superbowl, the Gateshead Senators are gearing up for their 1999 campaign, due to start in April.

Club training for all players starts on Superbowl Sunday itself, 31 January at 12 noon at Gateshead Stadium. We expect to have a scrimmage against Newcastle Mariners, the university's team.

The following weekend, February 6 and 7, the club is holding a two day Mini Camp where prospective players can come along for a try out for this successful American football club. Fuller details of this weekend will follow, but in the meantime, put the dates in your diary.

The British season starts early in April and reaches its own climax with the Championship game in early September. The Senators are a consistent Division One team and in 1997, were national semi-finalists, losing to the eventual champions, Redbridge (London). Last year, the team did not quite match that, but is determined to in 1999. Fixture lists are still being finalised, but full details will be available on the Senators website as soon as the decisions are made.

13 January 1999


Touchback!
---
Full ahead for the Season.
The Senators are training hard for their season opener on April 18th, at home to Merseyside. The place to be for training is at Blaydon High School, just a long bomb from the A1, on Sundays from 1 p.m. to about 4 p.m. The school has an excellent Astroturf pitch, ideal for the Senators to train.

Most of the regulars from last year are returning with the welcome return from earlier seasons of John Dodds at Wide Receiver. Long time stalwart Kev Ramsay may not be with the team this year though because of other commitments, and Left Guard Jason Lester is unlikely to play because of a new job.

A new acquisition from Yorkshire Rams is Craig Million who starred at DB for the Rams, and whose versatility may see him there or at Linebacker for the Senators.

The British season starts early in April and reaches its own climax with the Championship game in early September. The Senators are a consistent Division One team and in 1997, were national semi-finalists, losing to the eventual champions, Redbridge (London). Last year, the team did not quite match that, but is determined to in 1999.

5 April 1999


Touchback!
---
Senators Decline Dutch.
Regular readers may have been wondering why there has been no mention of the Amsterdam Invitation European Tournament this year. After all, for the past two years Gateshead Senators have travelled to Amsterdam and swept the board, returning champions each time.

Chairman Gary Marshall explains that the difficulty this year is that the tournament was scheduled for a week later, the weekend just gone, 10th and 11th April, which is already Week 2 of the UK season and just one week before the club's opener against Merseyside at Gateshead Stadium next Sunday (kick off at 2 p.m.). Because of this, it was felt that the demands of the domestic season and the high level of Division One competition, that for 1999 the Senators would have to decline the Hilversum Hurricane's invitation.

"After all," quipped Gary Marshall, "it might give them the chance to win their own tournament!"

Meanwhile, the UK season has started, with a welcome return by the Scots who have for some years been playing in a separate league. East Kilbride Pirates are strong contenders as successors to the Glasgow Lions of old, and the Senators meet the Scottish powerhouse in Glasgow on April 25th.

12 April 1999


Touchback!
---
Regular Season

  Victory for "Victims"!
Gateshead Senators 25 - Merseyside Nighthawks 8

Stung by the message from Merseyside Coach George Aguado to the Senators that "you will be my first victim & win in April99", the Senators opened their account for 99 with a display of prowess on both offense and defense.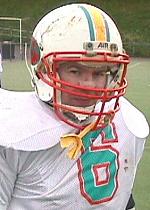 Mickey Thompson


In the first quarter Lee Fraser hit speedy wideout John Hartley with a 27 yard TD score, with Gary Marshall's PAT giving the "victims" a 7-0 lead. Defensively, the Senators hut down the Nighthawk's offense with a sack and 2 fumble recoveries by Mickey Thompson.


The second quarter opened with another 35 yard TD score from Fraser to Hartley and this was soon followed by a Duncan French 2 yard score to increase the lead to 19-0. In fact it was not until after 26 minutes of play that Merseyside got a first down, but this was followed by Jamie Wetherall's sack of Merseyside QB Paul Holden.

Merseyside came out after the break fired up and responded to the Senators with a Holden 30 yard scoring pass to make the score up to 19-6.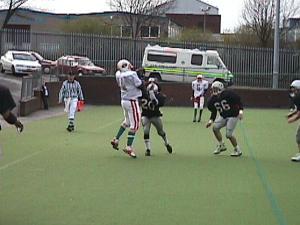 Roy Davies hauls in a TD




In the fourth period, Merseyside's defense were showing their mettle and had the Senators backed up to the endzone, forcing a safety on a punt snap. New signing Craig Million earned his place with a sack of Holden, but this was followed on the ensuing drive by Chris Harwood's interception of Lee Fraser. Paul Kane charged through to sack Holden again before Hartley's 54 yard punt return set up Fraser's scoring pass from the 3 yard line to Roy Davies to bring the final score to 25-8.

Touchback!
---
Strong Defense not enough
East Kilbride 26 Gateshead Senators 11

Gateshead Senators travelled north with just 22 players to meet East Kilbride for their first away game of the season to fall 26-11. The Senators' first drive ended in a punt, but East Kilbride did not have it all their own way as QB Roddy Greig was sacked by Steve Wooton. But Steve Branscombe gained the yards with Greig passing, finishing with a 5 yard toss to Gary McNey for the score. Greig found Alan Street for the 2 pointer giving the home team an 8 - 0 lead.
Gateshead answered with a good drive, with Dave Pollard a favoured target for Lee Fraser (9 of 23 for 123yds, 2 ints), the drive ending with Gary Marshall kicking a 37 Field Goal. Into the second period, and with the Pirates struggling to gain any ground with their running game, it was again the arm of QB Greig that produced the next score. This time a 37-yard completion to Branscombe for a TD on a "pick play" just before the half to bring the score to 14-3
After the break, Greig hit McNey again for 6 from 9 yards out but the 2 pointer failed. Gateshead came straight back at the Pirates driving down to the Scots' 1 yard line, for Duncan French to dive over on a 4th down to bring the score to 20 - 11. Despite a continuing strong defensive effort, the home team scored again when Greig completed his fourth TD pass of the day, finding Graham Whyte for a 14-yard score to bring the final score to 26 - 11.
For the Senators, MVP awards were:
Offense: Dave Pollard 3 catches for 44 yds & 2 kick returns for 56 yards
Defense: Steve Wooton 5 solos, 8 assists & 1 sack
Game: Eric Walker 5 solos, 3 assists 1.5 sacks

Many players found themselves both sides of the ball, notably Mikey Rumney with 37 yds on 8 carries, 4 tackles 1 assist and 2 sacks.
Touchback!
---
Strong Defense earns 42 point shutout
Gateshead Senators 42 Lancashire Wolverines 0

The game was preceded by a one minute silence in memory of John Grigg whose tragic early death from cancer leaves a void in the sport. John was a stalwart of American football in the North, having played for Washington Presidents, Washington Grays and Gateshead Senators.
Despite having five touchdowns called back for a variety of penalties, the Gateshead Senators' dominance on both sides of the ball led to a 42 point shutout of the Lancashire Wolverines at Gateshead.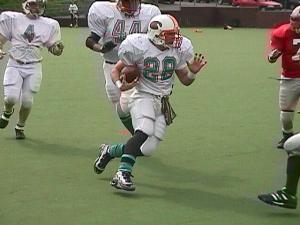 Duncan French pounds out the yardage.


The first quarter saw speedy wideout John Hartley go 53 yards with catch from running back Duncan French on a halfback option play and with Gary Marshall adding the kick, the quarter ended with the home team 7 points up.

In the second quarter Gateshead did not have all their own way when Mark Norton intercepted Lee Fraser to kill a promising drive. But the Senators' next possession ended with a 1 yard keeper from Fraser to increase the margin at the half to 13-0.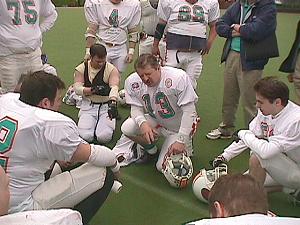 Gary Marshall's half time talk produced 29 second half points for Gateshead.


After the break, it was Craig Million's turn to shine when he intercepted Lancashire's quarterback Wayne Glover to return 30 yards. Duncan French's following 25 yard run was one of the scores called back. Again Lancashire piled on the pressure with Jay Alexander breaking through to sack Lee Fraser, one of two sacks he had on the day, also a fumble recovery. But it was not the Wolverines' day, and Duncan French caught a 34 yard pass from Fraser for the next score, with Marshall's PAT taking the score to 20-0 at the end of the third quarter.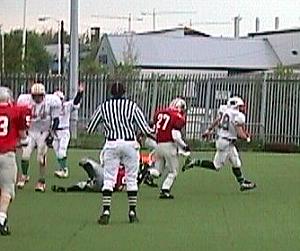 Duncan French goes in from 8 yards.


Early in the fourth period, Roy Davies caught the Lancashire punt returner in the endzone for a Safety, adding two more to the mounting total. Back in his more familiar role as a runner, French took the ball in from 8 yards to make it 28-0, the conversion attempt having failed. Steve Wooton created the next chance knocking the ball away for Paul Kane to recover for Gateshead, leading to Craig Lenahan's score to bring the tally to 34-0. Fraser tossed a two pointer to Roy Davies to bring to to 36-0. The final score came when Sean Riley at Left outside linebacker, got his first ever score, recovering a fumble and taking it 25 yards to the endzone as time expired.

For Gateshead, MVPs were:
Game - Craig Million 3 tackles 1 assist 2 interceptions 1 24yd punt return
Defense - Dave Wilson 6 tackles 1 assist 1 tip pass
Offense - Duncan French 20 carries for 172 yds 1TD 3 receptions for 48 yds and 1 TD & 53 yd TD pass to John Hartley.

Highlights of the stats were:
Lee Fraser (QB) 21 attempts 10 completions 153yds & 1TD plus a 1yd TD run.
John Hartley had 4 receptions 106yds & 1TD
Craig Lenahan 5 rushes for 47yds 1TD
Roy Davis a safety & Sean Riley's TD
Senators passed for 207yds, rushed for 247yds and had 16 penalties for 165yds




Touchback!
---
Senators' Second Successive Shutout
Redditch Arrows 0 - Gateshead Senators 19

On a cold and wet bank holiday Sunday, Gateshead controlled both sides of the ball to hand the Arrows a shutout at home.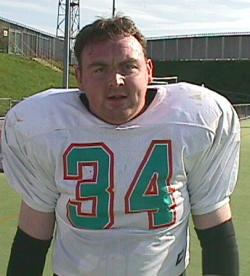 Sunderland's Steve Wooton, heart of the Gateshead defense.




Senator's quarterback Lee Fraser (5 of 13 for 65 yards) used speedy receiver John Hartley on a 27 yard play to set up Duncan French (20 carries for 192 yards and 3 TDs) for a 3 yard scoring dive in the first quarter, followed by Gary Marshall's PAT. Redditch were unable to pass effectively against the combined efforts Dave Wilson, Steve Wooton and John Hartley. Lancashire's loss was Gateshead's gain, as Redditch's running game came up against the brick wall of Sandy Kryiacou and Mark Sloan, former Wolverines, joining Eric Walker and Steve Wooton on the Gateshead "D".

In the Second quarter, French went in again from 5 yards, giving the half time score of 13-0 to the visiting Senators.

After the break, Redditch continued to be thwarted by Wilson and Wooton's pass defense, Wooton gaining an interception, and the foursome against the run. But it was French again who sealed the Arrows' defeat with a scorching 62 yard touchdown run.

The Senators' defense dominated the fourth period with a sack by Steve Wooton and an interception by Sandy Kyriacou to keep the final score 19-0.

Duncan French scooped the Offensive MVP award, but it says much for the strength of the "D" that Kyriacou, Wooton and Sloan shared the Defensive MVP while Dave Wilson was the game MVP for the Senators.



Touchback!
---
Narrowest Victory for Senators
Gateshead Senators 20 - Nottinghamshire Caesars 19

Played in alternate baking sun and cold driving rain, this was a game of contrasts on the field as well, with a mainly lacklustre first half leading to nailbiting thriller at the end.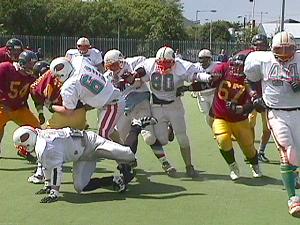 Sean Riley (61) gets a piece of Albert Thompson




Gary Marshall kicked off for Gateshead and the Senators' strong "D" immediately had the Caesars 3 and out. But Gateshead didn't have their own way on the ensuing possession, not helped when an official was inadvertently in the path of a reverse play. Gateshead lost possession on downs, and Gary Stainton led the Caesars on an efficient drive to the Gateshead red zone, only to be intercepted by Mickey Thompson who behind a superb block by Roy Davies, returned 69 yards for the touchdown to put the Senators 6 - 0 up. The conversion attempt failed. But Nottingham, struck back with Albert Thompson's 6 yard scoring run which with the successful PAT put Nottingham ahead by one, 7 - 6.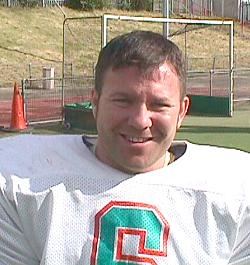 Mickey Thompson scored with 69 yard interception return


The second quarter saw a 30 yard Field Goal attempt from Marshall go wide, but the Senators' next drive culminated with Lee Fraser's scoring pass from 33 yards out to John Hartley in the End zone to give Gateshead back the lead at 12 - 7, Marshall's PAT making it 13 - 7 at the half.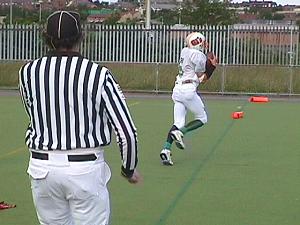 John Hartley hauls in another Fraser pass.




Iain Mullins received for the Senators with a 44 yard return, followed by Hartley's 32 yard catch. but strong defense from Nottinghamshire brought Marshall back out as punter. The teams then traded interceptions, with Iain Mullins picking of Gary Stainton, with Adi Giles replying by catching a Lee Fraser pass. The Caesars reached a first and goal at the Senators' 3 yard line, and the "D" held firm for three downs, but Stainton's keeper run brought the scores level at 13-13 as the third period ended.

John Hartley, Senators' Offensive MVP


Simon Schwinger took Nottinghamshire ahead again with a 12 yard TD run, but as the conversion failed, it was again a 6 point game with the scores 13 - 19. As the game drew to a close, Lee Fraser found John Hartley from 13 yards to level the scores at 19-19. Gateshead were depending on the left foot of Gary Marshall to retake the lead, and the extra point was dead centre through the posts. Gateshead were soon in possession again, and were able to run out the clock to preserve this narrowest of victory over tough opponents.


Game Awards for Gateshead were:
Offensive MVP John Hartley
Defensive MVP Dave Wilson
Game MVP Mark Sloan
The "Bag of Nuts" award for the hardest hit went to Pete Eichhorn.
Touchback!
---
Senators do double on Nighthawks
Gateshead Senators 18 - Merseyside Nighthawks 8

Quite a strange game. The Gateshead Senators made 4 TDs, one of them called back on a penalty, had two extra points blocked and an incompletion on a two-point attempt later on in the game. It was 18-0 late in the 4th quarter, but the Nighthawks grabbed another Interception and returned it (including a rather nice lateral) for a TD, and went for 2 points for the hell of it.
David Bridson, from uk.sport.football.american
(Your Senators' reporter & Webmaster was unable to travel through illness).
Touchback!
---
Senators are Northern Champions!
Nottinghamshire Caesars 29 - Gateshead Senators 42

Gateshead Senators won the Northern Division Championship in a hard fought battle under a fierce sun and strong winds at Nottingham on Sunday in a game that lasted almost four hours! All was to play for as Nottinghamshire Caesars would have been champions had they won.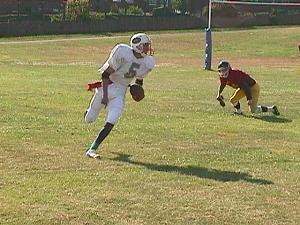 John Hartley in open field.


Nottinghamshire went 3 and out on their first drive, and Gateshead set the tone of the day at the end of their first possession with a ten yard strike from Lee Fraser to John Hartley (14 catches for 179 yds and 2 TDs) waiting at the back of the endzone. Gary Marshall's PAT was blocked, but Gateshead soon added to their 6 point lead when James Waite pursued Caesar's Paul Oliver into his own endzone for a safety to bring the first quarter score to 8-0.


Despite a fumble recovery by Senator Mark Sloan (5 solos & 10 assists), Nottinghamshire came back with a Gary Stainton 11 yard toss for 6 which with the successful kick brought the score to 8-7 at the half.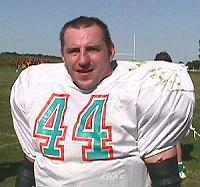 Roy Davies




Nottinghamshire kicked off the second half and Gateshead made full use of the possession when Lee Fraser found Iain Mullins (2 receptions for 34yds and 1 TD) for a touchdown from 10 yards out. Gary Marshall's PAT gave the Senators a more comfortable lead of 15-7. But the Caesars weren't interested in the Senators' comfort and Guy Kersey's one yard dive followed by Paul Oliver's kick reduced the margin again to one point at 15-14. Gateshead's reply was a Lee Fraser TD pass to John Hartley from the 5 and Marshall's PAT to bring the score to 22-14. As the eventful and lengthy third quarter closed, Gateshead regained possession when Roy Davies (5 solos, 3 assists & 1 2pt catch & 1 fumble & 1 fumble recovery) stripped the ball and recovered it.

Duncan French takes the aerial route to the endzone.


As the fourth period started, the Senators' resulting drive ended with Duncan French's five yard dive to give Gateshead a two score cushion at 28-14 as Marshall's PAT was blown wide by the increasingly gusty winds. The Caesars were not about to give up though as Gary Stainton showed with a 5 yard "keeper" score and Paul Oliver's kick to keep Nottinghamshire in the game at 28-21.

Craig Lenahan brings down Fraser's pass in the EZ.




The tension mounted when Lee Fraser (18 out of 25 for 221 yds and 4 TDs, and now exceeded 1000 yards passing) was on target again from the 3 yard line to Craig Lenahan with 7 minutes left on the clock. The 2 pt conversion attempt failed leaving the score at 34-21. The championship started to look more certain to go north when Duncan French (41 carries for 267 yds and 2 TDs, is this a record number of carries) broke free for a 46 yard scoring run, with Roy Davies catching the 2 pointer for a 42-21 scoreline. The Caesars were determined and inside the two minute warning, Stainton found Andy Jackson from 22 yards and Ade Edwards' 2 point catch made the score 42-29. Nottinghamshire went for the onside kick, but Gateshead recovered it and were able to run out the clock.


Gateshead are Division One North Champions, and will proceed to the national playoffs with homefield advantage. Their opponents will be decided by the result of next week's game against Redditch Arrows at Gateshead Stadium, kick off 2 p.m.

Team Awards

Coach Gary Marshall said it was hard to single anybody out. "It was an excellent team effort, everybody contributed so well to this vital game."

Offensive MVP - The Offense
Defensive MVP - The Defense
Game MVP - The Whole Squad!



Touchback!
---
Redditch fail to show
Arrows concede game

Redditch Arrows backed out of their week 16 fixture against Gateshead on Sunday. It had been hoped to arrange an alternative game, but this did not prove possible in the time available.
Gateshead now face the long wait until the playoffs commence in August. The Senators have homefield advantage, but this may not be Gateshead Stadium, as the field is booked, and the games will be played elsewhere in the locality.
As the Senators' website will be static for much of August, latest news will be notified to the press.
Revised dates of the playoff games are the quarter finals on 8th August and semis on 22nd. The Championship is set for September 5th in Leicester.
---
Playoffs
Valiant Merseyside shut out by Senators
Gateshead Senators 43 Merseyside Nighthawks 0

Report by Gary Marshall
The Senators eased into a semi-final meeting with the Essex Spartans, defeating a gallant Merseyside team who had stepped into the playoff picture when both Ipswich and Norwich declined the chance to play the number 1 ranked Senators.
Senators Head Coach, Gary Marshall, said "Merseyside did us a big favour by coming up, otherwise we would have gone into the Semi-final not having played for 4 weeks. They always give us a tough game but their small squad found it hard in the later stages, but we respect the Nighthawks for their attitude".
Merseyside knew they were in for a long day when QB Hibbert was sacked on the second play of the game by Senators D.Tackle Wetherall and the QB was to feel the pressure all day from the Geordie's aggressive defence.
The home side took full advantage of their first possession when QB Fraser (8 of 12 for 180 yds and 2TDs on the day) found John Hartley with a 29 yd scoring strike. The XP snap was high and when Fraser tried to find an open receiver the ball fell short.
John Hartley, 4 catches for 132yds & 2TDs




Merseyside fell further behind after going 3 and out, when the same combination of Fraser to Hartley (4 catches for 132yds & 2TDs on the day) worked again with the speedy wideout evading the tacklers after a short pass and sprinting 28yds into the endzone, Marshall's extra point led to a 13 - 0 lead at the half.

The Senators took the opening kick-off of the second half and two plays later RB Duncan French, following good blocking from his O-line, ran 28yds up the middle for the first of his two scores (17 carries for 164 yds, 2TDs). Rumney caught the 2 pointer from Fraser for a 21 - 0 lead.

Hartley then showed that he is not only an offensive weapon, when from DB, he intercepted Hibbert and sprinted 50yds for the score, the two point attempt failed.

After the Nighthawks turned over the ball on downs, French closed out the third quarter with another burst up the middle, for his second touchdown, behind a great block from Watton, the two pointer was hauled in by Hartley for a 35 - 0 scoreline.

Merseyside's small squad were finding it difficult to move the ball on the Senators "D" marshalled by Wooton & Sloane , who restricted the Nighthawks to 47 yds on the ground and 28 yds through the air, recording 6 sacks on the day with LB Wooton getting two of them.

In the fourth quarter, with Jason Kenyon now in at QB for the Senators, a long drive was capped off when his 20yd pass found WR Iain Mullins alone in the endzone for the final TD, Kenyon found Tim Watton with the two point toss to close out the scoring and on their next possession the Senators ran out the clock.

The Senators now play Essex Spartans on the 22nd August for a place in the Division One Bowl.

Head Coach Marshall said "This was a good run out for the team, we were able to rest one or two players and give everyone a chance to get the rust out of their system after a few weeks of inactivity. We now have to prepare for a hard game in the Semi-final and we are looking forward to welcoming Essex to the North East!"

Touchback!
---
Senators sweep by Spartans
Gateshead Senators 33 Essex Spartans 19

Report by Gary Marshall
After a nervous opening which saw Simon Jones picked of by Senators DB Dave Wilson (6 solo 1 assist and 2 ints) and the Senators' first play from Essex's 25yd line also intercepted, the Senators forced Essex to three and out then QB Fraser opened the scoring with a 20yd TD pass to wideout Iain Mullins, Gary Marshall added the extra point for a 7-0 lead.
In the second quarter following a long run from RB Duncan French, RB Tom Williamson burst through the middle from the 25 and into the endzone with two defenders hanging onto his back to make it 13-0 ,the 2pt attempt failed. Essex came back when Shulba Hunt went over from close range following a good drive but the XP snap was high and the Senators D snuffed out the attempted sneak. Gateshead increased their lead when WR John Hartley scored the first of his 3TDs (finished with 4 catches for 82yds, 2TDs and one KO return for a TD) pulling in a catch from Fraser ( 4 of 15 for 102 yds 3TDs 2ints)for the Senators to lead 19 -6. The home side closed out the first half with a well executed 2 minute drill following DB Wilson wrestling the ball out of the Spartans' reciever's hands. Fraser ran the 2 minute drill perfectly which led to Hartley's catch at the back of the EZ, Marshall added the XP for a 26- 6 lead at the half.
Essex came out for the second half in a determined mood and after a long drive scored a converted TD to bring them to within 13 points but their joy was shortlived as Hartley took the ensuing kick off 88 yds to paydirt, in some way making up for an earlier 80yd punt return that was ruled out for an alleged illegal block some 25yds behind the play! Marshall's XP extended the Senators lead to 20pts.(33 - 13) The Spartans were finding it difficult to move the ball with any consistently and QB Jones was under pressure all day from the Senators 'D' ,throwing 2 ints. and being continually hurried when attempting to pass. The Essex running game wasn't having a productive day with their RBs being shackled by the home team led by LBs Wooton (5 solos, 4 assists, 1 int) and Sloan (4 solos, 2 assists).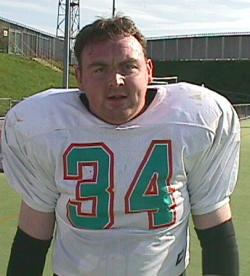 Steve Wooton, 5 solos, 4 assists, 1 int.


The Spartans had no answer to the Senators' running game which racked up nearly 400 yds on the day with French gaining 298 yds on 31 carries and unusually no TDs although he did have a 80yd TD called back for a dubious holding call in the 4th quarter. RB John Harrison waded in with 48yds from 7 carries and Williamson 45yds from 6.

The Senators 'O' line were in a determined mood and although Fraser was sacked twice (this was when he was well outside the pocket on roll out plays) they were opening up holes all afternoon for the home side's Rbs.

Essex scored a with a long pass in the third quarter but failed with the 2pt. attempt. After Essex turned over the ball on downs deep in Senators' territory the home side were able to close out the game when Marshall sneaked a fourth down conversion from the Senators 20yd line to keep the drive alive. Two plays later the game ended with Essex unable to stop the clock and the Senators running out the remaining time.

Gateshead now progress to the first Bowl game in their history and will face Bristol at Saffron Lane in what is sure to be a keenly contested game.
Touchback!
---

Gateshead Senators Division 1 Champions
Gateshead Senators 7 Bristol Aztecs 2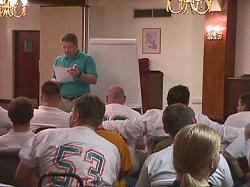 Head Coach Gary Marshall leads the team talk at the hotel, the night before the game.




Sunday 5 September 1999 was a great day for Gateshead. The first Division championship game in the club's history led to victory! Gateshead earned the right by being Division 1 North Champions, and then beating Merseyside 43-0 in the quarter final, and Essex Spartans 33-19. Their worthy opponents were Bristol Aztecs, Division 1 Central Champions who had beaten London Blitz and Nottingham Caesars to reach the final. Both teams were determined to crown their season with the Championship and despite the soccer scoreline, this was evident right from the start in this even and nailbiting game. The tension at Leicester's Saffron Lane Stadium was heightened by a late kick off, caused by the overrun of the Division 2 final which was played first.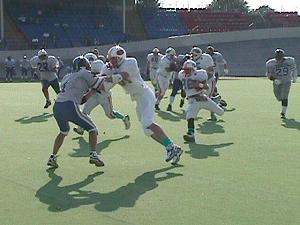 Iain Mullins blocks for Duncan French on his way for the game's only touchdown.




The kick off came at 4:20pm under a still fierce sun, with Senators' Gary Marshall kicking to Bristol. Jason Joslin returned to the 37 yard line, but the drive was snuffed out when Eric Walker recovered a fumble for the Senators. This seemed to set a pattern as defense set the pace on both sides. Senators' Lee Fraser was twice intercepted by Kris Mitchell, but when Sandy Kyriacou recovered a fumbled Bristol pitchout, Gateshead responded with a scoring drive, capped by Duncan French's 45 yard touchdown run. Gary Marshall's extra point kick was dead centre bring the score to 7-0. Gateshead's next possession gained good field position only for Lee Fraser to be sacked on successive plays by Colin Thomas and Denis Ranklin, bringing the first quarter to close.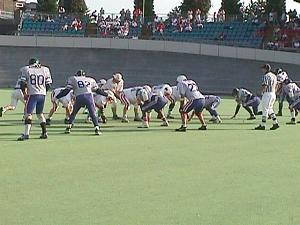 Lee Fraser calls the play while Bristol wait to pounce.




Gateshead opened the second quarter by having to punt. Bristol's main rushing threat of the day, Zee M'hango, had a 34 yard endzone run called back for a penalty, and the Aztecs had to punt. The second quarter was a succession of traded possessions, each defense up to the job of holding the opposition, typical being Bristol's David Liddle interception of Senator second string QB Jason Kenyon which ended the half.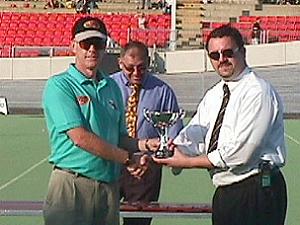 Club Secretary and assistant coach Bill Gibson receives the Division 1 North Trophy at half time for the Senators.




The third quarter continued the same theme. Time and again, the offenses of both sides had promising drives stopped by uncompromising defense. Gateshead's John Hartley repeatedly stopped Zee M'hango, and for Bristol, Kris Mitchell intercepted Lee Fraser again. The pressure was mounting on Bristol's offense to score and they repeatedly had to go for it on 4th down. Often they were successful, but the closer they drove to the endzone, the tighter the Senator's defense became, and it was always one 4th down conversion too few. Jason Kenyon was intercepted again, this time by Jay Taylor, but David Wilson replied for the Senators with a spectacular leaping interception, but the ensuing drive led to a Gary Marshall punt. Bristol drove right into the redzone. but the scoring pass was picked off at the back of the endzone by John Hartley to save the Senators' slender lead. But that lead became even more slender when Duncan French was tackled deep in Gateshead's own territory just as he was catching a pitchout. The ball bounced and rolled backwards as successive players of both sides tried to throw themselves onto it for the all important recovery. None was successful and the ball rolled out the back of the endzone to give the Aztecs a safety worth 2 points. Gateshead then had to kick the ball away to Bristol bringing the score at the end of the third quarter to 7-2.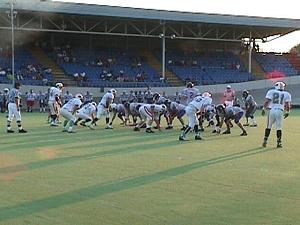 The evening draws in and the Senator Defense is determined to protect that 5 point lead.




This narrow 5 point difference led to a 4th quarter with tension mounting by the second as the game clock at the east end of the stadium ticked time away. Bristol came close, driving to the Senators' 9 yard line, but twice Hartley stopped M'hango and twice passing plays were broken up by a Senators' "D" who had the team's hopes in their hands. But with 4:35 left to play, Gateshead had to punt, but again, Bristol had to turnover the ball on downs. But their defense again were able to give the Bristol offense another shot when the Aztecs got the ball with less than a minute and half to go. Out of time-outs, they drove into Gateshead's redzone as this game reached its heartstopping conclusion. But they ran and passed inside and timed ticked remorselessly on. With seconds to go Bristol QB Ashley Richer passed to Blair Dent but Dave Wilson brought down the Bristol receiver just two yards from the endzone and just inbounds. The clock was reading 3 seconds, 2, 1, 0! Jubilation broke out on the Gateshead side of the field, but this breathtaking final had one last shock, as it was realised there was a penalty flag down on that last play. But Bristol's final glimmer of hope was snuffed when it became apparent it was against them, and Gateshead declined, allowing the play to stand, time to run out and the coveted Division title to be theirs.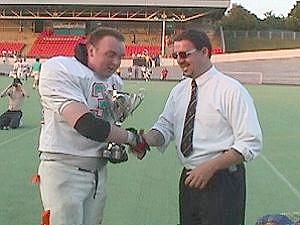 Steve Wooton (5 solos and 1 assist), for so long the heart of the Senators' defense, receives the Championship Trophy on behalf of the team.




This also makes Gateshead eligible for European competition next year along with the London Olympians.

Most Valued Player awards: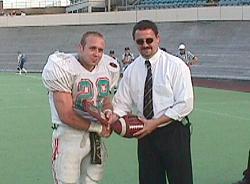 Gateshead's Duncan French, the league's leading rusher, receives the BSL Game MVP award.




The league awarded Game MVP to Gateshead's Duncan French who rushed for 133 yards on the day on 28 carries and scored the game's only offensive points.
As far as Gateshead's own awards are concerned,

| | |
| --- | --- |
| Defensive MVP | John Hartley (10 tackles, 1 interception) |
| Offensive MVP | The offensive line |
| Game MVP | The entire defense. |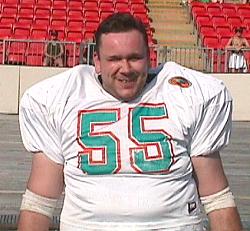 Gary "Bear" McNaughton - the offensive line received the MVP for offense, the unsung heroes who contribute so much to any offense.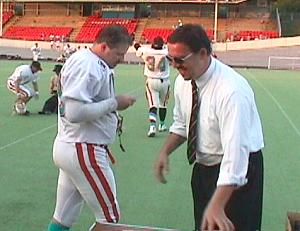 Club Chairman, Head Coach, kicker and punter Gary Marshall #13, examines the Championship medal he has waited so long for.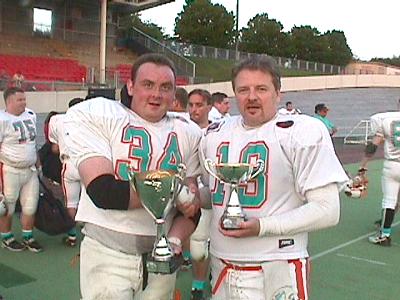 Two veterans of the Britball game, Steve Wooton and Gary Marshall, savour the moment together.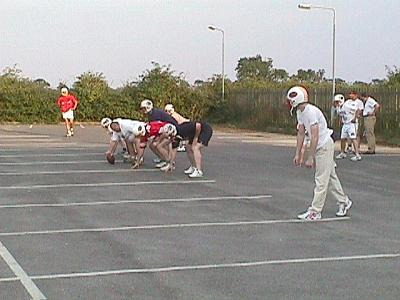 Running through some plays in the hotel car park on Saturday evening!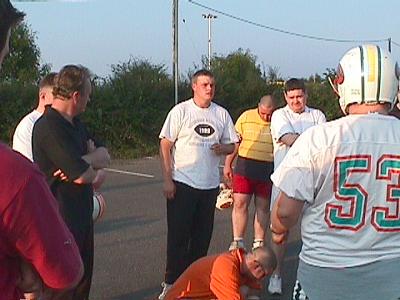 Sean Riley makes a point to the defense.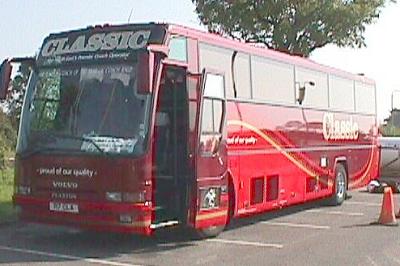 A special thank you to Classic Coaches of Annfield Plain, Co. Durham, for their help with travel to the game, and to Wayne, the driver, for whom nothing was too much trouble. The bus is the one used for Newcastle United, and your reporter & Webmaster was sitting in the Manager's seat - Bobby Robson of course!
Champions!!
Touchback!
---

Celebration Night!
Sat 16th October at the "Schooner"!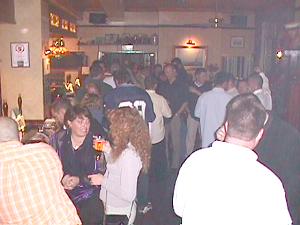 The crowded bar at "The Schooner".

Saturday 16th October was an evening the Senators had long waited for - the chance to celebrate a Championship! Players, supporters and friends converged from near and far to pack out "The Schooner Inn", the Senators' "home pub" for an evening of congratulations, awards, good food and of course, drink.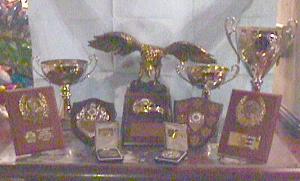 The Collection of Trophies

Club Chairman and team Head Coach Gary Marshall led off the proceedings with a revue of the season, looking back to the beginning of the season when the thoughts of a 9-1 regular season record, homefield advantage in the playoffs and the Division championship seemed far away.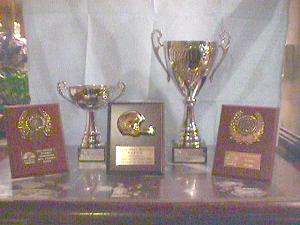 A selection of the club's trophies.

He paid tribute to the team, to the "family" the club had become and how this was a force in allowing the club to achieve its victory.


In a game by game, and at times, play by play, review, the opportunity was taken at each point to present MVP awards where those had been awarded to individuals. In some cases MVP awards had been made to complete units, or in some cases, not made.

East Kilbride (away)
Dave Pollard
Offensive MVP

Steve Wooton
Defensive MVP

Eric Walker
Game MVP
Wolverines (Home)
Duncan French
Offensive MVP

Dave Wilson
Defensive MVP

Craig Million
Game MVP
Redditch (away)
Duncan French
Offensive MVP

Dave Wilson (right)
Game MVP

Steve Wooton, Mark Sloan, Sandy Kyriacou
Defensive MVPs
Nottingham Caesars (home)
John Hartley
Offensive MVP

Dave Wilson
Defensive MVP

Mark Sloan
Game MVP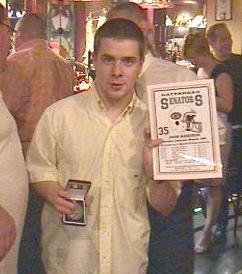 John Harrison, Coaches Season MVP

Coach Marshall also paid tribute to a special player, one on whom he has come to rely in tight situations when a few yards are desperately needed, on a third or even fourth down and short, one who has always "stepped up" and delivered. The Coaches MVP went to John Harrison.

After this, there was a break for the meal with copious amounts available of a varied buffet, supplied by "Schooner" owner and landlord, Gordon Taylor.

Gordon Taylor, proprietor of the "The Schooner Inn", with a Presentation Plaque and medal in recognition of the contribution the inn played in the 1999 campaign.
The next event was the "Alternative Awards", led by Sean Riley and Dave Wilson, with their own light-hearted and unorthodox review of the season, and their own set of awards, including sticky gloves for those who had dropped catches, vision goggles for the two quarterbacks, a pair of "bum shorts" for the Center, whose "builder's bum" is a regular treat for the offensive unit, a chest wig for a certain receiver reputed to be short of body hair, a pair of boxing gloves for taking on the match officials for the person most likely to, and many others in a similar vein.
After the laughter had died down and another trip to the bar, it was back to more serious business, as Coach Marshall presented the various team awards for the season.
| | |
| --- | --- |
| | |
| Gary Marshall presents John Hartley with the Shield as season MVP award for offense. | Gary Marshall presents Mark Sloan with the Conference Championship Trophy as season MVP award for defense. |
| | |
| --- | --- |
| | |
| Steve Wooton with the shield as leading tackler for the season. | Dave Pollard with the "Old Orleans Trophy" as Most Improved Player, his wrist still in plaster from the Championship game. |
| | |
| --- | --- |
| | |
| Gary Marshall presents Duncan French with the Eagle Trophy as "Players' Player of the Year", voted for on the night by the players. | Gary Marshall presents Sean Riley with the Championship Trophy as "Club Man of the Year". |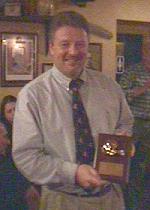 There was one final, and special award to be presented. Senators Head Coach Gary Marshall has been chosen as "Coach of the Year" by the British coaching association, sponsored by "First Down". The club had great pleasure in taking advantage of this Presentation Night to hand the award over.

This brought the end of the evening at "The Schooner" to a close, but there was still a bit of time left for conversation and to savour the most successful season in the long history of the Gateshead Senators.

Touchback!
---
1999 Final Standings

DIVISION 1 

National              Pl  Aw  Won  Lost  Tied   PF   PA   Percent
London O's             6   2   8    0      0   204    6   1.000
Birmingham Bulls       6   1   5    2      0   102   48   0.714
East Kilbride Pirates  7   1   4    4      0   74   123   0.500
Sussex Thunder         8   1   2    7      0   57   122   0.222

Central               Pl  Aw  Won  Lost  Tied   PF   PA   Percent
Bristol Aztecs         9   0   7    1      1   179   71   0.833
Southern Sun Devils    9   0   6    2      1   200   81   0.722
London Blitz           9   0   5    4      0   153   158   0.556
Dominos Oxford Saints  9   1   2    7      1   103   180   0.250
PA Knights             9   0   1    7      1    50   184   0.167

East                  Pl  Aw  Won  Lost  Tied   PF   PA   Percent
London Mets           10   0   8    2      0   165   108   0.800
Essex Spartans         8   0   5    3      0    99    59   0.625
Norwich Devils         7   0   2    5      0    66   187   0.286
Canada Life Cardinals  8   0   2    6      0    84   126   0.250

North                 Pl  Aw  Won  Lost  Tied   PF   PA   Percent
Gateshead Senators     7   2   8    1      0   177    90   0.889
Nottingham Caesers     7   2   6    3      0   150   112   0.667
Redditch Arrows        6   3   3    6      0    66   130   0.333
Merseyside Nighthawks  6   2   2    6      0    33   135   0.250
Lancashire Wolverines  1   9   0   10      0     0    42   0.000

DIVISION 2

North                 Pl  Aw  Won  Lost  Tied   PF   PA   Percent
Yorkshire Rams         8   0   7    0      1   188    86   0.938
Wolverhampton Vipers   7   0   4    1      2   164   126   0.714
Chester Romans         7   0   3    3      1   115    97   0.500
AP Surge               7   0   2    5      0   154   168   0.286
Strathclyde Sheriffs   7   0   0    7      0    77   221   0.000

South                 Pl  Aw  Won  Lost  Tied   PF   PA   Percent
Sabres                 8   0   7    1      0   220    51   0.875
Tiger Bay Warriors     6   1   6    1      0   151    64   0.857
Hertfordshire Stags    7   0   6    1      0   114    37   0.857
Maidstone Pumas        8   0   4    4      0    92    88   0.500
Plymouth Admirals      8   0   4    4      0   164   119   0.500
Kent Exiles            8   1   1    8      0    46   219   0.111
Chiltern Cheetahs      9   0   0    9      0    36   245   0.000

The 1999 Championship Roster
| | | |
| --- | --- | --- |
| 1 | Lee Fraser | QB |
| 3 | Jason Kenyon | QB |
| 4 | Craig Lenahan | RB |
| 5 | John Hartley | WR/DB |
| 6 | Michael Thompson | LB |
| 13 | Gary Marshall | K/P/QB |
| 15 | Tom Williamson | RB |
| 21 | David Wilson | DB |
| 22 | James Waite | DL |
| 23 | Wimmie van Tergouw | DB |
| 27 | Mark Lindsey | DB |
| 28 | Duncan French | RB |
| 30 | Craig Million | LB/DB |
| 31 | Steve Briggs | LB |
| 33 | Michael Rumney | RB |
| 34 | Steve Wooton | LB |
| 35 | John Harrison | RB |
| 37 | Steve Wilson | DL |
| 40 | Tim Watton | RB |
| 44 | Roy Davis | RB/LB |
| 47 | Mark Hume | RB |
| 49 | Sandy Kyrracou | LB |
| 50 | David Wooton | DL |
| 53 | Eric Walker | DL/LB |
| 54 | Alan Ralph | OL |
| 55 | Gary McNaughton | OL |
| 59 | Mark Sloan | LB |
| 60 | John Lockhart | OL |
| 61 | Sean Riley | OL/DL |
| 65 | Paul Kane | DL |
| 66 | Terry Scott | DL |
| 68 | Graham Norris | OL |
| 61 | Kevin Elgie | C/OL |
| 75 | Andy Cooper | DL |
| 81 | Iain Mullins | WR |
| 83 | Dave Pollard | WR |
| 86 | Peter Eichhorn | DB |
| 87 | Laurent Janniaud | WR |
| 88 | Andy Mountain | WR |
| 90 | Jamie Wetherill | DL |
| 93 | Paul Snaith | LB |
Coaching/Sideline Staff
Gary Marshall
Head Coach / Offensive Coordinator
Craig Buttery
Assistant Coach
Bill Gibson
Assistant Coach/Special Teams
Dave Wilson
Defensive Coordinator
Sean Riley
Defensive Coordinator
Barrie Hicks
Statistician
Peter March
Water
Touchback!
---