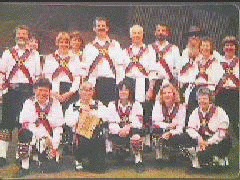 Fenstanton Morris Dancers
A mixed dance side formed in 1978 in the Huntingdonshire village of Fenstanton, taking the lion from the squires coat of arms for their mascot. The dances performed are from the Cotswold villages, the current repertoire comprises dances from Sherborne, Ilmington, Kirtlington, Fieldtown, Bampton, Adderbury and Raglan. They traditionally dance out on Boxing Day, at dawn on May 1st at the clock tower in the village of Fenstanton as well as other feasts and festivals. Also under the guise of Old Hunts Molly, they dance on Plough Monday and Whittlesey Straw Bear Festival They have performed at festivals in England, Shetland, Huntingdon's twin towns in France and Germany and have toured the East Coast of the USA from New York to Maine, Huntingdon Pennsylvania and at the Minnesota Renaissance Festival. They were instrumental in setting up Open Morris, the umbrella organisation with an emphasis on mixed gender dance teams, when Cotswold Morris was then considered by many, to be a male preserve.

Traditions currently performed include Adderbury, Bampton, Fieldtown, Ilmington, Kirtlington, Raglan and Sherborne plus Fenstanton, one of their own.

The team practise from the end of September until the end of April on Monday evenings (8pm) at the Church Centre, School Lane, (off Chequer Street) Fenstanton, Huntingdon PE28 9JR. How to find the Church Centre in Fenstanton (map)
Old Hunts Molly
The team also dance Molly (Comberton), with friends, under the name of Old Hunts Molly, and dance out at the Whittlesey Straw Bear Festival and on Plough Monday.

Traditional dance-out dates:

Boxing Day; Fenstanton Clock Tower and the White Swan, Conington
New Year's Day; St Neots. (With Heartsease)
Whittlesey Straw Bear Festival, Peterborough.
Plough Monday, Eaton Socon.
May 1st at dawn, Fenstanton Clock Tower.
And dancing most weekends from May to September, either locally or away, at the invitation of other dance teams.
---
Practise evenings start at 8pm on Mondays in the Church Centre, School Lane, Fenstanton PE28 9JR How to find the Church Centre in Fenstanton (map)
For further details contact Sheila Louth on 01480 466 537 or sheilalouth@btinternet.com
---
Fenstanton Morris dancing at Hail Weston on January 1st 2005

A higher quality copy for Broadband users is availableHERE