Mr Ladyman's Not Very Good Homepage
Tell me how bad it is!
Supremely uninteresting as it really only points to other places, except when it doesn't work...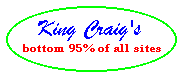 I'm hoping to get into the Bottom 95% especially as I haven't bothered to read this yet. Yippee, as of 2nd October, I made it!...ah...fame at last.
One of my favourite entries is Mullet Watch, but there's no accounting for taste.



Gaelic Links...Bruidhinn ar Cŕnan, Eolas which has just moved, with most of the interesting information at The Virtual Hebrides
Holmesian Links...Mr Credmond's Sherlockian Homepage; On-line versions of the Holmes Canon, The Doge of St Louis' Domain, The Hounds of the Internet
The Craggy Island Examiner (what Craggy Island would that be then, Ted?)
Friends in Other Places....Alison Monteith for no particular reason; Phil Field for all your graphics programming

Edinburgh Internet Cafés - Cyberia, in Hanover Street...and its live camera for those of you missing home; WEB13
The University of Reykyavik, which offers Internet Distance Learning Courses, as will (probably) The Scottish Highlands and Islands Server.
How to share you modem across a network.
The Skeptics Society.....and the opposite

Sue - here's your birthday card


The Home Page for the LADYMAN surname
Last updated (as if you cared) 25 March 1999 18:41:57