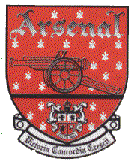 Welcome to the world of



Todays offical attendance is
Thank you for coming.
---
This site is best veiwed using Netscape 3.0
---
pages are added weekly.
About this site| Meet the 96/97 squad| Highbury| League Table| 1997/98 Fixtures + Results| History| This seasons kits| Please fill in this form| Links
---
Have you found something incorrect on this site or if you have any comments, suggestions or any information that would be useful for this site then please let me know.

---
This site has no offical connection with Arsenal F.C and they probably don't even know it exists.