40th Fife Scout Troop
Alton Towers Trip
The Troop went for it's, now annual trip, to Alton Towers on Sunday the 4th of October. We left the Scout Hall at Midnight and travelled overnight to arrive at Alton Towers at about 7am. On the way we were robbed on the motorway at the usual service stations (HOW MUCH for a cup of tea???????).
Apart from the usual roller-coaster fest we had plans to invest two Cubs as Scouts on the Nemesis. Alton Towers had kindly agreed to give us special tickets to allow us to enter the park before the normal crowds and so we headed straight for Nemesis. The Cub leaders said goodbye to the Cubs for the last time on the platform at the start of the ride and Scouts had to take their Promise as the ride was moving.
Luckily they managed before the first major drop.
It was one of the most unusual investitures we have ever done and, without a doubt, the most exciting.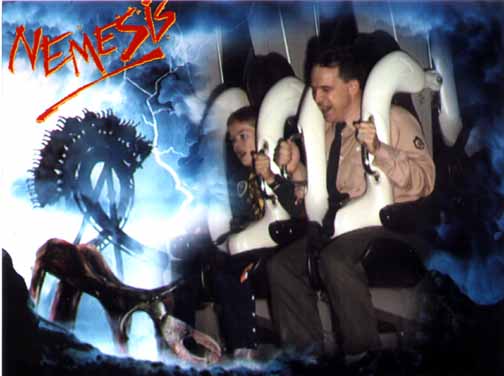 This photograph shows Craig and me trying hard not to scream as we were about to turn upside down.and this one shows Lorna and John just after he had taken his promise.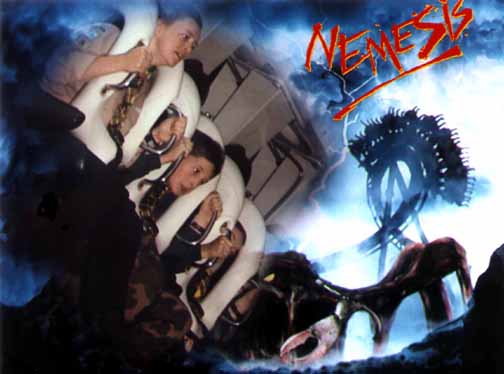 This year's favourite was undoubtedly the Oblivion. It is very, very scary
Katie showing that she is not enjoying the River Rapids






or the Runaway Train



James (CSL Thursday) on the runaway train, about to enter the tunnel

Time for a rest before hitting another ride.

Then, when it park closed we all headed back onto the bus for the 6 hour journey home.

It was all a bit much for some people.