TROOP TALK
Newsletter of the 40th Fife Scout Troop

Editorial
by Mag
What a busy two months it has been since the last issue. The Troop has been busy on a whole range of activities from outdoor to ceremonial. On the outdoor side you will read about windsurfing, sailing, canoeing, orienteering, hillwalking and cycling. Besides the adventurous activities the troop attended the district church parade with over 25 Scouts taking part - by far the biggest turnout in the district; we helped with the Gala and so helped to raise around £1500 pounds. The big news must be our performance in the Gibb Bugle - our district camping competition. We came in second place to the third Fife. However this year was the first year ever that the Gold standard was awarded and both us and the 3rd were awarded it. The Scouts performed exceptionally well and their camping standards were excellent. So good in fact that some of the examining team came to the 40th to scrounge food after they had eaten with the other teams.
Before I go I would like to say that this issue sees the end of probably the most successful year the troop has had: numbers are up (one night we had 43 Scouts attending); we have one star, two star qualified canoeists and a few three star on the way; the troop is now white water canoeing (something I never did until I was a Venture Scout); we have RYA qualified sailors;

excellent windsurfers; we have seen an explosion of patrol activities; a Chief Scouts award; countless other badges and awards and perhaps more importantly the Scouts have built up their self confidence and leadership abilities. The sight of a 13 year old who just a year ago had trouble packing a rucksack on his own, confidently organising a camp for 12 including planning the program and menu, calculating quantities, pricing the weekend, buying the food and handling the cash is a sight to boost your faith in the Scout Movement. That is what Scouting is about - producing responsible, confident young adults. All the activities, camps, badges etc. are just ways of getting there.
Have a good summer and I'll be back in the Summer Camp Issue.
Patrol Camp
By Jamie Eason
A patrol camp was held on the 30 to 31st of march at Fordell Firs.
David Syme, Graeme McGregor, Big Rab, James Sheddon, Kevin Penman, Mark Brigs, Chris Ozog, Chris Sim, Scott Wilson, Karen Wilson, Simon Radcliffe and Jamie Eason attended.
We had archery (led be evil uncle Pete )on Sunday. Rifle shooting and Abseiling on the Saturday. Every body took part in all activities except Penman and G. McGregor at Abseiling.
For our main meal we had Macaroni cheese (camp favourite) and fruit (minus the custard)
We played wide games against the 49th Rosyth Sea Scouts. One of the main problems during this game was that there
was another wide game going on at the same time so we kept jumping the wrong people.
But we still thrashed them at their own games.
Orienteering
By Stuart Dudley
The 17th of March was the day when 14 members of the 40th undertook the Orienteering course at Loch Ore Meadows starting with the basic navigating our way round an average sized room (Everyone's got to start somewhere). Eventually building up to a full timed scoring event which was done in pairs. James Sheddon and Stuart Dudley were the winners with the maximum points available. The course after its slow start was fun and we were told by our instructors that they had never seen a more active bunch (They should come down on a Friday night!) . After the course the participants require but one more thing (A proper comp!) to complete the badge.
Ice Skating
By Stuart Dudley
On the 25th March 14 hopeful skaters headed for Murrayfield Ice rink which we inevitability lay ahead. On arrival we hired our strange blue figure skates which were designed for us to do double axle turns (Well maybe that was a little hopeful) For roughly 1 hour we skated round and round then we played the traditional game of tig.
Full of life we left for home stopping at McDonalds en route.
Arthur Seat
By David Syme
We went to Arthur Seat on the 4th of April (during the Easter holidays). Fishy, James Brown, Jamie Eason , David Syme, Laura, Biff and Bob Tanian and Graeme McGregor attended.
We left the Scout hut at around 11 o'clock . We headed up Arthur Seat . It was not too difficult as it was not that high . When comming down david ,Fishy ,James and Graeme slid down on a grassy hill while the rest walked down the path. Next stop was Holyrood Palace. We only went inside the gate and never went round the whole place. We went to the beach next . We tried to walk out to the island but the tide was in .Our last stop was at Fordell Firs where we looked aroud the pet cemetery.
Sailing at Lochore
by Alison Figures
We went sailing at Lochore Meadows on the 15th of April .
David Syme , Rab (Graeme Keith) ,Alison Figures ,Penman (Kevin) , Stuart Dudley and James Sheddon.
We left the hall around 9.30 and got there at 10.00. We got all our equipment which included a wet suit , Life jacket and a waterproof top. We first of all got taught how to set up our boat and launch then we got shown how to sail it then we got a turn I was the firsty one to capsize when I tried to turn the boat. Once we had our lunch we went back out on the water after that Penman capsized. We were the only two to capsize. Then we went in pairs in the boats. James went into the speed boat and he eanded up driving it. He got back in the boat with Penman then after this we sailed for a short time then we headed home.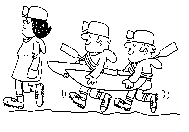 P.L. & A.P.L. Camp Fordell Firs
The camp began when a group of P.L's. & A.P.L.'s decided to organise a camp at Fordell Firs. This gave the P.L's & A.P.L's extra time away from their patrols to mingle and join in activities together.
To organise the camp we held various meetings to discuss the Programme for the Camp. This included the organising of the transport, Patrols, equipment, leadership, money, activities and Food, (This proved to be a problem because of the B.S.E SCARE (Rab The Mad Cow ).
The Patrol's consited of
Patrol 1. Alison Figures, Graeme McGregor, Graeme Keith, James Sheddon and Jamie Eason.
Patrol 2. Christopher Mack, Craig Marshall, David Syme, Colonel Radcliffe and Stuart Dudley.
Leaders James Brown and Karen Wilson
After we had set up camp at Fordell Firs, including Tents, Gateway, area boundaries, fire, store tent and Rubbish area. We left for Swimming at the Commonwealth Pool, Edinburgh.
The swimming pool was excellent and the Stingray was rather slow (Not!) It take 5 sec's to go 60 metres. There was also other flumes called Twister, Vortex , and the River Rapids but that one was closed. David Syme Cut his nails too short but not with Scissors, with a diving board?
The wide Game Challenges against the 28th Hay market when they tried to beat us at their own game but we were just too good for them.
The Saturday consisted of Climbing wall, orienteering, P.C. meeting with a difference, Training for award work with Mag and Co. The climbing wall was such a challenge (Not!) David Syme completed the Traverse. We also had a wet wet wet slide with Colonel chicken out, not taking part. this was a great laugh but with wind was too strong too keep the polythene down we gave up. Saturday ended with a great Camp fire with Fordell fellowship (Uncle Pete) It lasted 1 hr 30 mins, but the Guide's took umbrage and left after 10 minutes because of a line in a song (oh you'll never go to heaven with a Fat Girl Guide as those Pearly gates ain't made that wide) We used half of Fordell forest on the Camp Fire. Pete never left our site until 2am on Sunday Morning." I think that the 40th are the Best in the District. "he said He also tried to get us to join the Fordell Fellowship.
Sunday started after a very good sleep with the Flag break, with Craig volunteering with a push start from James to break the Flag. We Also took part in Archery which proved to be a good laugh, there was no Robin Hoods among us, or William Tell. We could not do trampolening as there was a hole in it. We then set off to shooting where Pete took us and we all suffered terribly from him tormenting us. Colonel was a crack shot. We all thoroughly enjoyed the camp thanks to the Cooperation of Fordell Firs Staff (we'll most) and the running about and organising by Chris and James.
SKI FRANCE DUNFERMLINE DISTRICT SCOUTS
By Colin Mason
DAY 1 Not much sleep tonight (staying at the 40th hall). We left at 4.30am for Glasgow airport and arrived in Morzine around 4.00pm (Hotel Beau - Regard).
DAY 2 Breakfast at 8.00am and on the slopes by 9.45am, we skied with Scouts from outside Geneva (Switzerland) for part of the morning. Great sunny weather but not much snow.
DAY 3 The weather was not too good, it was very cloudy and it started snowing around lunch time. We met up with Swiss scouts in the evening and Stuart Moy (Inverkeithing scout group) played the bagpipes and the French sang for us.
DAY 4 The weather wasn't good and again skied all day. We were given a chance to put our names into a hat for parapente (parasending in English). Not many names were put in.
DAY 5 We were given another chance to put our names into the hat and mine went in. The names came out at dinner, mine was the first pulled out, second was Richard Davidson (Titch) and third was Andrew Greated.
DAY 6 Skied all day and the weather was great. On the slopes by 9.30am heading for the Wall (steepest slope in Europe). A boy from my hotel came down the hard way, without skis, and had to walk back up. Some of the group skied down it but the parascending group went a different direction. All the parascenders survived. Two of us came back early to get packed because we went out to the other hotel for a night out, Stuart Moy played his bagpipes again and we had pizza and chips for super, that went down well!
DAY 7 Up usual time, breakfast at 8.00am (shame really) our flight was at 3.00pm (2.00pm in Britain). We left Morzine at 10.40 and arrived home at about 6.00pm.
Windsurfing
by Mark Briggs
On the 20th of April, a group of about ten people went- as the title suggests- windsurfing. We got to the scout hall in time to leave at 9:30am, though I reckon we left at about 9:50am, 10 minutes before we were meant to start.
We got there, but our instructor was late. Typical. We played on the swings while we waited for him and eventually he arrived.
The first thing we did was get our wetsuits and put them on, which is a sport in itself, because after getting them and some rather tight boots on, a few of us were sweating like pigs, and they say they're even harder to get off!
We prevailed though, and we went down to the water side where Sean (Our instructor) was explaining to us how to set up our sails. He then gave all the people who had already been windsurfing folded up sails to set up, while Deborah and I (the people who haven't gone wind surfing before) went with Mag onto the simulator (nothing hi-tech and flashy, far from it. It was a set-up board and sail attached to a metal, turning frame) where he showed us some basic "stuff". After that Sean showed everyone the same "stuff" Deborah and I had just done and then he let all the people who have already done it go out and sail while we watched. Then he came back and set up our sails and helped us attach them to the boards.
We pushed our boards out into the water, which was colder than something that is very, very cold indeed. I paddled out a bit and tried to sail, though not to well. But I don't think you're bothered about how many times I fell in or over balanced, and even if you are I'm not going to tell you. I do have at least some pride you know. But seriously, it was a great experience and I really enjoyed it, especially when I drifted towards some fisherman and had to get towed back by Sean's speedboat.
After we came back to land and rolled up our sails some of us, the silly people we are, ran off the end of the pier and jumped into the water . It had been raining, it was absolutely freezing and we were jumping off the end of a pier. But never mind, because in the changing rooms were lovely warm showers. We got dry, took the wetsuits back to the rack, ate some things then piled back into the van and got back to the scout hall at 2:something.
It had all been brilliant fun and I'd happily do it again.
Future Activities
Sailing
Fun sail 11th June
Canoeing
BCU 1 Star 4/6/18/20 June
BCU 2 Star 25/27 June
River Trips
2 star min 2 June/15 Sept
Skiing
Beginners (Skiiers Badge) Approx monthly
Improvers (Advanced Skiers Badge) Approx monthly
Windsurfing
Water sports Badge
Wed 29th May
Approx monthly from April to October
Hillwalking
Hikers and Hillwalker Badges
As time and weather allows
Overnight Silly Summer Solstice Stroll Fri
June 22nd
Rock Climbing and Abseiling
As time and weather allows
Troop activities
Alton Towers
The Troop plans to run a bus to Alton Towers in October this year. We intend to leave the Scout Hall early on Sunday the 6th of October and return later on that night. The cost will be around £20 and we will be taking deposits soon. There are around 50 places available so every Scout will have the chance to go (unless of course the troop grows any more!). A letter will be issued shortly to the troop to get an idea of those Scout who will be interested in the trip.
Summer Camp
The organisation for summer camp at Grandtully is underway. Around 25 Scouts will be going making it large by recent standards. We have an instructor coming who will be responsible for the climbing and we hope to run some climbing sessions prior to camp to familiarise everyone with procedure and so save some time at camp. Canoeing is also on the agenda and three caneoing courses have been arranged in June to prepare. In addition we expect to have some hillwalking with a Munroe or two onthe list. Other activities include the every popular bivvying, international meet at the Blair Atholl Jamboree, Pitlochry Visit, swimming in Aberfeldy, and general camp activities. It is hoped that every Scout who attends should earn several badges including: the Camp Cook; Rock Climber, Observer, Pioneer and many more.
AWARDS
Scout Award
Stuart Edwards, Colin Mason, Greig Ramsay, Stephen Mack, Scott Wilson, Christopher Ozog and Christopher Sim.
Pathfinder Award
Scott Edwards, Craig Marshall and Graeme Keith.
Explorer Award
Christopher Mack.
Chief Scouts Award
Stuart Dudley.
Leadership Award
Stuart Dudley and David Syme.
Patrol Activity Award
Tigers: Graeme Keith, Kevin Penman, Christopher Sim and Christopher Ozog.
Proficiency Badges
Cook
Chris Ozog.
Swimmer
Arlene Syme.
Smallholder
Graeme McGregor
Craft
Kevin Penman and Kerry Sheddon.
Adv. Swimmer
Arlene Syme.
Entertainer
Mark Briggs, Colin Mason, Deborah Mason, Simon Radcliffe, Claire Mack, Arlene Syme, Glenn Gibson, Graeme Hardie, David Ozog.
Pioneer
Stuart Dudley, Alison Figures and Scott Wilson.
Camp Cook
Graeme Keith and Christopher Mack..
Hobbies
Graeme Keith.
DIY
Graeme McGregor, Graeme Keith.
Musician
Graeme Keith.
Mechanic
James Sheddon and Graeme Keith.
Model Maker
Graeme Keith and Craig Marshall.
Orienteering
Scott Edwards, Scott Wilson, David Syme, James Sheddon, Kerry Sheddon, Kevin Penman, Graeme Keith, Graeme McGregor, Stuart Dudley, Jamie Eason and Alan Henderson.
Elementary Helmsman
Greme Keith and Stuart Dudley.
Promotions
APL
Kevin Penman, Colin Mason and Michael Wilson.
PL
Stuart Dudley.
What on earth is????
A Whipping
Not a punishment for naughty Scouts. It is a method of preventing a rope end from fraying by winding thin string around it.
A Topper
Not a tall hat but a small one- man sailing craft.
A Fishy
A Scout by the name of Christopher Mack who earned the nickname because of his unerring weather predictions.
A Mag
Magnus. A nickname of the Scout Leader. given to him as a Scout.