Britain's Most Northerly Isle
The Island on which Robert Louis Stevenson based his map of "Treasure Island"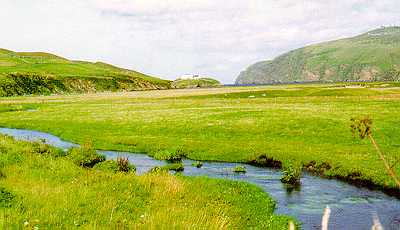 Click here for a separate map of Unst


Unst provides scenic walks for the casual or serious walker, and there is much of historic, botanical, cultural, geological and archaeological interest to be seen on the island - including the oldest plantation of trees in Shetland, established at Halligarth in the 1830s.
There are also many SSSIs (Sites of Special Scientific Interest), a fascinating Boat Museum, a Heritage Centre; and a ruined castle (built during the late 1500s) located at Muness, on the southern end of Unst.
You'll also find a wide variety of archaeological relics such as stone circles, standing stones, earth houses, the Gunnister Stone, Hanseatic remains, a water mill, a horse mill, chambered cairns, brochs, very early Celtic churches, early to mediaeval Norse and Viking remains, World War II installations and other period architecture.
Visit Unst's sandy beaches, rocky inlets, burns and lochs, heather moors, soaring cliffs, and see Otters and Seals, Puffins, Skuas, Gannets, Arctic Terns, Red Throated Divers, Razorbills, Merlins and, occasionally, Whales and Dolphins. The top end of Hermaness is the most northerly point you can walk to in Britain; at which point only the impressive Muckle Flugga Rock and its lighthouse (built by Robert Louis Stevenson's father, Thomas, in 1857-8) stands between you and the North Pole.
Cultural activities on Unst include using the Leisure Centre (with indoor pool and sports facilities), music and dance nights, spinning and knitting demonstrations, story-telling and folklore sessions, guided wildlife tours, visiting the Valhalla Brewery (Britain's most northerly brewery), and the local craftspeople.
From autumn until January, visitors can enjoy the Northern Lights (the 'Merry Dancers') and the planetarium-like appearance of the night skies during clear weather.
Related Information Links: