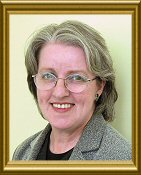 My name is Donna Smillie, and Different Worlds is my personal website. There is no particular connection between the different sections here except that they are about me or my family or they interest me. I hope you find something that interests you too.
June 2006
Sadly, at the beginning of April, my mother, Joyce Smillie, died.
From my blog:
My blog, Off and On, is now finally established at http://offandon.penguinsegg.com. And Chris and I have a new website, The Penguin's Egg (http://offandon.penguinsegg.com). Over time, I plan to transfer much of the content from this site to the new site. As I do, I'll add links here to the new location. Given how little time I get to work on this site at the moment, though, don't expect any changes to happen very quickly!
Cat photos
Do leave a message in the guestbook - thank you for dropping by.

Pictures of the Past

Two family collections of photographs. The first collection consists of photographs taken during the First World War by my mother's uncle, along with other photographs found in a collection of family documents. The second collection consists of photographs taken in China, around 1900, by my partner's (Chris Bourne's) great-grandfather, who was a newspaper editor there, and who lived in China for many years.
Pictures of the Past
Leslie Smith Family

Some details of my maternal grandfather's family, from the start of the 19th century to the early part of the 20th century. The information comes from two 19th century wills and other family papers passed down to my mother, Mrs Joyce Smillie (née Leslie Smith).
The Leslie Smith family
Introduction to HTML
A beginner's guide to HTML - learn how to create your own web pages. I've included lots of worked examples with illustrations, and explanations and charts of web safe colours and hexadecimal numbers.
An Introduction to HTML
Bookshop

A selection of books, available for purchase online from Amazon UK, covering:
The First World War
HTML, and other aspects of creating a website.
Some of my own favourite books, fact and fiction.
http://www.users.zetnet.co.uk/dms/index.html
The Different Worlds website © 1998-2006 Donna Smillie <dms@zetnet.co.uk>. All rights reserved.