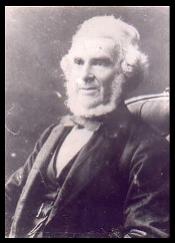 My maternal grandfather's family are the Leslie Smith family of Dunoon on the north west bank of the Firth of Clyde in Scotland. We know that they are descended from two families, the Leslies and the Smiths, from Fife. Much useful information about these family links came from two wills which survived intact and which my mother found in amongst a box full of papers and photographs - the wills of Robert Leslie (1815) and of his son-in-law, James Smith (1862). The later will shows that it was one of James Smith's sons who moved to Dunoon - Robert Leslie Smith (pictured on the right), my mother's great grandfather, who became the third Provost of Dunoon.
Further snippets of information came from newspaper clippings, invitations and other papers which members of the family kept. My mother occasionally mentioned a large family tree which she remembered seeing as a child, but her father's copy disappeared after his death in 1962, and we didn't know of any other copy. Then, in 2001, a relative who had emigrated to Australia found this website and emailed me. During our email conversation, we discovered that he had a copy of the family tree! He sent us a copy, and, as time allows, we have been checking out the information it contains, trying to verify it - there are some glaring errors in the family tree, which was drawn up some time before 1931, so we can't be 100% certain of the other information it contains.
I am gradually adding to these pages as we verify the information we've got. There's an awful lot of information to work through and add here! If you find a reference to a name which is of interest to you in your own family research, please email me (dms@zetnet.co.uk), as it's possible I may have a little more information about it which hasn't found its way onto these pages (though I can't promise anything - in many cases, what is offered here is all the information we have).
Please feel free to copy any of the material on these pages if it is of use to you for your personal research (for commercial use, please contact me to discuss). For anyone researching family history in the Fife area, the Fife Family History Society offers a wealth of information and resources - see their website at http://www.fifefhs.org/. It's also well worth subscribing to the Rootsweb mailing list for Fife - see http://lists.rootsweb.com/index/intl/SCT/SCT-FIFE.html - there are many people on that list actively researching family history in Fife, and many with information they are more than happy to share with others.
Spring 2003 - I turned my attention to finding out more about my great-great-grandmother, Mary Sinclair, wife of Robert Leslie Smith. We knew she came from the Orkneys. And for the first time, I discovered others researching the same family! It turns out she came from a very large family, whose various descendents around the world have been researching the various branches of this family for some time. As a result, I've made contact with distant cousins in Ohio and New Zealand, and have acquired a wealth of information that has already been gathered by others about this family. As ever I'll be adding some of this detail to the pages here when I have the time to sort through it and update these pages. Wonderful surprise, though.
August 2003 - If you want to see full details of our family tree beyond the information I've collated on the main pages in the site (perhaps you want to see if there are any names in there that you are also researching), I've uploaded a complete set of pages generated by the genealogy database software I use. You're welcome to browse them (note, though, that I've not yet found a way to make those pages as accessible as I try to make the rest of my site - there are hundreds of them, and they are, for now, presented in the format generated by the database software).
Browse my family tree.