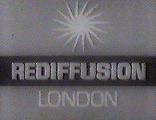 Associated Rediffusion History
Double Your Money and try to get rich,
Double Your Money without any hitch,
Double Your Money, it's your lucky day,
Double Your Money and take it away!

General
Rediffusion had been in the business of carrying broadcasts since 1928, that is relaying radio programmes to areas with poor reception. They had also acquired interests in broadcasting overseas, particularly in Canada and the Carribean. They had the support and the 'star' logo of their parent company, British Electric Traction, as well as Associated Newspapers. It was with this support maybe that they obtained what was considered the 'plum' contract - London Monday to Friday, one that was thought to be destined by many to go to the Associated Broadcasting Development Company.

Their initial investment was heavy, and they had lost £3 million by their first anniversary of broadcasting, when they had been carrying a large part of the programming cost. At this time Associated Newspapers largely wanted out, and 80% of their shares were bought by Rediffusion. By 1959 the annual profits had reached £2.7 million, and a few years later were double the profits of the whole Rediffusion business in 1955.

Like everyone else they passed through the 1964 franchise round unscathed, although the opportunity was taken to drop the 'Associated' from their name, as by this time Associated Newspapers had completely sold out, somewhat unhappily as a requirement to keep about a one-third stake in Southern Television. They had been asked whether they would consider accommodating parts of another applicant, which they refused.

However things were different for the 1968 awards. By this time the ITA was headed by Charles Hill, with his broadcasting experience as the wartime Radio Doctor (keep those bowels open), and also his stint as Postmaster General; he was one of those at the original opening ceremony of ITV. He realised that the only time the ITA had any real power was at contract award time, and was more than willing to exercise it.

What was said at the ITA interview of the chairman of Rediffusion John Spencer Wills is not publically available, but it has been reported by David Frost that there were some heated exchanges about the whole process. Charles Hill had already been contemplating the possibility of forcing companies to merge principally to permit new operators to have a franchise. Therefore he proposed that Rediffusion merge with ABC, but ABC would have 51% of the new joint company, and effectively be in control. This is thought to have been a take it or leave it offer, and Rediffusion took it, although they did secure a 50/50 deal regarding the profits.

The joint company became Thames Television, and its forced creation with two major shareholders presented somewhat of a continuing problem.
Dates & Transmitters
London (Monday-Friday)

Start: 22/09/55

Stop:  29/07/68


Transmitter: Croydon 9V

---