Rediffusion Programmes
&nbsp Today on Rediffusion ...
Tonight on Adulterated Rediffusion at 10 o'clock we have a season of old films. We were going to simply call them old films, but we thought it better to call them 'Great Classics of our Century'.
(David Frost, 1961, before he became the first General Trainee at Rediffusion.)
Rediffusion is another company which had a reputation of producing cheap formulaic programmes. Although they did have some that might fall into that category they also were prepared to experiment, with uncategorisable shows like `The Frost Programme', and schools programmes, where they transmitted the first ever in the UK.
Below is a small subjective list of programmes. If your favourite Rediffusion programme is missing let me know, and I will add it.
Comedy

A Show Called Fred
Idiots' Guide, 2d weekly
At Last the 1948 Show

Light Entertainment

Opportunity Knocks
Take Your Pick
Ready Steady Go

Drama

No Hiding Place
Crane

Children

The Five O'Clock Club
Orlando

News/Documentary

This Week
First Night
The opening night of ITV was a joint effort between Rediffusion and ATV. The next day was all down to Associated Rediffusion:
10:30 Test Card followed by Morning Magazine
10:45 Sixpenny Corner
11:00 Hands about the House
11:15 Test Card
11:45 Bookcase
12:00 News (read by Barbara Mandell)
12:10 Friday's Man
12:15 Small Time
12:30 Closedown
17:00 Time Signal followed by Tea V Time
18:00 Closedown
19:00 Time Signal, News and Weather (presented by Squadron Leader Laurie West)
19:15 The World on Wheels - RAC magazine
19:20 Friday's Girl
19:30 Sports Club
20:00 Take Your Pick
20:30 Dragnet (The Big Escape)
21:00 Confidentially ...
21:30 Round the World with Orson Wells
22:00 News and Newsreel
22:15 Visitor of the day
22:20 Out of Town
22:50 And so to bed
23:00 Epilogue
Interesting to see morning television and lunchtime children's programmes, often thought of as much later innovations. Both disappeared in the cash crisis of 1956. Also note that the news at noon was read by a woman, Barbara Mandell, who was the first female newsreader on British television, not as sometimes stated Angela Rippon or Anna Ford.
And last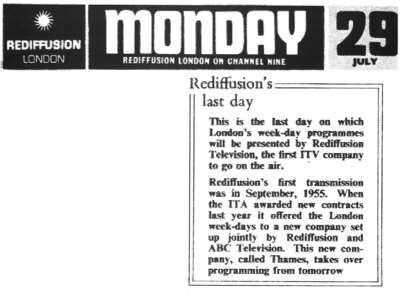 ---