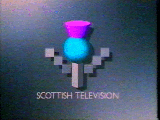 Scottish Television Programmes
What's on Channel Ten, hen?
Scottish produces a larger proportion of local programmes than most other companies, often displacing networked programmes. For many years there was not much traffic in the reverse direction, with Scottish Television gaining the image outside Scotland that they were only interested in producing programmes with swinging sporans, swirling kilts, and skirling bagpipes. Increasingly since the 1970s they have produced programmes for the network, particularly drama.
Below is a small subjective list of programmes. If your favourite Scottish programme is missing let me know, and I will add it.
Light Entertainment

The One O'Clock Gang
Studio Downbeat
The Andy Stewart Show
At home with Doctor Evadne Hinge and Dame Hilda Bracket
Hello, Good Afternoon, Welcome
Sounds Gaelic
Wheel of Fortune

Drama

Doctor Findlay
The Pride of Miss Jean Brodie
Taggart
(Take the) High Road

Children

Roundup
How 2
Funhouse

News / Documentary

Here and Now
Oil
Scotland Today
Scottish Reports
Ways and Means

Religion

Seek the Truth
---