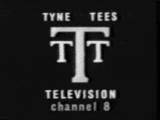 `The geographically imprecise North Eastern Television was ruled out'
Bernard Sendall, Deputy Director General of the ITA

`We are the eighth child of the ITV family, and although we are not as big as some of the other members, we are young and lusty, and we are going to make our voice heard'
Sir Richard Pease, first Chief Executive of Tyne Tees
History
The expansion restarts
The ITA, which had had doubts about the plans to extend coverage during darker days of 1956, had by May 1957 re-established the aim of achieving national coverage by one station by 1960, and considered it desirable to do this by new contractors, rather than enlarging the areas of existing ones.

Following the logic of setting up transmitters in order of population coverage, North Eastern England was the next area to be picked; in October 1957 the site for the transmitter had been picked (Burnhope, 10 miles south west of Newcastle-upon-Tyne) to serve about 2.67 million people, and the contract was advertised.
Conditions
These were fairly standard: 15% local programming, and a local studio centre, OB unit and headquarters. A clause had been slipped in to reinforce the need for financial independence and to prevent exclusive deals with one existing ITV company.
The Applicants
There were no shortage of applicants. All the four majors applied as well as seven newcomers. The short list consisted of: a group headed by the Guardian newspaper; one led by Viscount Tenby; a local consortium headed by Sir Richard Pease, the Daily News and George Black; and ABC. The Pease group won, mainly from their commitment to the local flavour of their programming, concentrating on regional topical matters, and educational and children's programmes.
Name Choosing
The offer was made by the ITA on 12 December 1957, but one of the protracted issues was the name. North East England was considered imprecise. The consortium suggested `Three Rivers Television` which was romantic but obscure. `Tyne, Wear, and Tees' was suggested, which although geographically precise was a mouthful. Eventually Tyne Tees emerged, but the theme tune of the new station was to remain `Three Rivers Fantasy'.
Comings and Goings
Potential directors of the new Tyne Tees company were required to divest themselves of financial links with other broadcasting concerns, in particular Associated Rediffusion. Peter Cadbury, who had become involved through the Daily News was personally more interested with the franchise for the South West, and left on 20 January 1959.

Tyne Tees wanted to bring the Kemsley newspapers into their group to gain more capital. In the end the ITA allowed Tyne Tees to issue shares to the public on the stock exchange, although these had to be non-voting, so that control would remain with the original team.
Start Up
Through the second half of 1958 an advertising campaign was conducted to attempt to persuade people to have their sets adapted, or aerials repositioned, to receive the service. This was so successful that over a third of viewing homes were able to watch the service from day one, the highest starting coverage achieved so far.
Entertainment over culture
The first night's programmes were somewhat a view of things to come, as Tyne Tees were notorious in their early days for dropping more serious networked programmes for entertainment. The need for a more balanced programming schedule was made clear to them by the Head of ITA's Regional Services Frank Copplestone, at a meeting in 1962. This was heeded, including transmitting the Associated Rediffusion production of Electra in Greek unlike the other companies.
Sixties Franchise Rounds
The 1964 round saw Tyne Tees opposed by an usual group of producers and educationalists, who were proposing that they would operate as a co-operative. However, they could not demonstrate their financial soundness to the ITA, who also were concerned they were not necessarily representative of the region.

Tyne Tees were unopposed in 1967.
The Trident With Only Two Prongs
The 1967 round had largely considered the shape of regions based on the regions defined by the VHF frequencies. However, the whole east of England posed an interesting problem. Three main UHF transmitters could cover everywhere from King's Lynn to north of Middlesborough, but didn't naturally form the same areas as the equivalent VHF ones. In particular for Tyne Tees the original allocation of Bilsdale in North Yorkshire to Yorkshire meant that many people in the "Tees" part of the region were no longer covered by them. Yorkshire had a similar problem in that much of East Yorkshire was now beyond the reach of Emley Moor, and were getting Anglia instead. A grand plan was negotiated to merge Tyne Tees, Yorkshire and Anglia into one television company, and the name `Trident Television' was coined, with each existing company one `prong' of the new one. A transmitter swap, with Bilsdale moving to Tyne Tees and Belmont to Yorkshire was agreed.

The IBA was none too keen on this proposed arrangement, as the combined company would have a vast territory in area compared to anyone else. However, they recognised the problems that Tyne Tees in particular were facing. In the end they agreed to the transmitter swap and the creation of Trident Television, but Anglia was not permitted to join.
Apart once more
The 1981/2 franchise round saw two groups opposing Tyne Tees. The contract was renewed, on the agreement that the holding of Trident Television was reduced to 20%. Trident was dissolved a few years later, and Tyne Tees and Yorkshire fought a battle over the much larger than usual overlap area of Emley Moor and Bilsdale. Yorkshire ran a series of radio advertisements from Radio Tees with the slogan: `Real Yorkshire People Watch Yorkshire Television'. Tyne Tees responded by opening an office in York.
Coming together again
In December 1990 19% of Tyne Tees came on the market, being sold by Vaux Brewery. After denying interest Yorkshire snapped this up for £5.1 million. This was in some ways an odd time to invest as plans for the next franchise round were already underway, and soon it became clear that Granada with the help of Border and the Newcastle Chronicle were going to bid against them as "North East Television". Tyne Tees retaliated by participating in a bid against Granada, and put up a bid over over £15 million for their own region in addition to 2% of qualifying revenue, nearly three times their annual profit. In the end they could have got away with a lot less, since North East TV bid only £5 million, hoping that the ITC would rule out Tyne Tees on financial quality grounds. Having worked together throughout the franchise round it was no surprise when Yorkshire launched a full takeover.
Its all Channel 3 now ...
Tyne Tees and Yorkshire increasingly pooled their local programming, as both had high bids to service even though the ITC gave words of caution against the co-productions. In contrast to the 1980s there was a desire to blur the differences, even though both companies had strong images in their regions. This led to the somewhat odd "Channel 3" branding that was initially to be applied to both of them, but in the end was confined to Tyne Tees, which in September 1996 became "Channel 3 North East", at least on screen. Geographically imprecise no longer, it seems.
Tyne Tees Returns
The name Tyne Tees returned on 9 March 1998 - although it has to be said that on networked programmes it had never been replaced in the first place.
Transmitters

VHF
Burnhope 8H 15/1/59-3/1/85



UHF (Main)
Pontop Pike 61H 17/7/70
Bilsdale    29H 01/1/74
Chatton     49H 19/8/74

---