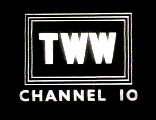 TWW Programmes
First up
16:45 Opening, with Bruce Lewis, Lord Derby, Sir Ian ab Owen Edwards and Alfred Francis.
17:00 Youth Wants to Know, with Lady Megan Lloyd George, Raymond Gower and Welsh school children (produced by Granada)
17:40 ITN News, read by Huw Thomas, including a greeting in Welsh
Later at 7pm was "The Stars Rise in the West", featuring a number of local stars, such as Shirley Bassey, Harry Secombe and Donald Sinden. Listen to a brief extract of this with Jack Hylton and Tommy Cooper.
Regulars
Amser Te [Tea Time]
Gwlad y Gan [Land of Song]
Claim to Fame
Here Today
Challenge
TWW Reports
Discs a Gogo
Movie Magazine
Tinker and Taylor
Pwy Fase'n Meddwl (Who would believe it)
How It Ended
3 March 1968
22:35 All Good Things ... with Bernard Braden, Morecambe and Wise, Tessie O'Shea, Ivor Emmanuel, Manfred Mann, Stan Stennett and Clifford Evans
Closedown ... Come to an End: poetry reading by John Betjeman
If your favourite TWW programme is missing let me know, and I will add it.
---