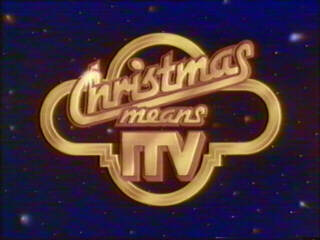 Christmas is ... ITV
That was the slogan in 1979. Judge for yourselves whether the schedule matched it. It seems as if Granada had the day off ...

08:45 Beautiful Morning (YTV)
Burl Ives and the St Winifred's Children's Choir

09:00 The Christmas Story (YTV)
09:15 A Merry Morning (YTV)
Jimmy Tarbuck, Animal Kwackers, Mike Harding and Ward Allen at the National Children's Home in Harrogate.

10:00 Christmas Morning Service (Thames)
11:00 Lassie: The New Beginning (film)
12:45 The Walt Disney Classics

13:00 Christmas Oh Boy! (ATV)
13:30 Crossroads (ATV)
Reg Cotterill meets a new friend of Alison's. All the familiar faces are at Meg Mortimer's get-together.

14:00 Star Games Final (Thames/TWI)
Comedians and TV presenters fight it out in the water, over an obstacle course, at golf running and football, and finally tug-of-war.

15:00 The Queen
15:15 Goldfinger

17:10 ITN News

17:15 3 2 1 Dickensian Xmas Show (YTV)
Terry Scott, Bill Maynard, Wilfred Brambell, Carmel McSharry and The Krankies join Ted Rogers and Dusty Bin.

18:15 George and Mildred (Thames)
18:45 The Three Musketeers

20:45 Christmas with Eric and Ernie (Thames)
21:45 This is Your Life Special (Thames)
Eric Sykes gets the red book from Eamonn Andrews

22:30 ITN News

22:40 Regional Variations:

ATV: Cleo's Christmas Special
SOU/YTV: Love Boat
GRN/ANG: Vegas
HTV: Bywyd

---