This is a short video which I made with my son Frank

back in the summer of 1999 as a project to gain publicity for his youth organisation, Newham Young People Online. Frank was 15 then, he was manager, director, narrator and appears in the film while my role was to supply some music for the soundtrack and help with the editing and stuff. I play 12 string guitar, Mbira, and Saz plus some effects. It's the only way I've managed to get anything recorded for this 'Splinters' project, apart from accompanying James Hibbins on "Last Chance Cafe" - thanks for including that.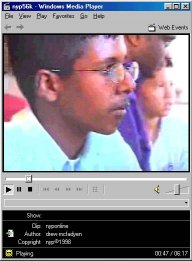 The film was recoded in SVHS format for reproduction and distribution in schools and other establishments in the area of Newham, east London, and has also been digitised so that it can be made available on the net in a choice of quality/size/bandwidth trade-offs early next year. In the meantime you can download a 1.6mb real audio file which should give half decent sound and a series of rapidly changing stills from the video.
This file is available HERE (1.6Mb)
It's just over six minutes long and probably the best thing to do is to fast forward to the end then wind back a minute and just listen to the Saz playing over the credits, although then you'd miss the vegetables... ( click here for more stills from the video )
Andy Roberts,
London