Home | Ministers Rota | Information | Calendar
---
THE CHIDAMOYO TRUST
Registered Charity No 1088590
The Chidamoyo Trust is a local Crowthorne charity which supports the work of the Chidamoyo Christian Hospital in remote rural northern Zimbabwe. It supports various ongoing programmes like orphan support and school sponsorship. It has already funded the building of an AIDS education Centre and the refurbishment of the medical laboratories which has just recently been completed.
The Chidamoyo Trust Update August 2012
Since its inception in 2001, the Chidamoyo Trust has been supported as a parish project by the Holy Ghost Church. In 2005 the Holy Ghost Church combined with the Church of the Immaculate Conception and the charity continued to be supported by the Catholic Church of Crowthorne and Sandhurst.
The charity supports the Chidamoyo Christian Hospital situated in a remote rural area in the north-west of Zimbabwe.
The Chidamoyo Trust is run by the trustees,
who with the exception of Kirsty Smith, Chris's fiancee and Sr Kathy McCarty, the matron of the hospital, have been members of this parish.
The original trustees were Gilly Withers-chairman, Mike Withers-treasurer,
Chris Withers -IT manager and Ryszard Gorell - parish representative.
After Ryszard left to live in Australia earlier this year,
Des Bentley became a trustee.
Lindy Azurdia is our indispensable minutes secretary.
In April Mike and Gilly, Des and Vee Bentley and Stuart and Louise Birley from St Joseph's, Bracknell visited Chidamoyo. We were met in Harare by Major Mereki, the hospital administrator who visited us in December 2010 and by SR Kathy McCarty. Her health is very poorly and right now she is in the US where doctors are trying to work out why she is suffering from attacks of fever. They now think she may be suffering from a form of TB. Please keep her in your prayers.
The charity supports the hospital in two main ways-by supporting ongoing schemes and by undertaking special projects. Some supporters make regular gift-aided donations and this money goes mainly towards ongoing schemes like orphan support and school scholarship programme. We were able to meet some of the young people being sponsored through school.
We were able to check up on our projects. Our first major project was the building of an AIDS education centre opened in 2005. This is called the Paul Graystone Centre after a member of the pastoral council from the Holy Ghost church, who greatly encouraged the charity. The main hall originally functioned as the hospital chapel as well as a place for showing educational films and holding prenatal and antenatal classes. It is now being used as a place to store building materials and medical supplies. When better storage facilities can be built it will be used for its original purpose again. The counselling rooms are still in continuous use.
The medical laboratories and testing facilities which were completely refurbished with money raised by the Trust in conjunction with Reading roadrunners are in constant use. The most encouraging trend we saw on our last trip was the decrease in the number of people testing positive for the HIV virus. Although 70% of patients in the wards are HIV positive the infection rate for new cases of HIV has dropped from 33% to 16% and for pregnant mothers it has dropped to 6%. HIV drugs are now freely available and are distributed free of cost. People on the drugs are unlikely to infect others with the HIV virus.
The big industrial washing machine purchased in 2009 is making a huge difference. It was out of use when we arrived because a rat had chewed through the wiring, but it was fixed while we were there. Because power cuts occur every single day, there is always an element of luck involved but a forty minute cycle means that most of the laundry can be done by machine.
One very large donation given to the Trust was used to rebuild the x-ray room for a new x- ray machine donated by Africa Mission Healthcare Foundation.
Our 2010/2011 project was to raise £10,000 to pay half of the money needed to extend and refurbish the paediatric ward. This was supplemented by £10,000 donated by an organisation called As He Is US. One of the main tasks for our little work party in March/April was to decorate the ward. Des and Stuart did a stalwart job painting although Des was a bit put out by the scaffolding arrangements. He also found mixing pigment by hand a bit different from what he was used to.
The new extension is now in use. The 15 bed-ward has been extended to hold 25 beds. Four toilets and a shower have been added to the existing bath and toilet. The mothers are delighted and the hospital staff are happy that they no longer have floor beds.
Sixteen well-baby clinics are held in outlying areas every two months and we were privileged to help out at one of these. These vaccination clinics are attended by 200 to 400 patients. Vaccination is against BCG, Diphtheria, Pertussis, Polo and Hepatitis B and is given mainly to the under 'fives'.
There is plenty of work at the hospital even for those people without any medical training. We were kept busy doing statistics and sorting data. We also folded pieces of gauze cut from a big roll into swaps for use in the operating theatre. The most time-consuming job was counting pills, sometimes having to break them in half first. Fist you take the plastic container from the box. Boxes are then saved to use for fuel in the kitchen fire. Drug instructions are put into a box to be used as toilet paper. The you remove the foil from the container and take out the sachet or plastic drying agent. This is discarded. Then you can count the pills out into the plastic envelope on which you have previously written the necessary information.
The most worrying problems we came across on our visit this April was the difficulty with the water supply to the hospital. The hospital has good borehole water but the boreholes are now 47 years old. They are not producing enough water for the added needs of more patients, more staff and more building at Chidamoyo Hospital. The pipes supplying the water are leaking in a number of places and most of the taps need fixing or replacing.
Mike spent much time working on the plumbing that they called him the 'pipe doctor'. Water is essential to keep the work of the hospital going and sorting out this problem is now a top priority. It will cost in the region of £30,000. We have already received a donation of £5,000 towards this project. Mike has put in an application to the Beit Trust for further funds. The MG advertised in our Parish (Crowthorne and Sandhurst) Bulletin has been sold with the help of Rebecca Bennett, another parishioner in the Crowthorne and Sandhurst Parish. They realised £450 towards the purchase of a new tractor.
Our project for 2012 is to raise £13,500 to buy a much-needed tractor for the hospital. At the time of this update (August 2012) we only need to raise another £850 before the hospital can take delivery of this new tractor.
Chidamoyo Christian Hospital treats many seriously ill patients, but it is a place of great joy. When we visit, we receive so much more than we give. It is a real privilege to work in that sharing, caring community where the dignity of every person is valued. The jobs we do are many and varied but there is always lots of laughter and we are always reluctant to leave. We come away refreshed with a sense that we have gained a better perspective on life. The Chidamoyo Trust only supplies a small amount of the money needed to run this vital hospital. All of the churches in Crowthorne support the hospital as does Churches Together in Crowthorne, but about 40 per cent of our regular income comes from parishioners of the Roman Catholic Parish of Crowthorne and Sandhurst. And the people of Chidamoyo are very grateful to them.
As Mother Teresa says:
"We ourselves feel that what we are doing is a drop in the ocean
But the ocean would be less because of the missing drop"
August 2012
---
Previous News letter
THE CHIDAMOYO TRUST
Registered Charity No 1088590
The Chidamoyo Trust is a local Crowthorne charity which supports the work of the Chidamoyo Christian Hospital in remote rural northern Zimbabwe. It supports various ongoing programmes like orphan support and school sponsorship. It has already funded the building of an AIDS education Centre and the refurbishment of the medical laboratories which has just recently been completed.
A visit by Mr Major Mereke at the end of October 2007
Mr Major Mereke, the administrator of the Chidamoyo Christian Hospital in northern Zimbabwe was visiting Crowthorne at the invitation of the Chidamoyo Trust, a charity which is supported by the Roman Catholic Church in Crowthorne and Sandhurst.
On morning of Wednesday 31st October he gave a talk to the Sixth Form at St Mary's school Ascot. His talk was so interesting that the girls gave him their undivided attention. They were motivated by what the had to say and asked stimulating questions. One of the teachers remarked that his talk could be the beginning of a long and fruitful relationship between the school and the charity.
That evening he went along to an informal gathering of Reading Roadrunners at Palmer Park Stadium to thank them for the money they had raised in 2005 for the refurbishment of the hospital laboratory. New equipment purchase with their money was already in use. The Reading Roadrunners were delighted to hear what he had to say. Many remarked that although they raise large sums of money for many big charities, this was the first time anyone had ever visited them to say thank you!
At the Curry and Rice supper held at the Roman Catholic Church in Sandhurst on Saturday night, after he had shown a very informative presentation about the needs of the hospital, someone asked what he would want if he could be granted just one wish. He thought for a while - many of us thought he might wish for a solution to the political problems of his country - but he said he would like an industrial washing machine. He explained that all of the soiled linen of this 85 bed hospital which sees over 300 patients a day, is washed by hand! Raising the £10,000 needed for this washing machine will be the next project for the Chidamoyo Trust. The aim is to purchase it by June, 2008.
On Sunday 3rd of November, he preached at the 10 o'clock service at St John's Church in Crowthorne. All of us in the congregation were expecting an appeal for money. Instead we heard a challenging sermon encouraging us to love those about us. I don't think he mentioned the needs of the hospital at all. He had been told that he should only speak for 10 minutes and that he should make some reference to the Scripture readings.
At the Youth meeting at the Baptist Church on Sunday night when we were talking about the differences between life in the West and life in Zimbabwe, he said that he noticed a big difference in our attitude to time. Time rules our lives. Everything has to be done to schedule. In the bush a task takes as long as it takes. People are more important than time.
When someone asked how people managed with so little money, he pointed out that many people in the rural areas of Zimbabwe have no money at all and yet they are happy. They share their resources and look after each other. Quite a contrast to our material existence!
On the morning of the 6th of November, the day he was leaving to return to Zimbabwe, he managed to join the Crowthorne Methodist Church to say thank you to the ladies who raise money with their morning teas, some of which has gone to Chidamoyo.
It was a pleasure and a privilege to have him visit us.

News from the Chidamoyo Trust - October, 2007

The BBC television programme Our World: Zimbabwe's Slow Death shows that Zimbabwe is on the point of collapse. Thousands of people are dying every week from disease and malnutrition. BBC News is not allowed to report from Zimbabwe, but Sue Lloyd-Roberts has been into the country, undercover, to witness a country in despair.
We have regular communication with the Chidamoyo Christian Hospital through Sr Kathy McCarty, the matron. In August she wrote, "We have already started to use the money you sent. We are providing school fees for an additional 45 girls starting next term in September and helping many people with exam fees that would not have been able to write their O and A levels because there is just no money these days. Life is so difficult! We have tried to buy beans and maize to help our orphans and we are adding people to our orphan programme because of your donations.
The government is continuing with their ruinous economic policies despite the negative impact they are having on the country as a whole. Many businesses have lost billions of dollars and workers are being laid off as businesses are not even covering their costs. There is no meat for the majority of the population as 90 percent of butcheries in the country have closed down. Power and water cuts have become part of a daily life of misery in Zimbabwe."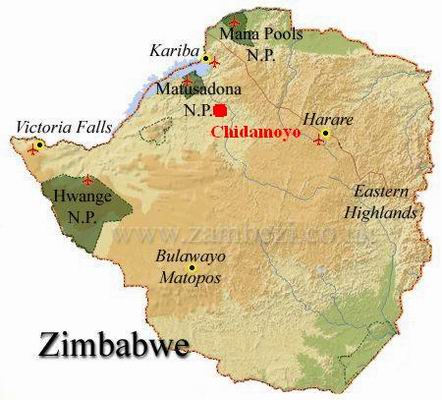 The refurbishment of the medical laboratory which was paid for by the Chidamoyo Trust with money raised by Reading Roadrunners is now complete. Laboratory equipment bought in America has been installed and is up and running. On 16th September, Kathy wrote,"Thanks for all you do. The machines are on battery backup since this past week we have had no ZESA (mains electricity) for 15+ hours each day. It usually comes on during the middle of the night. The Lab Technician from the US came and taught us how to use the machines. Thanks you so much.

We went to the store today and it was even worse than before--literally toilet paper, pork sausages, bacon and a few vegetables and candy bars. People line up for bread before it is even baked!"
The Chidamoyo Trust has just sent more money to Chidamoyo and on the 27th of September, Kathy wrote, "The person we sent to learn about the laboratory machines was so impressed by the company. We are struggling with no electricity--it just came on after 52 hours off! We appreciate all the little things in life.! Thanks for the money"
At the end of this month we are expecting a visit from Mr Major Mereke from Chidamoyo. Mr Mereke, whose first name is Major and who has nothing to do with the Zimbabwe army, is the administrator of the Chidamoyo Christian Hospital. He was born in the Chidamoyo district, where he has spent most of his life. He is also a pastor of the Church of Christ the King and an experienced youth worker. He has a wife and young children. His wife works in the laboratory at the hospital. He will be able to give us up-to-date feedback about what is happening in Chidamoyo and he will have a DVD showing the refurbished laboratory with all its new equipment.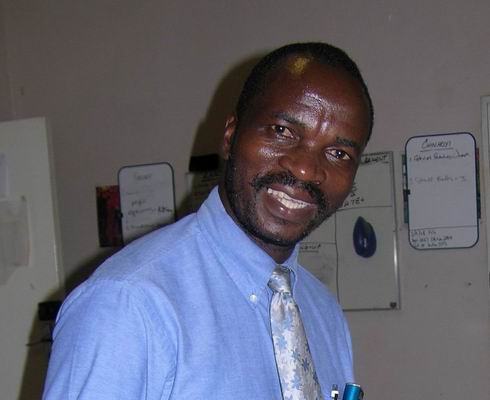 He arrives in the UK on the 30th of October. Arrangements have been made for him to speak at some local schools. On Saturday 3rd November the Chidamoyo trust is hosting a Curry and Rice evening at the parish rooms of the RC church in Sandhurst. Food will be provided but people should supply their own liquid refreshment. For catering purposes people who would like to attend should call 01344-761980 and leave a message. Everyone is welcome.
On Sunday 4th November, he will be speaking at the 10am service at St John's Church, Crowthorne. There will be an opportunity to meet him after the service.
In the evening on Sunday 4th November, at 8pm he will meet the young people of the area at a get-together hosted by the Baptist Church in Crowthorne High street. All young people are invited and it is hoped that many from all churches and even those who don't attend any church will be there.
He leaves for Zimbabwe on Tuesday, 6th November hopefully encouraged by our prayers and support.
Your continued prayers and financial support are greatly appreciated.

Contact details for the Chidamoyo Trust are: The Chidamoyo Trust:

42 Frensham Road,
Crowthorne RG45 6QH
Telephone: 01344-761980
E-mail: chidamoyo#btopenworld.com (replace # with the usual e-mail symbol)

The people of Chidamoyo wish to thank all those who help them through their continued kindness and generosity.

Read more about the Chidamoyo Trust by visiting its website via the link below.
PRAYERS:
Continued prayers for Zimbabwe, for the elected leaders, for safety and peace. Continued problems face the people of Zimbabwe each day. There have been stay aways throughout the country and demands from the opposition party to the government in power. There has been trouble in Harare and Bulawayo. Pray for peace.
Prayers for the poor economy and for food shortages and fuel shortages. There are less and less things in the store to buy, and fuel is even harder to come by.
Prayer for those who are suffering from lack of food and are hungry. People are suffering from hunger in many areas of the country. People in our area that have money to buy food are unable to get staple foods as they are unavailable.
Pray for more nursing staff for our Chidamoyo and Makonde Hospitals. We are treating more and more patients as people run away from poorly run and mismanaged government hospitals.
Pray for enough cement and building materials to finish building the AIDS/Learning Center and chapel at the hospital.
Pray for the overwhelming number of patients we are attending too and for drugs and supplies to treat them. There are many drug shortages and we ask God to provide for our needs. Especially pray for the shortage of TB Drugs in the whole nation, which continues, and vaccination shortages.
For 2 work teams from Adventure Christian Church in Roseville, CA; and 3 people from Sebastopol, CA who are planning to come in May and June 2003, to help us with our building projects and in the hospital. Pray as teams prepare to come. Pray they will travel safely and have a great time here.
Pray for the many families who are suffering from AIDS and the 6,000 people who die each week from AIDS in Zimbabwe. Pray we are able to reach them with the gospel.
Pray for many areas in the country that did not get adequate rain and some areas that had flooding in March due to a cyclone off the Mozambique coast.
Pray for adequate funding to keep up with the 300%+ inflation rate and the raising prices as the economy continues to crumble.
Pray that we are adequate in our ministry here at Chidamoyo Christian Hospital. So that many will come to know Jesus because of our work.
Pray for Makonde Christian Hospital and their funding as we seek support for them.
Pray for our safety as we travel in the country.
Pray for someone to be able to come during my furlough and help with the work.
Pray for me as I plan my furlough travel schedule.

Object of the Trust
The Chidamoyo Trust is a local charity based in Crowthorne. Its aim is to help raise the quality of life of people living in an area devastated by the global HIV epidemic.
The object of the Trust is The Advancement of Education and the relief of sickness and poverty in the Karoi District of Zimbabwe.
In 1999, there were 160,000 adults and children who died from AIDS in Zimbabwe and the figures are rising. Over 1,000,000 children have become orphans due to AIDS. Political instability has meant shortages of the basic necessities of life. For political reasons the supply of diesel, needed to run the hospital generator and boreholes, is erratic and diesel is very expensive. The idea has been mooted of building a wind-powered generator, but investigating this possibility will cost money.
You can help by supporting the Chidamoyo and Makonde Christian Hospitals and their associated projects. The Chidamoyo Christian Hospital serves a community of subsistence farmers and the Makonde Christian Hospital in Manghura is being acquired from a mining company. It is totally financed from gifts and donations and hospital fees, but a few pounds go a long way in Zimbabwe!
You could be part owner in a hospital!! Many self-help projects exist like the sponsorship program which funds school girls, whose families cannot afford school fees or who have been orphaned. In exchange for their scholarships the girls work two hours a week at the hospital, helping to clean, unload supplies, count pills, cut gauze and make cotton balls! They help the community and in turn they are able to make better life choices. You can help them to help themselves.
If you would like to help please let us have the following information:

Name; Telephone No; Address; e-mail address (if appropriate)

There are several ways in which you can offer your help:
- contact us at Crowthorne Tel: +44 (0)1344 76 1980,
- leave the information in an envelope at the back of either Holy Ghost, Crowthorne or Immaculate Conception, Sandhurst
- or put the envelope on the collection plate during Mass at either Holy Ghost Crowthorne or Immaculate Conception, Sandhurst.
Or you can e-mail us at the Chidamoyo Trust. We look forward to hearing from you.
Mike and Gilly Withers
Return to Home Page of The Church of the Holy Ghost, Crowthorne
---
Page updated by Martin Stubbs on 6th October 2007.