Stuffs Happen!

The heavily, badly, deeply, overdue replacement for the 'Maggie News' page...

19th January 2011.


Perhaps an apology or excuse might be appropriate, but I'll reassure and redirect you. Everything discussed previously is still just about where it was the last time I was on here. I've decided to make future posts in a new location, so without further ado -
New year, new platform..

13th June 2010.
Now this is a really lame interval of nothingness, no excuses, well alright, just the one then...

A January morning, during a spell of very cold weather, nothing out of the ordinary appears to be happening, then suddenly a text message strikes from nowhere. "

CALL ME URGENTLY!

" This drastic appeal is nothing to do with a lottery win however. The news from home is not good, Cloe, our aparently healthy happy remaining cat was found dead on the kitchen floor. There was no previous sign of anything wrong. However, googling around on the good old hypochrondriac-net reveals there is such a thing as a feline version of sudden death syndrome. So we have the "fun" job of a very Russian-style burial in a snow covered garden, poor girl. Of course, that is not the sort of thing that you really feel like leaping to tell. I'm a good news sort of person, not an emo-kid revelling in showing off their open wounds to the world. So this is a large part of the reason why nothing has appeared here for a while.

On the putting things back together front, in March, a new rehomed feline family member came to stay. He's called Harry, also variously known as Houdini, or Hairy, for the amount of spare fur he can output. The main features of Harry are, skinny, nervy, active, affectionate and chatty, with a large dash of being in places he shouldn't really be. It's been three months already, doesn't feel like yesterday when he was hiding behind the sofa. Here's a couple of pictures, one final one of Cloe, and one for Hairy.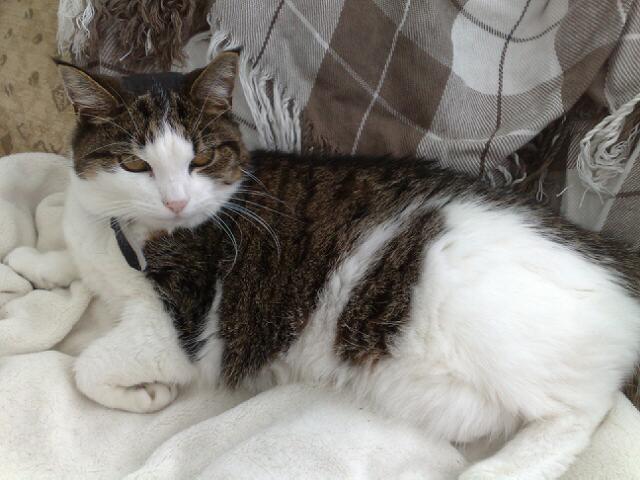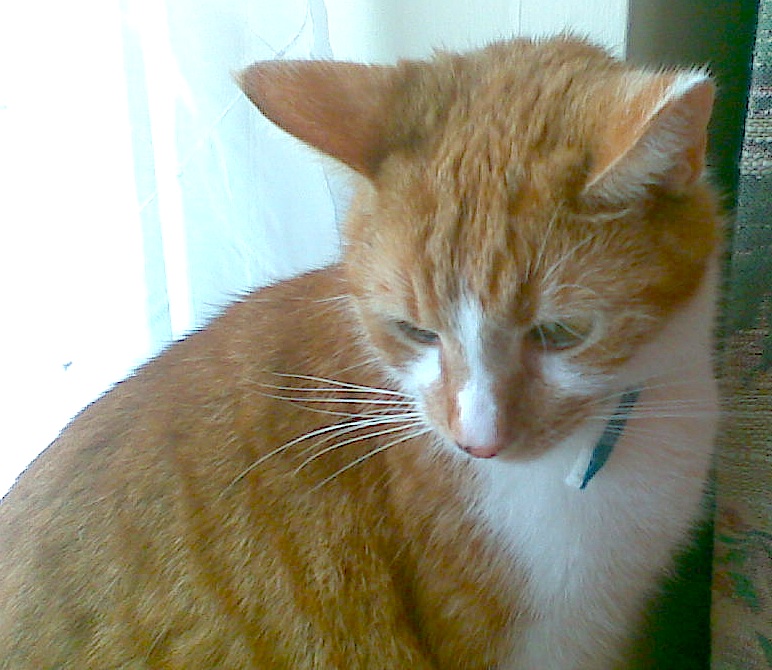 Cloe - Sadly missed Harry - Gladly received!

I'll keep the rest as brief as I can. There were a load of nice new demos released over the Xmas period, and the immediate aftermath, including the 20th Anniversary STE demo. We had a lull period until the 2010 edition of Outline took place. Mind you there was a bit of a lull for activity there too with some nice things shown. The party itself was a good one though (hic!) Here's a quick look at a couple of random images.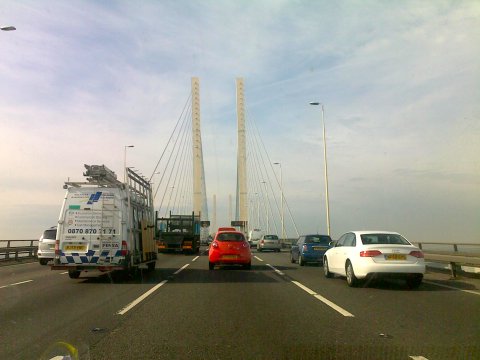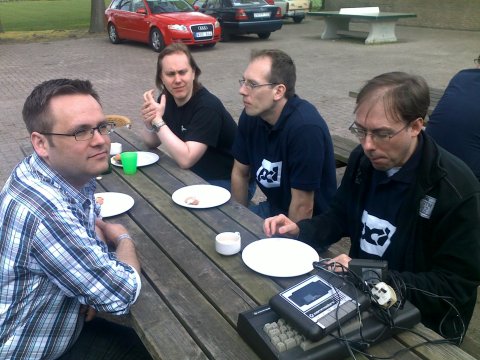 The approach to the Queen Elizabeth Bridge, River Thames, Dartford, rush-hour. Felice finally offloads the C16 to Paranoid that he had in the boot of his care for 2 years!


There were some nice releases, not that many, but what was shown was good. We had one good demo, a couple of nice games for the Jaguar, (I'm mainly talking about these guys.) Here's a couple of things that appeared at the party, or in the aftermath period. they can be found at the usual place. (Which has had a nice webstire design revamp itself by the way.)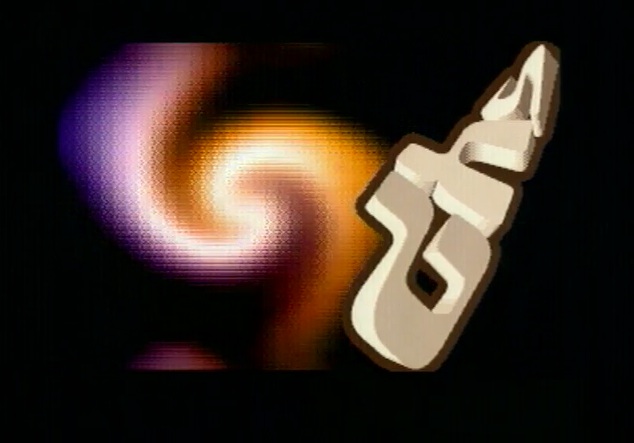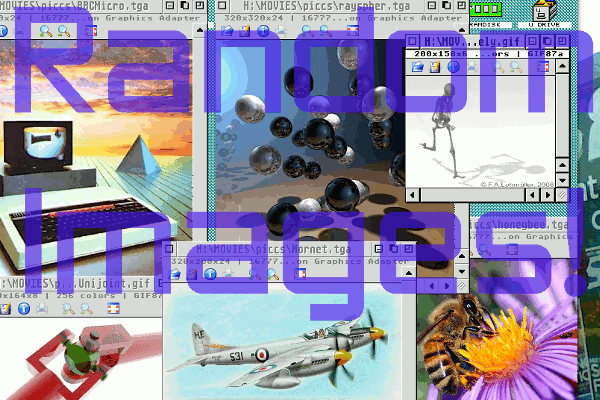 This year's Sommerhack invitro from Dead Hackers Society for the STE. A little 'something' from me too!

To throw in a bit of context, the screengrab from the left is from the extremely highly polished Dead Hackers Society announcing the second edition of the Sommerhack party in July. This was made on an STE and features some very high quality code, eye-candy, and pleasant noises. The second grab on the right actually comes from my fair hands and is the front end of the final release of the '

Random Images'

Targa pictures and animated GIF's CD-ROM collection that I've been slowly putting together over the last year or so. I'm glad to get that one out the door at last, I can tell you!

I have also been doing some other virtuously worklike activities on behalf of the Atari scene, demo scene/retro computing thing. The third issue of Low Res Mag has appeared with a raft of demo reviews from myself, and a nice page-busting report on the Outline 2010 event. If you haven't got to it already, then read it now!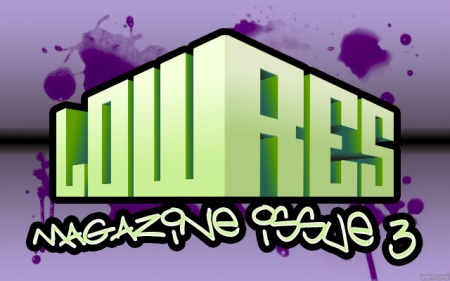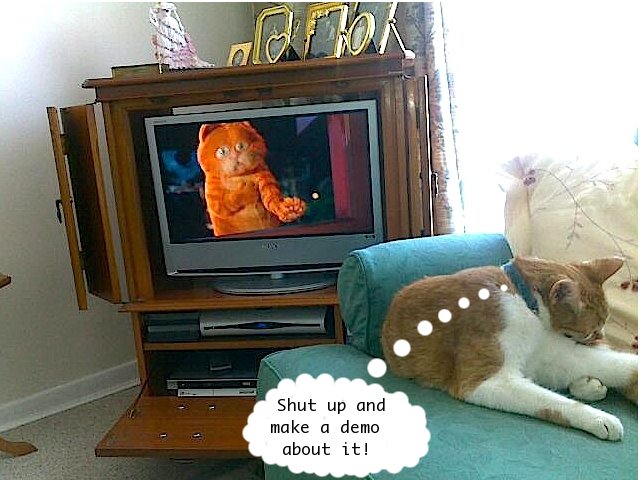 Nice logo for issue three, don't you think? When Garfield m
et Harry...

And what are we expecting later in the year?

Coming soon, real soon in fact, a visit to the National Museum of Computing Vintage Computer Festival. Coming a bit later on, a return visit to Budleigh Salterton and the Sundown 2010 party. And coming somewhat later still, the umpteenth edition of the Alternative party.

I've not mentioned how my various machines have been over the last few months, but a brief summary follows.

1.

Mac has had a yuletide memory upgrade,

2

. Laptop is about the same as it was, but has gained a few new tools and applications.

3.

STE with UltraSatan is doing very well, more games, demos and high-colour picture goodness has reached it.

4.

CT60 Falcon has been quiet, mainly due to lack of time and immediate motivation from me. Various graphics add-ons are getting closer to an end result, with CTPCI and Supervidel in a close race to the finish. I'll get my '060 mojo back when these appear, if not before.

5.

CT2 Falcon (no.2 Falcon) has been doing fine as a tester machine for the Random Images CD-ROM.

I'll leave it here for now, promising a quicker update than the last one, providing I don't have to report any more deaths!

18th December.


Hmmph, it's been *

how long

* since the last time there was an update on here? It's not as if nothing happened since the last time, as we enjoyed a memorable Alt Party, and several new productions have been released, a lot of them with the words 'Atari STe' in the release notes.

Apart from the productions that I've been involved with of course. This is one of the things accounting for the tardy updating on here. For example, I've written several articles for the supposed to be released in November Low Res Mag, including party reports for the previously described Sundown party, and the more recent Alt Party event. However, things seem to be stuck in a frustrating limbo state, in spite of the declared intention of the authors not to wait around forever and commit to more frequent release dates. Still, by the time we're unwrapping the presents in a week from now, maybe you can read the new issue. As for Alive issue 15, let's not go there. Needless to say, a contingency plan for next year is bubbling around in my brain, but wait and see for that, eh!

For the festive season, I'm treating myself to a memory upgrade for the Mini-Mac to keep that viable for a bit longer, also a last-ditch attempt with a new CF-card for the CT60 Falcon, to see if we can finally beat the hexed hard drive gremlins. If this does not work, then it will be time to seek professional help to revive that machine.

Just to change the mood and put some relaxing colours on this page, here are some images from the 2009 edition of the Alternative party.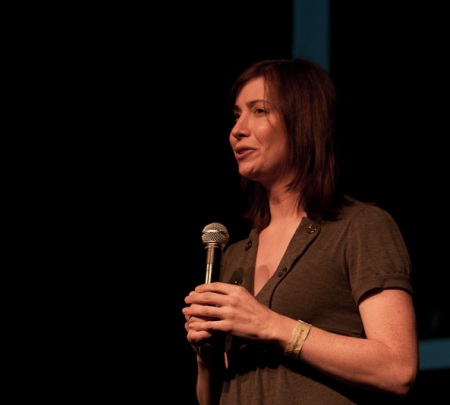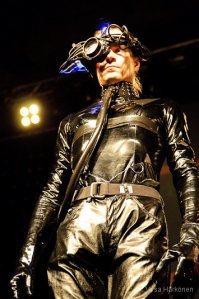 Jeri Ellsworth was the bestest special guest for all the Alt Parties! Basscadet really got into the man-machine theme!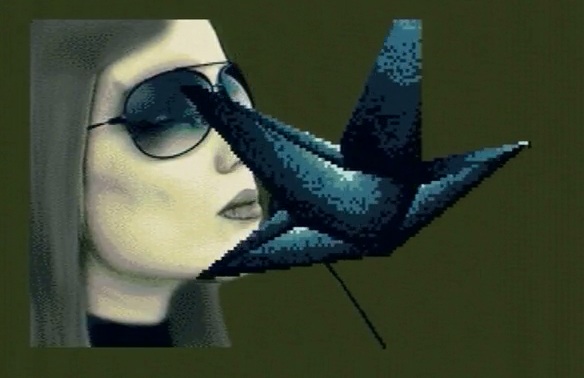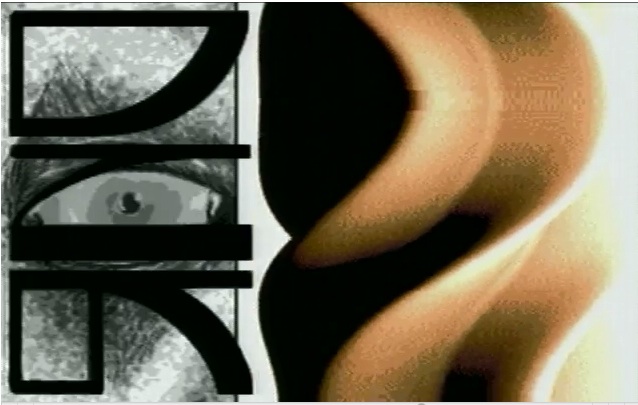 There were two awesome demo releases, Cernit Tranfadir from the Dead Hackers Society ....and Sodium from Atari newcomers RNO.

I haven't been completely idle over the last few months, as to celebrate the arrival of the UltraSatan storage device on the ST, I've been organising a highcolor picture collection intended to fill a gap on the clusters of SD-Cards now being devoted to data storage on behalf of the Atari family. There should be a taster preview popping up elsewhere soon, with a full release to follow next year.

Ok, it's snowing outside, I've got a day off and I'm smugly sitting indoors at this point. So I guess I'll see you all after the festive season has conked to a stop.


19th September.
We're back and we managed to get ourselves over to Sundown, the 2009 edition, last weekend. After a tedious journey past Bristol, which appears to be closed for repairs, we managed to stagger into Budleigh Salterton late on Friday evening. We had a great time, the location adding a unique late summer feeling to the normal party vibe. There were lots of nice people to meet for the first time, and some others that we had seen before in other places. There were visits to the beach which we managed to fit in, including one at 2.30am on the Sunday morning after the competitions had stuttered to a final halt. There will be a report produced, which will appear fairly soon *somewhere* which contains more detail about what happened, how we felt about it, how tired we got etc. In the meantime, a small selection of pictures culled from various sources will do all the talking for this log entry!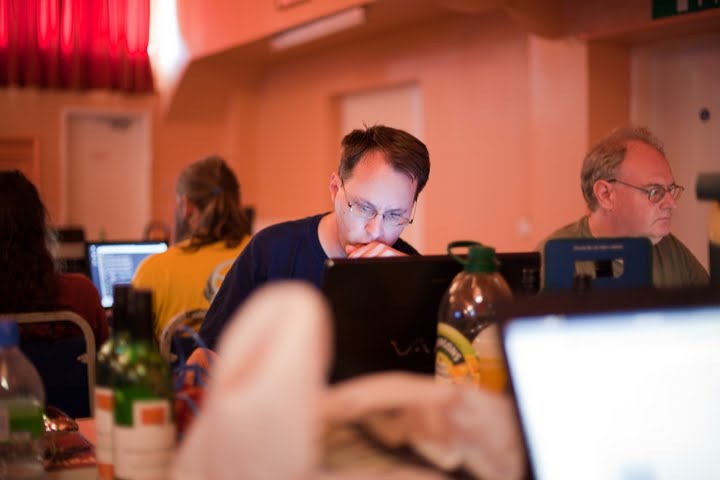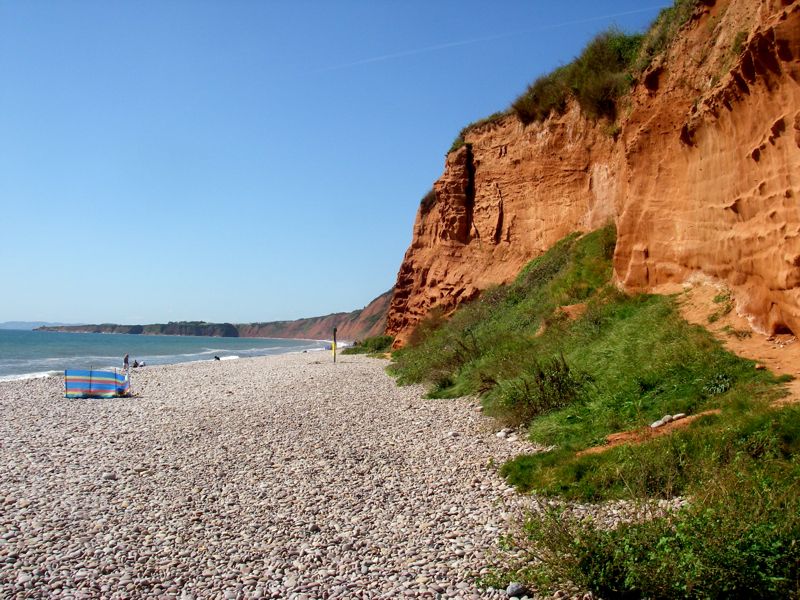 Our heroes hard at work(?) in the rather pink party hall.
There was the beautiful Devon coast just five minutes walk away.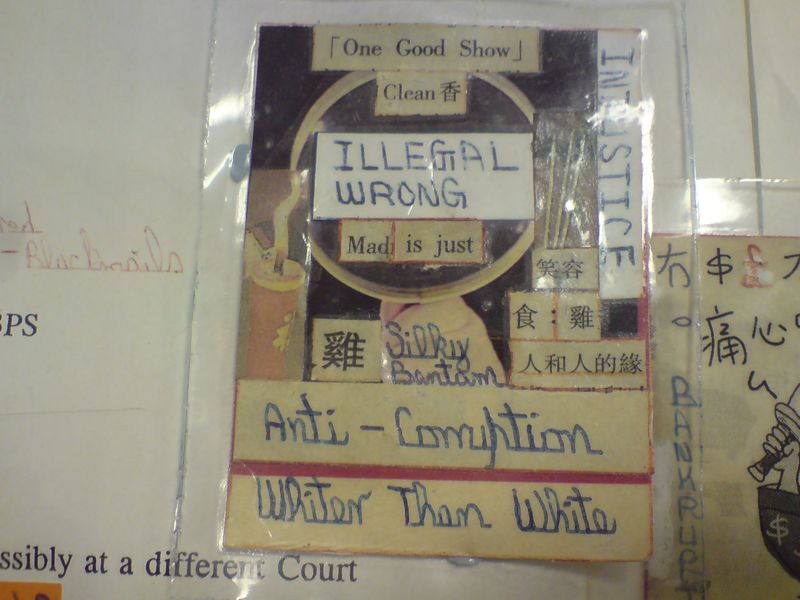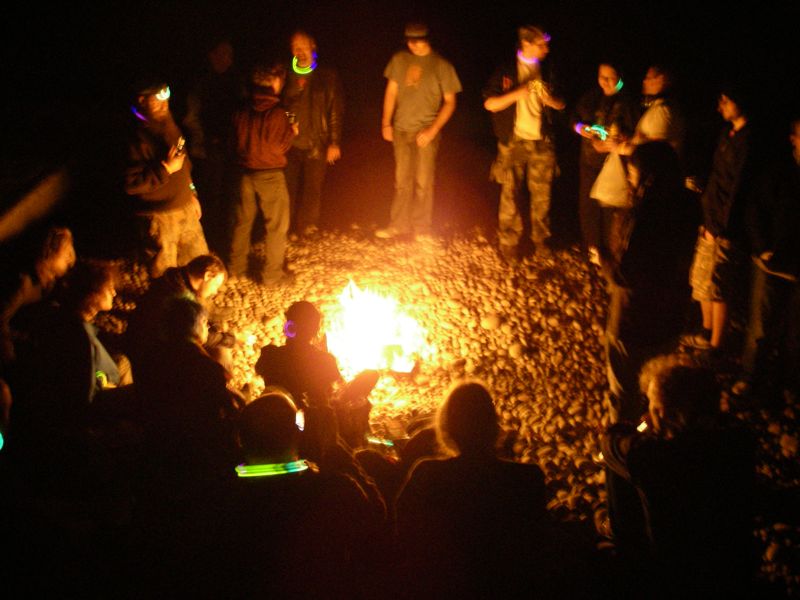 The slightly scary Chinese restaurant, is there a such a thng as a 'legal wrong'?! Lazy fiery Sunday morning on Budleigh Salterton beach!


The next major party development will be a return to the Alt Party in October, so we're getting slowly ready for that. In other news, well not a great deal happened. As predicted, August was underwhelming. You tend to work twice as hard to cover for the people that are on holiday at that time which sucks. The current attempt to get the CT60 running with a new hard drive turned into a fizzle for various reasons. Haomaru's spare laptop hard drive did not manage to survive the rigours of the postal system and the drive heads were forlornly clicking around when I tried it. The SD-cards worked for a short time, before some unknown element started to cause random stoppages, (faulty scsi transfers of additional files after the first successful batch?) Then after these were reformatted, they seemed to 'learn' not to work with the CT60 again. Still, these can be recycled into the UltraSatan when it gets here shortly. The original 4GB Kingston CF-card still works perfectly with the Falcon in '030 mode but hates going to '060 mode. The spare hard drive I acquired by post which was packaged decently turned out to be a 3.5 inch model, which is a hefty beast and won't go into the standard Falcon case too well. Plus I've been rather short of spare time to spend chasing the issue around, so at the moment we're stuck here.

Still, I did get to run through and view the entire Black Lotus trilogy of demos, ported by Mikro, one Saturday. It's kind of emotional, seeing 'Starstruck' run on my original hardware, almost as if this isn't going to be bettered, as if this is the best we're going to get on that platforrn?

Still, press on, it'll sort out in the end no doubt.


28th July.


Staggering through a summer of variableness , the word on everyone's coughy lips is "

Swine flu, you swine!

" Strangely enough, it's not on mine just yet, which is a welcome contrast from the ill-behavioured lung-fest that happened this time last year. Which was not flu of any description, but something else entirely different as you may well recall.

Apart from that, I've been taking the post-Outline 2009 period nice and easy, well as easy as a continual obligatory attendance at work allows me to anyway. The new venue at Eersel was such a rip-roaring success, it has been rebooked for next May! Yay! There is another partytime coming up in September, as I've booked the time off to make a UK demoparty visit to Sundown 2009. Then there is another Alt Party, slightly later on, in October. In the interim, an enhanced visiting party set forth on another expedition to Edinburgh and the free accomodation opportunity which worked out so nicely last year. Four go mad in Edinburgh went off without even one attempted murder of any of the visiting party members by one of the others. We managed to fit in doing most of the old favourites, and a few new things, such as visiting a boat fit for a Queen as well as a whisky tour (hic!)

Atari scene-wise, we've managed to avoid the usual summer slump after the productive spring party for once. We've had some surprise releases at miscellaneous parties from old hands like MJJ Productions and even a welcome return from style over hard code kings 'Excellence in Art'. These, and one or two others, are all aimed exclusively at the more Amiga-like Atari STe (enhanced) model. Oh yes, we're still awaiting two unfinished demos from two other parties earlier in the year, not to mention the STe 20th Anniversary megademo later in the year. (But you did mention it, you fool!) On the hardware front, the previously mentioned Supervidel, having been seen in action at Outline '09, has now got to the point where pre-order registrations are being taken. Also Rodolphe Czuba is back in the advanced graphics card frame with a successfully booting CTPCI. So from being stagnant for years, the hardware possibilities are suddenly dizzying. Oh, and the UltraSatan should be finally ready in a month or so's time too.

On a more personal note, I might get around to finally doing something with my CT60, as I've now got a choice of *three* bulk media storage solutions. The spare laptop drive from Haomaru just having turned up, and I've laid hands on another hard drive, and a SD-Card to IDe adaptor. The advantage here being that the SD-cards can be recycled on the UltraSatan and Satandisk.

Against this background of quietly bubbling optimism, it's time for the funny pictures spot. The first entry comes courtesy of PeeCeeWorld, aka 'PlasticWorld' or even 'Pissywerld'. It is possibly the most heterosexual gaming-rig styled box possible, unless you get Chuck Norris to handcraft you something, with his teeth. The case design assumes you can get nitrous oxide to the cpu for that extra performance boost to piss all over the speed of light. The overall effect shows off how amazingly secure and self-confident the owner of such a machine would be in his own sexuality. They are not made in pink.. The second picture on the right comes from inside this place when we did our Edinburgh grand tour, a place where the word 'Caffe latte' would get you a well-deserved kicking, possibly.

Anyway, here's the mini manly gallery!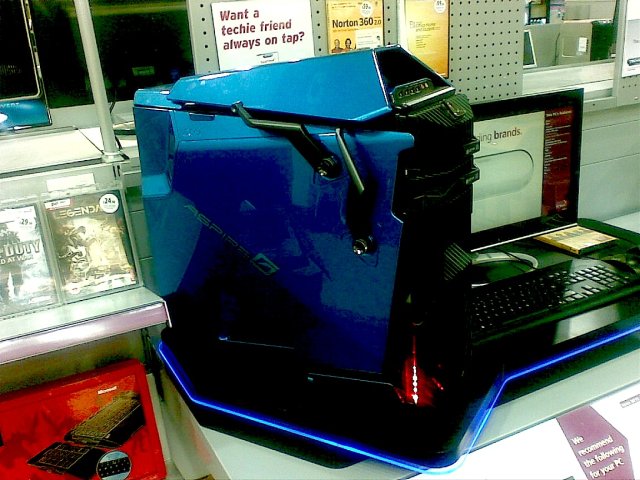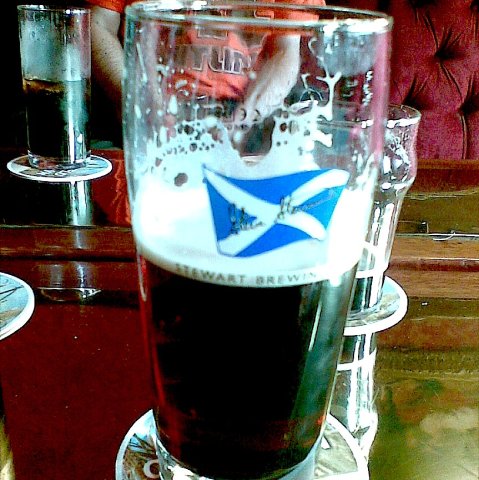 The least gay PeeCee in creation and PC World! A manly pint of Heavy in a non-gay glass!


Right, now to stagger through the excitement desert that is August, see you back in September.



31st May.
Outline '09 returns me to my station with the reassuring news that a healthy CT60 still beats away under the layers of complication imposed by an iffy storage device.

You may recall that there had been a long-running issue with my original hard drive. The IBM Travelstar was a known bad job, but the Kingston CF-card purchased to replace it didn't seem to be much better. The latter works fine without the accelerator, but (at best) was very unstable with it. Having had the Nature Brothers ponder the issue, it appears that the CF-card isn't co-operative on one of their machines either. However, their CF-card booted and ran just fine on mine! When asking around for a better flavour of CF-card on the IRC, Haomaru, sometime Dutch MSX-botherer volunteered to send a spare 40GB laptop drive he had lurking and doing nothing, entirely for free! Cool or what? If it survives the rigours of postal travel, then hopefully there is an end to the hard drive issues and I have a fully working CT60 again.

Which would be timely, as we have *two* demo releases for the CT60 which popped up at Outline '09. One of which was the sort of expected and keenly anticipated port of ''Starstruck' by the Black Lotus, coming from the capable hands of Mikro, he who is also organising the UltraSatan storage devices previously mentioned. The other was a nice and unexpected demo from our friends in Sweden, the Dead Hackers Society, who gave us 'Codein' which is effectively a very deluxe intro for a coding party in Sweden called SommarHack. This looks like a small but concentrated gathering for the hardcore creative people in the Atariscene. I'm not going to be able to make that one, as I'm (1.) Not that creative, and (2.) Will still be recovering from the Edinburgh expedition due in about a week's time.

But we're drifting badly off-topic and on to the rocks of irrelevant wibble here. There were a couple of ST demo entries too, one of which was the inevitable BITS release, over which we shall draw a veil quickly. Actually, for one of theirs, it was not that bad. However, the whole evening, CT60 demos and all, belonged to Defjam, the current coding king on the base system, with the awesome Suretrip II - Dopecode claiming the competition by a long country mile!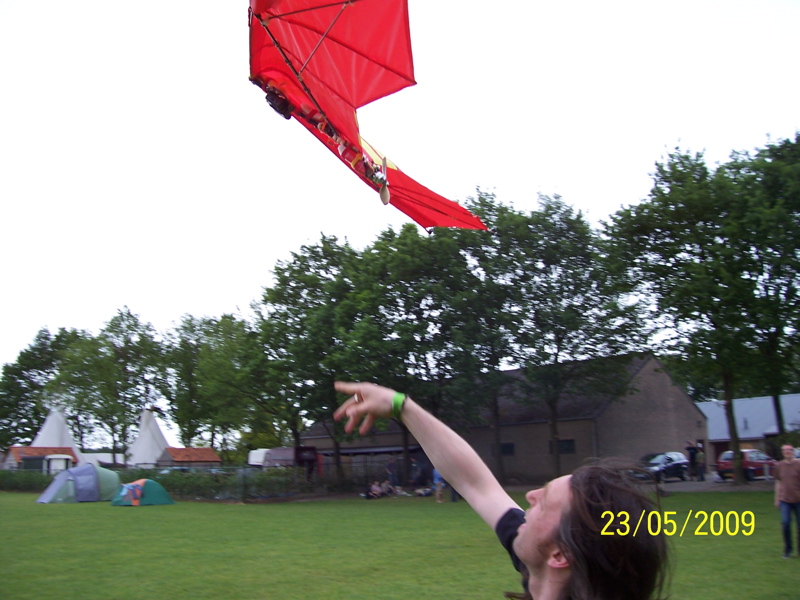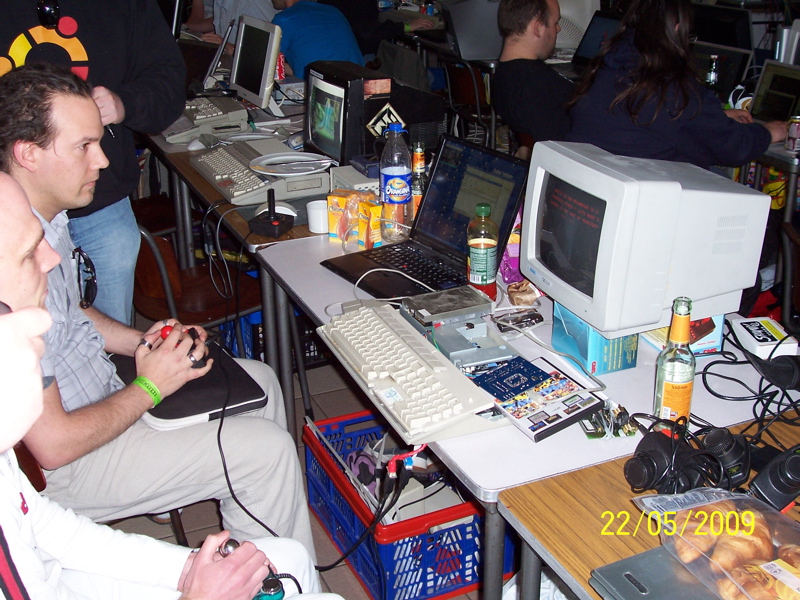 Cal and his amazing flying machine at moment of launch PeP intent on winning the Bubble Bobble tournament.



The two pictures describe some different areas of the party, not part of the mainstream but good fun nethertheless. We had a good clean 30 minutes of enjoyment with the bat-like powered glider shown above. It is even equipped with a digital camera to take video footage and still pictures whilst in flight! As for the Bubble Bobble tournament, I got as far as the second round, beating 505, who had never played the game at any point in his life?!


The party itself, transplanted to its new location near Eersel in the west of the Netherlands, prospered in the fine weather. A fantastic time was had by all. We managed to speak to the Cyclone person who indicated that he might finally get something done with Alive real soon now. There is an 80% complete report for this party sitting on the laptop. There was also a little entry for the executable music competition, based on some of my ancient Enterprise 64/128 material, with one or two recent add-ons. Even coding in BASIC on that to a very elementary level brings back some happy memories. I'll have to try a bit harder next year, as last place wasn't so cool, but I think that the audience liked it when it was played.

Finally, before I call it a day for this log entry, guess what I got running with the latest version of Hatari?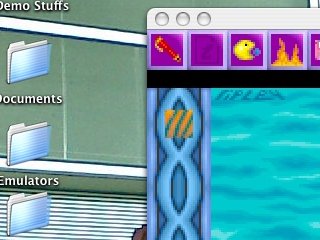 Go on, click on the thumbnail and take a look!



We may yet soon get a perfect, or nearasdammit perfect, Falcon 030 emulator at last. This is a pretty major milestone shown here!



18th May. (Update on the update...)


I was going to add the previous entry yesterday, but found that I was unable to get FTP access to my website. A quick fumble on over to the Zetnet site discovers a service announcement which discloses that their user websites have been migrated to a new data centre and that some usernames and passwords had been changed. I had no other warning or notice of this, erm thanks Zetnet! To be fair they were quick getting back to me with the new details, so that is why you're reading this now.

In other news, the middle order headlines that come in before the skateboarding duck at the end, I managed to exchange a couple of sentences with a briefly appearing Cyclone on the IRC last night, we will talk a lot more on Thursday...

17th May.


More stumbling apologies for the length of time away from this blogette. We're only a handful of days away from the next Outline party and getting stuff ready for it in a furious blur of preparation activity. It seems that even more people than usual are keen to turn up there. A ticket apparently has the missing Cyclone's name on it (read back on the last but one log-entry.) So at least we'll finally get some answers over what is happening with Alive 15! There is a variety of useful Atari people to talk to there, so I'll also hopefully get some idea of what is ailing my CT60 Falcon. It is definitely not the hard driver (HD Driver) software version, as I now have the latest one, but still the beast turns over and errors after the first couple of minutes running. (I'm running a little bet with myself that it is an issue with an iffy solder joint on the Falcon expansion port, as the Falcon is just fine as a plain '030 machine.) Incidentally, for people who know me, and might read this before coming to Outline, I do have a little *something* to release there in the usual time-dishonoured tradition. It is somewhat different from the norm, not exactly Defjam-level brainblasting, but it should appeal to some people. Well, we'll see..

The second attempt at paying for the UltraSatan, via a very 1950's-esque international bank transfer succeeded, so I'll be telling you all about this gadget in a log entry or two's time in the future. I also appear to have caused a little stir with a special feature article written for the Dead Hackers site about this widget and the possible uses it could be put to for the Atari scene. For the single regular reader who hasn't found it yet, just follow the link I gave you back there.

In the freaks corner this month, a continuation of a theme expressed in a very old entry, namely an (under)class of woman's magazines such as

'Love it!'

that cater to the sick-making side of life. I found and took a picture of a cover of another one which has a title hilariously stripped down to the bare functional essentials. I've thumbnailed it so as not to put people off with a sensitive disposition or normal intelligence level.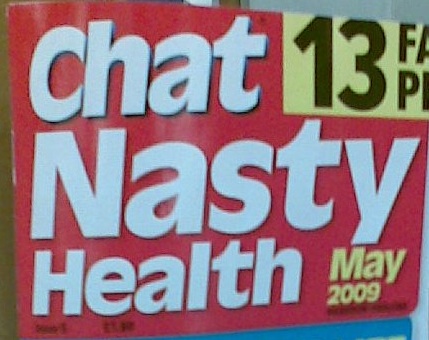 I'm sure you're all better off not seeing the full horror!



This is the IPC Media description of the 'Chat' title range. -

"Chat is cheeky, irreverent and fun – a variety pack of 100% true stories, puzzles, irresistible fashion, bargains, bonuses and surprises.

(Ed-note: Yes, probably a competition to win a free rape n' stabbing ordeal!)

Our weekly promise is a jamboree-bag of emotional stories from the poignant to the potty and always plain gripping. Chat is your smart real-life read."

Which still leaves the crucial unanswered question, who reads those things?!

Oki, I'll see you all shortly after the Outline '09 party and tell you all about how that went.



28th March.
A quick update for you to be going on with. Some things have been decided and set in stone. We've got another edition of Outline coming up, at a new location in the Netherlands. The previous party place not meeting our needs, due to misunderstandings between the site owners and everyone else. This will be towards the end of May, so hopefully some good weather then as you can scroll down the page to last May's log entry and cast your eyes on the gloriously sunny pictures from last year's event. We're also going back to Edinburgh, this time with a reinforced visiting party including Felice and Paula. This will happen in June.

Other things look a bit less certain, or else subject to annoying hold-ups. The UltraSatan has been paid for, or, errm, possibly not, according to PayPal. They are being no-one's pal by deciding that Mikro, the manufacturer, has a business model which they don't understand. This goes along the lines of trusted party personally known to his customers seeks advance payment to capitalise for manufacture of a custom-made one-off piece of kit for an obscure retro-computer. In spite of PayPal accepting this business model *twice* before, suddenly it is a problem and they won't release the money to him. So it might be time to find another method to get the cash to Mikro, ho hum. Which leaves Moneybookers, which Felice isn't too keen on, or paying the IBAN Bank Transfer tax.

You might like this picture, as it shows the desperate lengths to which some people (not me, I might add!) will go, to park in our street. Yes it is a free-for-all, with no special protection, permits, or privileges given to the residents.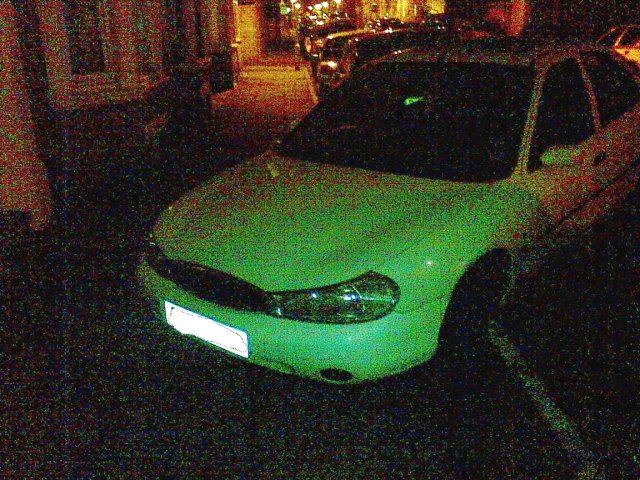 Note the elegant juxtaposition of car on both pavement

and

road! The low image quality does not really do it justice. I was going to go back and take a better picture in the morning, but by then it had gone.


6th February 2009.

The first of the new year and it's that time of year where you're waiting for something better to happen. Still here's a few bits to be going on with.

It looks around 90% certain that there will be a new edition of the Outline party in Holland, even with the main organiser Havoc being out of action due to the aftermath of a surgically corrected non-functioning lung. Fellow Dutch demo scene insaniac, Skrebbel, has stepped into the rather tall and thin gap left by Havoc. A venue near Eindoven is being favourably considered and the time for all of this is expected to be around the weekend of the 23rd/24th of May. We may even have an extra travelling companion with us this time around, but let's not get ahead of events, eh.

The UltraSatan I mentioned last time around has been ordered, and Felice has expressed an interest in getting one too. So we should see that around June or July. In addition to this, the first picture of a completed prototype SuperVidel has been shown! This latter hardware is a rather awesome graphics card add-on for the CT60 Falcon. The specifications for this have been cut and pasted verbatim below from Nature's website.

* The SuperVidel is a CT60 expansion board, sitting on the internal CT60 expansion connector.
* DVI-I connector: support for both digital and analog output using a splitter cable. This means the SuperVidel supports output to two screens at the same time.
* Features all the colour depths and resolutions of the old Videl chip, from mono to 16-bit, by functioning exactly as the old Videl on the hardware register level
* Adds a 24-bit (16,777,216 colors) color depth as a 4 byte RGBA mode.
* Adds an 8-bit chunky mode.
* Ability to generate a resolution of up to 1600x1200 at 75Hz even in the 24-bit color depth.
* Pixel clock supports the old 25.175MHz and 32MHz settings. We will extend the pixel clock frequency settings to achieve 50 up to 225 MHz at steps of 25MHz. At 225MHz 1600x1200@75Hz is possible.
* Onboard 128MB 32bit wide DDR2 memory at 333MHz, yielding a theoretical bandwidth of 1350MB/s. A resolution of 1600x1200@75Hz 24bit RGBA (4-byte) requires 576MB/s, so there should be plenty of bandwidth left for play.
* An integrated Super Blitter, but not necessarily compatible with the old Blitter, because it was rarely used on the falcon anyway.
* MPEG2-support.
* Hardware 3D support in the form of a polygon texture mapper. This requires lots of space in the FPGA though. This feature is not included in the first release of the SuperVidel, to save time, but the board is easily upgraded later in the same way as you upgrade your CT60.

I'm still not holding my breath for ordering one, but it would be lovely to see it in action at Outline '09, as the Nature brothers tend to turn up regularly to the Outline parties. I'll thrown in a couple of quick pictures of both these items of most desirable hardware for you.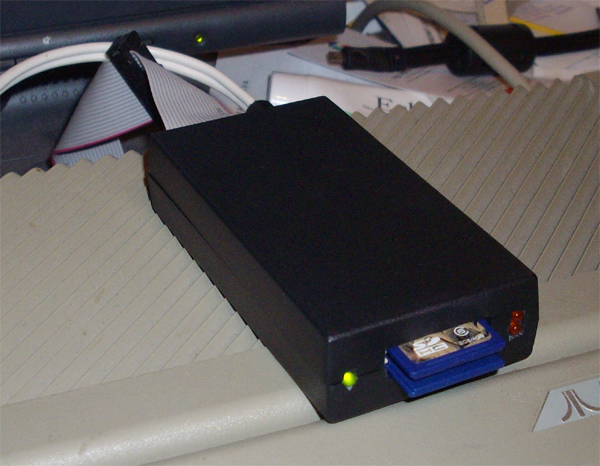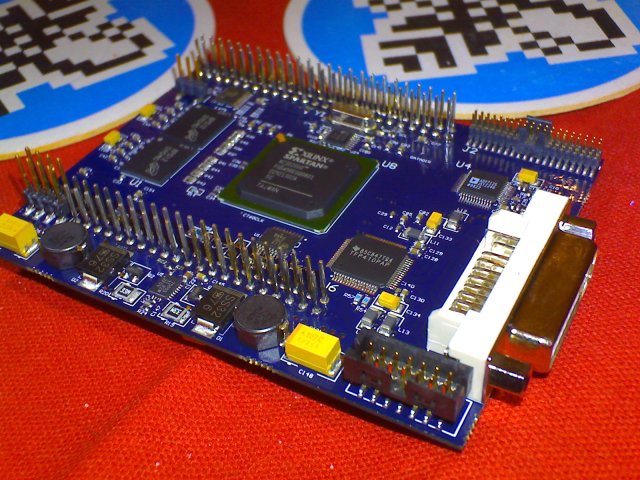 For the Atari ST - UltraSatan, note *two* SD-Card drive slots. They are hot-swappable too.. For the Atari Falcon CT60 - Supervidel, circuit boards never looked so gorgeous!



The other recent item worthy of note is that we appear to be having a proper winter this year. I guess we should have been forewarned by the journey home from the Alt Party '08 back in October, where we encountered snow in the northern part of London, and this was back in October! Now we've had a share of decently cold weather and snow of the transport-killing kind ourselves! Out of interest I don't totally buy into the

"Blah, the UK is lame for grinding to a halt with a little bit of snow, the rest of Europe copes MUCH better!"

mindset. Firstly because this is the most snow I've seen in a decade here, so it is kind of hard to make an expensive continual contingency plan for something that infrequently happening. Secondly, because the public transport around here at least has done its very best to keep itself going. Apart from one morning when everything was obviously screwed, they seem to have been more punctual than usual? Maybe because a lot of the lamers normally clogging the roads took the advice to stay at home, which suggests any problems they've got are congestion related, rather than anything to do with the weather.

Still, I was able to amuse myself on the longer than usual journey to work the other morning by taking the odd piccy or two with the ever-handy mobycam...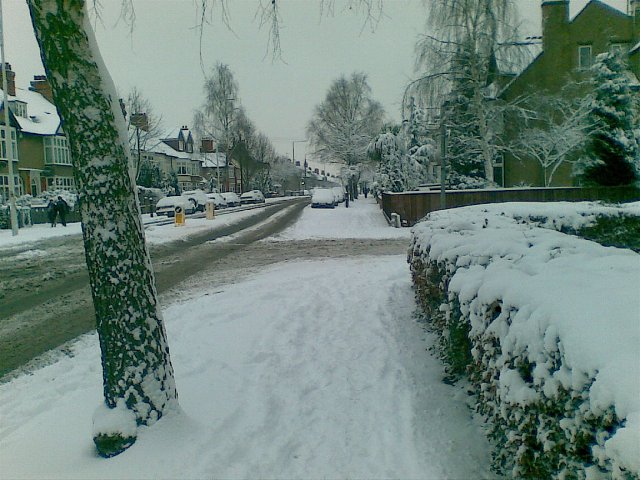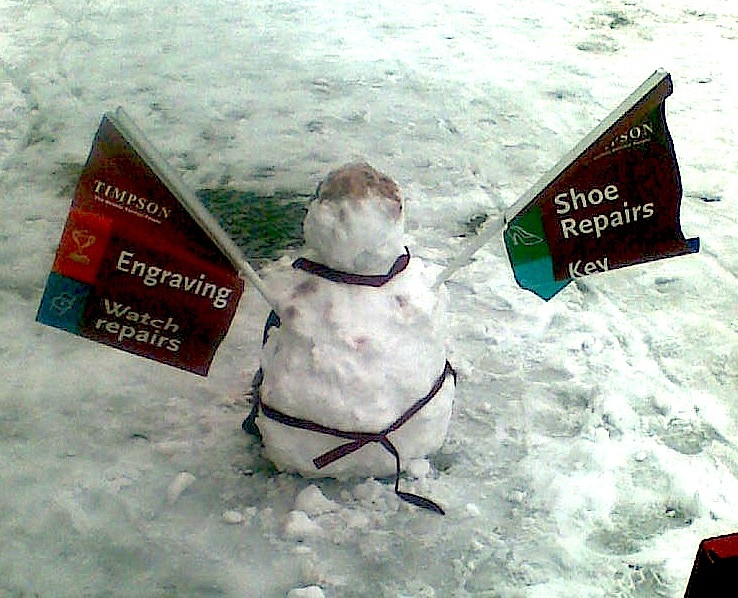 Looking down the road from the bus stop. Problem, or opportunity?!

As for Alive issue 15, I'm really not sure what is happening? The main man, CXT, Cyclone, or just plain Heinz appears to have dropped right out of sight like a stone plummeting down the shaft of a bottomless well and no-one can hear the splash at the bottom, or something. I do recall that he previously embarked on a hard and stony self-employed road to make a living, so in these credit-crunched times, who knows what goes on?! It's still too early to make

contingency plans

for the stuff that I and other people have done at this point, but time marches on...

That turned out to be more entry than I was expecting. Oh, and it appears to be the third anniversary of these pages as well! It does seem to be lasting better than the old pages did. Now to get to do some new things on the rest of the site (

yes, but you always say that and nothing gets done, sigh!

)



21st December.


It's just a few days before the festive season '08 edition kicks off. As is so often the case at this time of year, I'm empty of all thoughts and emotion, apart from lists of things to do and buy, which are *thankfully* done now. Random comments and observations will now follow in the order that my mind bothers to recall them.

I caught up with Leon "Mr Pink" O'Reilly on the Atariscne IRC channel a week or so ago. He is still around, and making moves to start prodding some old source code into life on STEEM. The usual disclaimers for breath-holding are in full force, but wait and see for more news from that direction.

My mobycam clips taken at the Alternative Party have been combined into a single feature-length entity, assuming that 'feature length' is around sixteen minutes. I can't be arsed to post a direct link, but you can grab it from the usual place .

The makers of the Atari ST hard drive SD-card replacement gizmo 'Satandisk' (see several entries ago) are actively developing a new and completely revamped version called 'UltraSatan'.This has some nice extras like being able to access higher capacity SD-cards. It also includes *two* slots for SD-cards, so you can write from one to the other in situ without switching off and needing to use a third party go-between PeeCee to transfer data. Oh yes, they are hot-swappable too. I'm seriously tempted, as this should be reasonably priced, even with the currently dire Pound Sterling to Euro exchange rate.

There are new versions of the Hatari and Aranym Atari emulators. Both of these claim some sort of Falcon '030 compatibility, and Aranym claims to have improved theirs. I've got to introduce both of these to my laptop sometime over the Xmas holidays. A little project if (when) I get bored.

There was a work-provided Xmas party with a free bar! Yaay! It was a free bar with terms and conditions though, so not so yaay! after all. As part of the establishment in question having a "No being sick all over the carpet" policy, they refused to serve doubles, and there was a no-no on neat spirits without mixers as well. I managed to get around the latter issue later on in the evening though. Mainly by convincing people with colds that a neat whisky was fine for medicinal purposes, and could they get me one from the bar whilst they were at it?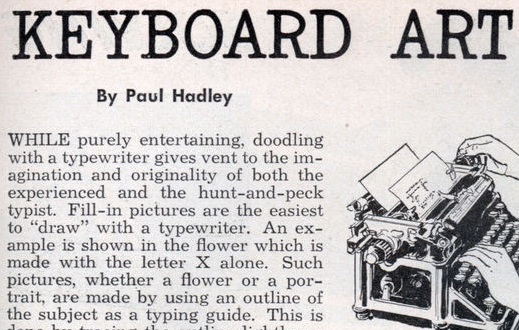 Finally, here's an interesting page-grab which
shows how old this ascii-art thing really is.

Before they had computers in any meaningful
sense, really. Just click on the thumbnail
to the left to get the full picture. If you were
doing it with this analogue clunky typewriter
medium, I guess you would have to plan
very carefully what your next move was
going to be!


Okay, I think that will sort things out for now. I'll be back around the beginning of the new year, thinking new year thoughts...


25th November.

The Alternative Party has been and gone and left a splattering of random and mostly pleasurable memories. It was the biggest event of its kind ever. It had some of the best live acts going, which was quite a long way from the first fumbling noodling around of the organisers friends on stage with a load of gear but not quite sure what do do with it. The 'arty' side of Alt reached new heights too, and we had even more of our Atari friends present this time around. As sort of hinted at in the last log entry, there was a new Atari STe demo released, namely the Dead Hackers More or Less Zero. It survived the rather lame and dismal competition viewing process, where the meaning of 'idiot proof' had been tested beyond destruction. (Even allowing for my previous exposure to the less than smooth run-through's of Alt Party demo competitions.) A previous generation of Atari hardware was also given the top spot at Alt Party, namely the VCS 2600, of old style space invaders games from the late seventies, in the form of an extremely hardware thrashing demo called Doctor by Trilobit.

There will be a full report in the next issue of Alive Mag, due really soon(ish) now, honest! This includes all our post-party adventures, including helping one Martin Eric-Racine move house to another country from Finland, and getting trapped overnight in that country, due to a fundamental miscalculation of ferry times! There may well even be an update of the Alt Party page, along with all the other stuff that's fallen behind horribly on here! In the meantime, here's a couple of piccies.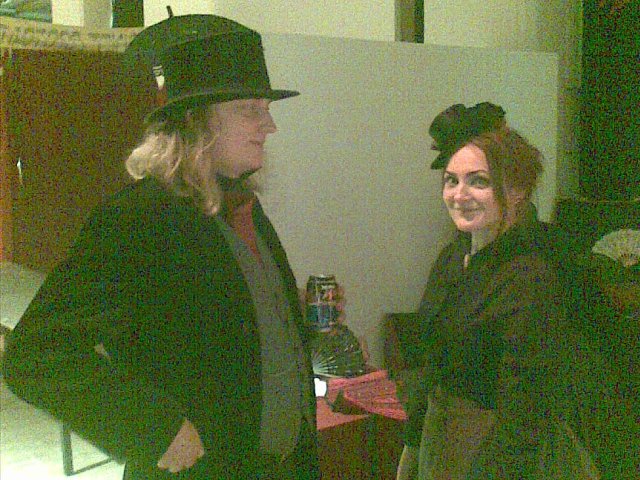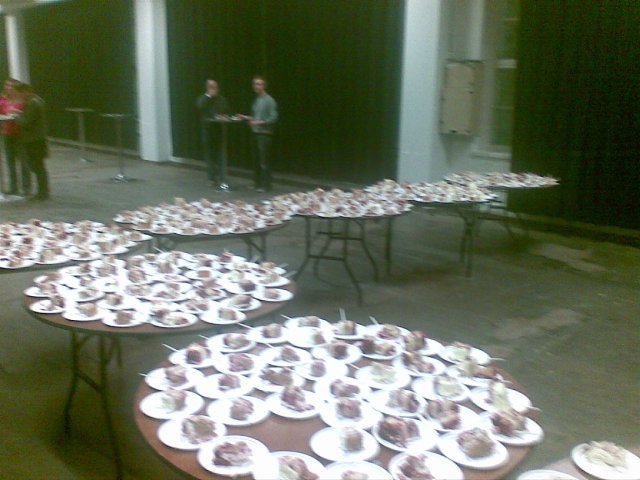 Setok and Marycloud paying homage to the steampunk theme.. As it was the 10th anniversary, there was birthday cake!!


Apart from Alt Party, just the weekend before, we (Me, Felice, Paula and Nicky) took a trip down to North Devon, in a celebration of the New York matrimonial mash-up, which took place at around that time last year, as you may all recall. One of the more alcoholically enjoying themselves relatives at the wedding reception promised an offer of free accommodation in a place called Ilfracombe. This offer turned out to be genuine, so it was, that we all took ourselves off down there. There's not a lot to say really. The place itself was beautiful, we mostly managed to avoid getting rained on, and managed to take in a few of the sights of North Devon in an autumnal fashion, whilst dodging the surfer dudes in their elderly Volkswagen camper vans, which seem to be fifty percent of the motorised traffic around there. A few 'Four go Mad In Devon' styled pictures were taken, here's a couple for you.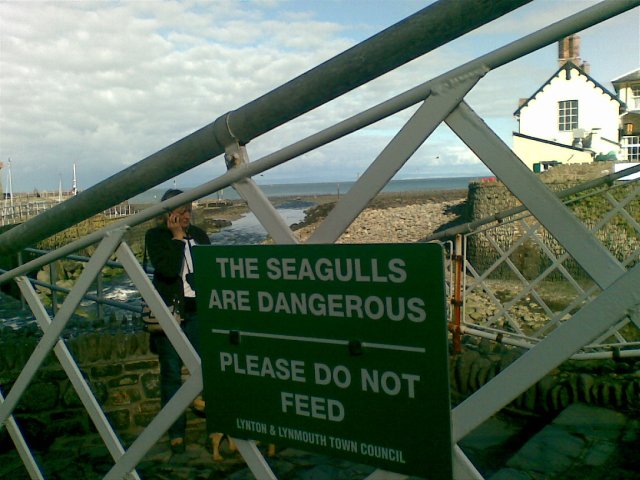 Felice, Nicky and Paula from left to right at Lynmouth harbour.. There's someone on the phone asking for a Mr Alfred Hitchcock?!

Since then, it's been a distinctly unexciting time. We've had an early taste of winter, we're in the build-up period to Xmas, which will get more and more emphasised as the weeks go by. I'm slowly putting together Xmas lists and final things to do for the forthcoming issue of Alive. I expect the next update will be nudging up against the festive season, so there, we're done for now.
17th October.


Lurgy identified?!?


It's now an unpleasant if rapidly fading memory, but I think I might have found out what was ailing me for August and a large part of September. The website linky below gave me a lot of information that led me to a better than 95% diagnosis of what my lurgy was. One of those things that people don't realise what it is

Yes, it was whooping cough! There are still a lot of people at work with it, I sympathise, knowing that they may still have some weeks to put up with the worst part. Coincidentally, the day after my last post, the 21st September was my first relatively 'normal' day for a while, where it could be said I was starting to really get better. There are a few lingering after-effects remaining, but nothing like what I was coughing up before!

Changing the subject completely, you might recall that a couple of past entries had a little bit of an obsession with Kitlers, or Hitler-cats. Well I was planning to set up a modest addendum to the feline tribute page with my small collection of Kitler pics, but someone much better organised beat me to it with a whole website dedicated to the subject, damn them! Never mind, here's the linky,
Meow Heil!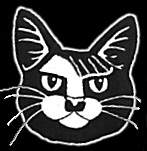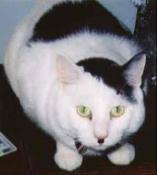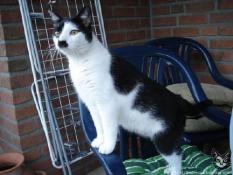 And that's quite enough territorial demands from the feline population for now!

The Alt Party is next week, so close that I can smell it! Or perhaps my sleeping bag needs a wash? There seems to be a lot of Atari bods going now, even some people who have never been to one of these before, and I'm also going to get to see some people I've not seen in the flesh for years (Hi Evil! It was the last Error in Line I believe?) There has even been some Atari related code made for it, with a neat invitro from Paradox as evidenced by the sepia-toned screenshot below. There may be the slightest possibility of something appearing at the party itself, but we'll see!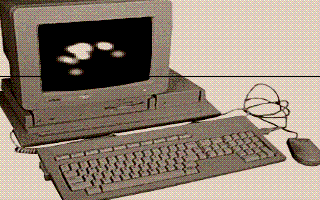 I'll be back in the aftermath period, so see you all later...

20th September.
Lurgy special, regurgitated....
Choose
life. Choose a job. Choose a job in an open plan office. Choose a job in an open plan office that has randomly working air conditioning. Choose a job in an open plan office in a building that should have been 'redeveloped' (demolished) at least five years ago. Choose a job in a office where the Oxford English Dictionary people hastily breeze through wearing biohazard suits to refresh their entry for 'sick building'.
Choose a summer which didn't really happen here but turned into one long sickly autumn instead.
Choose to catch something that gets all your attention for the next four weeks. Choose to watch everyone else get it as well. Choose to pick up an opportunistic successor infection whilst your immune system is still knackered from the first one. Choose to cough up copious amounts of lung snot at night. Choose your future. Choose life. But why would I want to do a thing like that? Ahh, I did! I made my coughy fevered bed, so I have to lie in it. - With some sort of apology to Irvine Welsh, I guess.

A surprise update leaps in, as a slow recovery from the '

thing

' mentioned last time is interrupted by a fellow-travelling virus, even before the after-effects of the other one have completely gone. So it's occasional outbreaks of a coughing apocalypse, dizzy spells and headaches, not to mention the lung snot I mentioned before. It'll get better, one day....

In other news, a mobycam grab which was going to feature in this update had an unexpected promotion to the pages of the leading satirical mag,

'Private Eye'

. It can be found at the bottom of page 24 (Literary review aka 'Bookworm') in issue 1219, the current one on sale at time of updating this entry.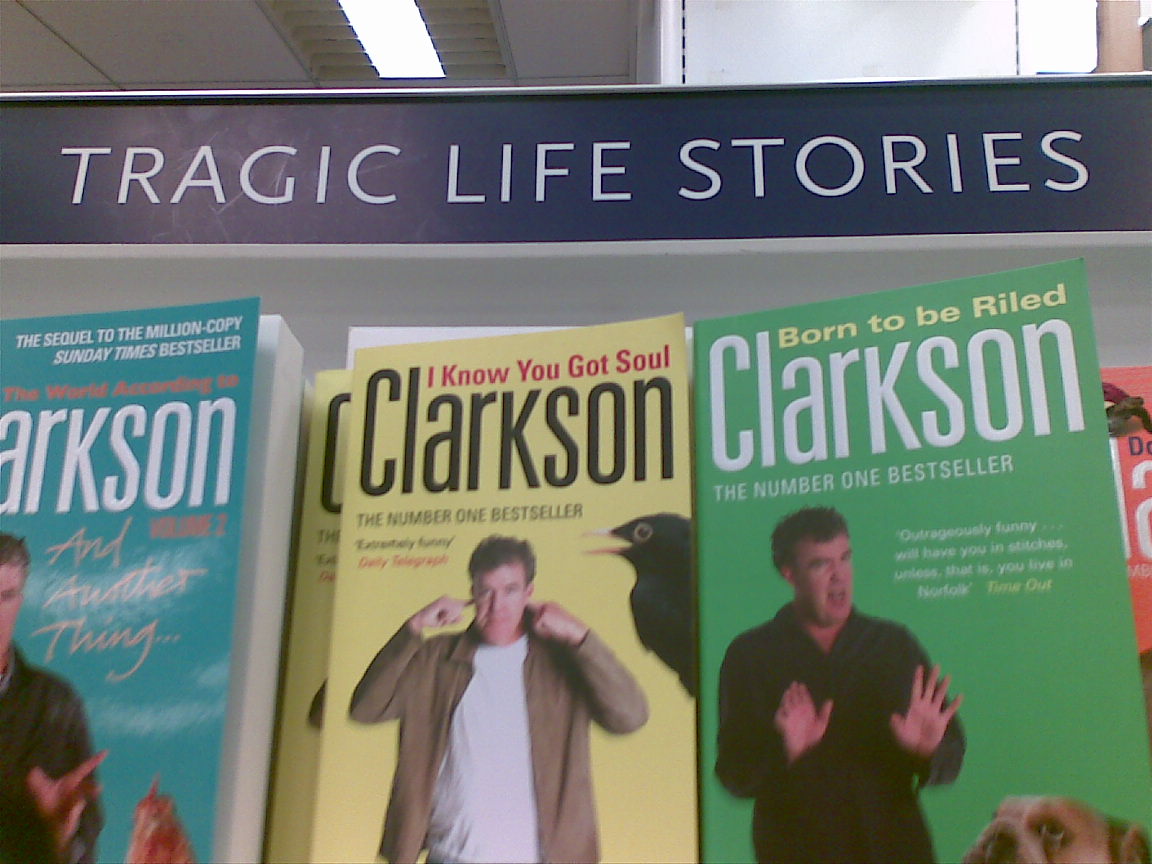 But we all love Jezza, don't we?! This earned me a nice crisp tenner (£10).
UK readers will need no further description or elaboration. Others might want to know that Jeremy Clarkson is a professional media troll, very good at what he does. He can be intermittently amusing, especially on the motoring tele programme 'Top Gear'. But to a lot of people his style and humour is a big turn-off. The picture was taken at the premises of WH Smug in Northampton, when they were in the middle of a reorganisation. I get the feeling that the juxtaposition of category and reading matter was a deliberate joke on the part of a member of staff. Good job I was there to make sure it remained for posterity!

That'll do for now. Next time I'll be in a better frame of mind and body for updating.


31st August.


It's been a while, so a big update is due. Since the last time, The first thing that happened in June was something of extreme shittiness, as Molly, the dafter and more openly affectionate member of the family feline menagerie died. She had been losing weight for some months beforehand. An initial vets visit gave us some early hope that this was due to an easily controllable (by drugs) hyperactive thyroid gland. But a few more weeks later and it became apparent there was something else going on as well which was killing off her red blood cells and ultimately that was the end. The vets were very good, and tried to do everything they could to help her. Here's a picture of how I prefer to remember her. Molly, you were a silly cat, but very loving, you will be missed.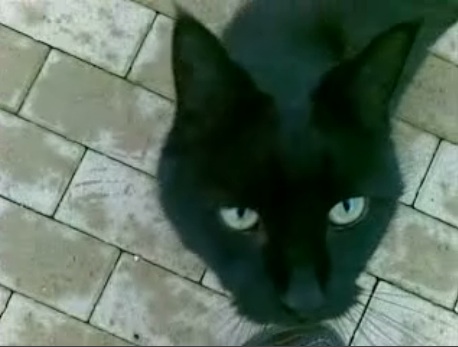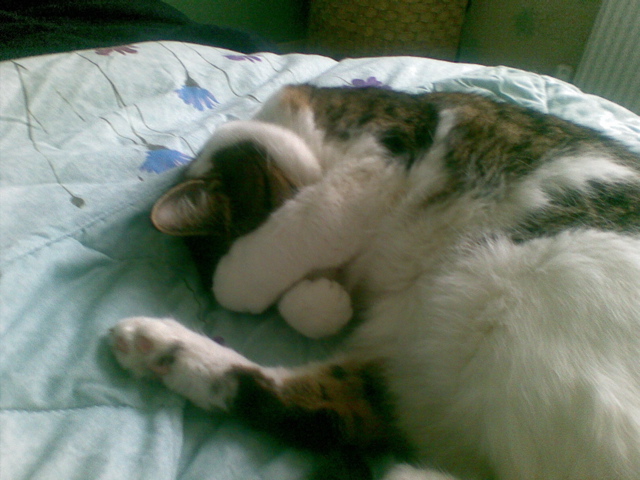 Molly being mobycammed, wants to see what's going on.. Meanwhile, Cloe sees no evil whatsover...



The feline tribute page will get the usual update soon. The other cat Cloe is still very much alive and healthy, and seems to have expanded her normally quiet and sensible personality to fill some of the space left by Molly pretty well. If it goes much further, we may be talking in terms of some kind of after-life possession by Molly?!

Of more general and less dismal matters, Nicky and I did something completely different for our summer holiday, namely avoiding the sunnier parts of the world and going to Edinburgh, the capital of Scotland, a known sun-dodging country! Well we managed to carve out a good time there, having the use of a comfortable apartment near the city centre in one of the 'antique' districts of Edinburgh free of charge as it was provided by a family member of Nicky's was a good start. We managed to take in a number of the sights, including the zoo and the castle, pictures are attached below.

Here's a recipe for Scottish-style artery-killer cheeseburgers, this was picked up from our local chippy, which is a tourist recommended place, and seems to be a joint Italian-Lithuanian operation.



1. Everyone else's cheeseburgers, processed cheese slice and meat in a bun with salad, garnish, McDonalds stylee, whatever...




2. Scottish style, take one processed cheese slice, place on top of a frozen burger, dip in batter and deep-fry! Enjoy, and die!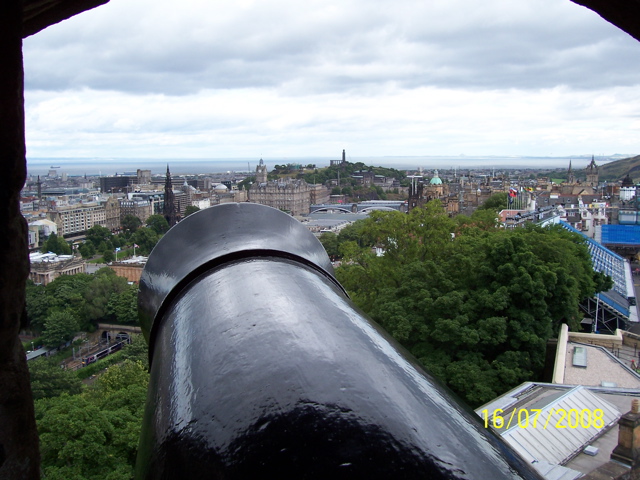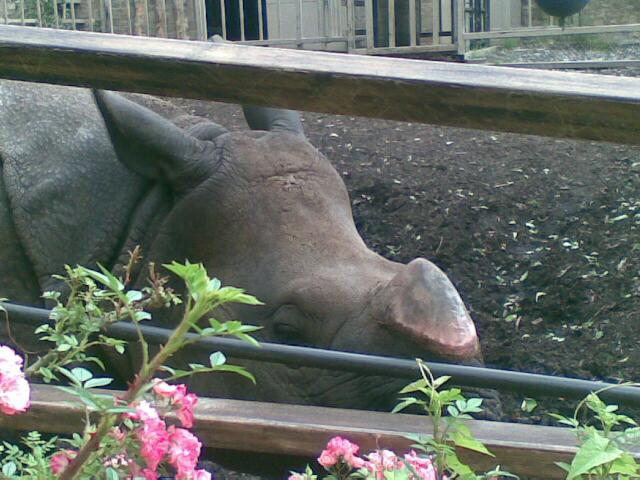 Gunners-eye view from the castle looking down to the city centre.. Rhino-plasty at the zoo!



As for the rest of it, I've finished my Alive 15 stuff, but no-one else did, so there was not a release at the Evoke Party after all. Gives me time to add some more stuff at least. I'm also experimenting with adding a compact flash as a replacement hard drive to my CT60 with (so far) partial success. This works perfectly well in normal Falcon 030 mode, but does not want to know when running as a CT60. There remains a definite question mark over the health of the current 'Travelstar' IBM IDE internal drive (known as 'Deathstar' for its reliability in certain quarters!) and I'm not totally sure there isn't an issue developing with the CT60 itself, or the area around the expansion port as it does not like to boot sometimes, and randomly freezes at other times? I suspect an upgrade of my HD-Driver version might help with the CF problem at least, more later, as they say.

August was dominated by some strange lurgey type thing which gave me, and a lot of other people at work,

the cough from hell.

It's been about four weeks. In keeping with the brief and terse style of this miniblog, I'll gloss over the sleepless nights, interrupted sleep when able to sleep, the coughing and choking fits that result in out of body experiences, and a general malaise where your horizons shrink to just getting through the next few minutes. Still, I'm getting over it now.

I ought to be updating the Geek pages too, as I've got a new addition to my hardware family. This is a laptop, a Dell Latitude D610, not the Asus EE-PC or Advent sub-notebook I envisioned getting at the start of the summer. The reason for that is that the Dell comes as a secondhand machine, courtesy of Felice's current place of employment,

COMPLETELY FREE OF CHARGE!

As a two year old lappy of a good spec, it is more than an adequate addition to the family. It might need a bit of money spending on it, as in needing a replacement for the rather worn battery, but it is still a major bargain even with that. It will be replacing the old Compaq tower, and the space where that currently goes will ultimately see the rehoming of Kev 'Taff' Davies Milan '040 into it, whenever he finally manages to get that to me?!

Ok, all for now, the brand new and revamped

Alt Party

, is coming up at the end of October, we're all ready for it. Might get an update in before then, if not, then you'll hear all about it next time!



8th May.


Outline '08, we're back from Outline! It was the best one yet. I guess I wasn't the only person missing out from last year. Most of the usual suspects were there, even some, like Sh3 and MSG, who made a special last minute trip to get there. Of the rest, I'm sure we'll be back for next year, as it is better than 99% certain that we will get another edition next year.

The competitions came back to a more active focus and a higher standard than in the last year or so. Apart from three proper and decent demo entries from Checkpoint, Paradox, and a combined Lineout and RG team, there was also a fake (cough!) entry from some other people. We also only just missed out on a new CT60 demo and (Falcon?) 4ktro from Mikro as well, and I'm pretty sure that there were a couple of other might-have-beens still awaiting their chance at some future date. So not quite a Fried Bits or Error in Line vintage, but close enough.

Although using the tried and trusted car/skipful of retro-computery stuff in the boot combo, we varied our route this year, to the party place at Teh Boemsgoed, made famous or notorious by the 2005 Outline party. Instead of taking the ferry from Harwich (aka

'Toilet by Sea'

) to the Hoek van Holland, we opted for a swift dose of the Channel Tunnel instead. The reason for this was mainly due to the convenient and fast Stena Discovery being pulled from the route and replaced by a slower ship instead. The Eurotunnel was fast and handy, even allowing you to take an earlier train if you were early, which we did. Apart from there being more driving in general, we still shaved a couple of hours off our normal trip timing.

Here's a couple of pictures from the party. A full report will appear in the next edition of Alive Magazine, which will be due for an August release.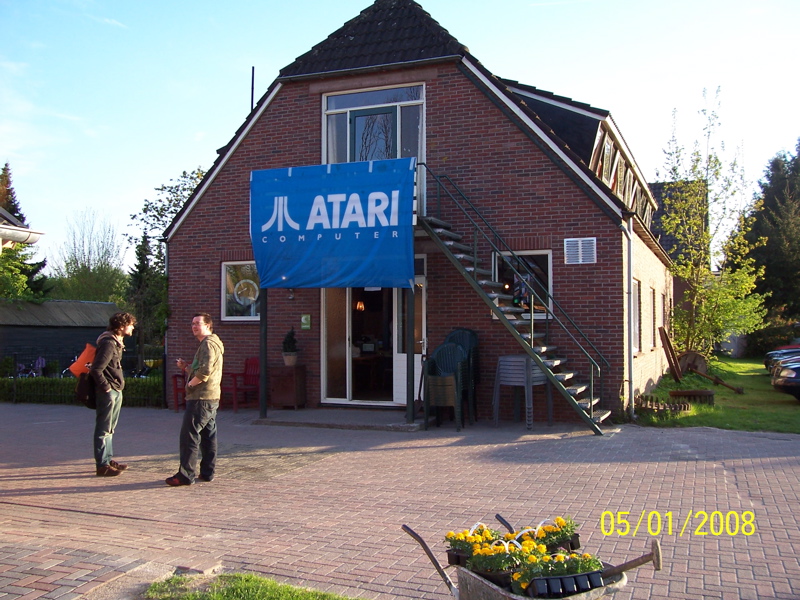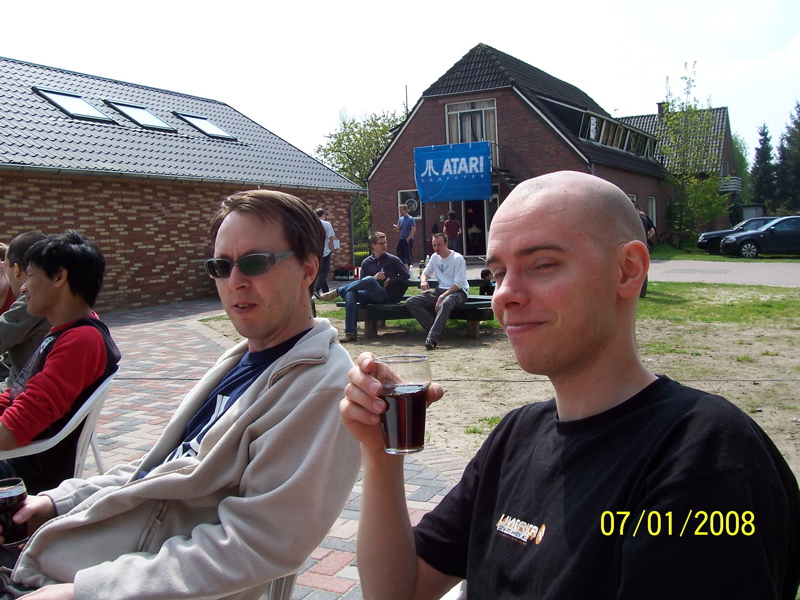 The partyhall, complete with Atari banner. Felice and Earx in a coke-drinking live act watching pose!
In other party news, with the help of the Nature Brothers, we tried to install the Ethernat, which has only been sitting around for a couple of years. Apart from a false alarm with my replacement Mint operating system, we've taken

most

of the requisite steps, and all I have to do is plug the thing back in. Anyway, must dash, party report to finish..


April 20th.


Outline '08, we're off to Outline! It's all booked and paid for. The party famine is finally being broken. And yes, I am aware of a little

something

being made by some people closely affiliated to me intended for this edition of Outline as well. Watch this space in the early part of May. One thing I can add, is that the Satandisk, mentioned several entries ago, seems to be holding up well as a development environment - oops!

Of other news, not too much, I recently travelled up to York for a few days for a family members wedding, the first since the big New York trip last year. We're still groping around for some kind of 'what to do next' for the summer (Nicky asking about this one), and I'm looking at a likely visit to the new and revived Alt Party at the end of October. On the CT60 side of things, a few SDL game ports are coming forward, with some hopefully non-idle chat about porting some demos from other platforms to it as well. One or two people may have already taken steps to doing this? I hope they feel up to sharing their results with the rest of us soon!

One last thing before I go away, I'd like to share the cunningly oldschool ascii interpretation of the Outline 'busy Atari bee' logo with you.


                            []  []      [][][][][][][]  
                            []  []    [][]          [][]
                        [][][][][][][][]    [][][][]  []
                            []  []    []  [][][][][]  []
                            [][][]    []  [][][][]  [][]
                        [][][]    [][]    [][][]  []  []
                            []    []    []  []  []  []  
                            [][][]    []      [][][]    
                          [][]      []  []  []    [][]  
                        [][]    [][]                []  
                        []    [][][][]  []    [][][][][]
                        []  [][][][]  []    []        []
                        []  [][][]  [][]    []    [][][]
                        []  [][]  []  [][]  []  []    []
                        [][]    []  []  [][][]  []    []
                          [][][][][]        [][][][][]
Lovely eh! And I'm just a little bit jealous of the ascii design skills used, but only a little bit, as the revenge is on the way! --

Damn and Oops again!





March 8th 2008.


Lifesign, just a little lifesign, let you know I'm still here.

I've just returned to CiH-GHQ in the last few days, there are no more knee replacements affecting parental members of the family to take place anymore. It has taken this long to update the page, because like the last time, nothing interesting at all happened within the last couple of months.

On a good news front, I have managed to pre-book the time off for Outline '08, which is going to take place from the 1st to the 4th May, so if I want to do something for that party, I had really better start soon! One excuse for my laziness has a sort of clue in the last entry, where you see the picture of Molly sitting in front of my screen. She is such a loving and happy cat, she always put herself between me and the computer, one way or another. Sitting on my lap, paws resting on the keyboard, leading to all sorts of hilarious shift key-repeat errors and unexpected movements onscreen was another of her specialities. Now I have no cat-related distractions, and some free time to actually be able to call my own, maybe we can get on?

Little picture, Paula would appreciate this one, having a polar bear fetish and all.




Ok, that's it again, should have a bit more to tell next time.


December 24th.

I-i-i-i-t's Xmuss! So in the immortal words of Slade, we are staring down the barrel of another festive season. The knee-op thing didn't take place on the 17th December due to a variety of reasons, not least of which was one of the surgeon's family members experiencing a medical emergency all of their very own which forced a sudden cancellation. This is now due to go ahead for the 28th, so at least we get a normal Xmas before the knee-challenged party is whisked off for another hopefully more successful attempt.

You might be interested to know that I managed to get my hands on the rarer than plutonium Nintendo DS in the end. Amazingly it was from the retail shed of someone with whom I had dealings with a long long time ago, back in the Wellingborough computer club days in the early to mid-nineties. This was none other than the man who once had a £499 1MB Atari Falcon on sale for five years without ever selling it, give it up for Ralph Kotecha! You da man! I guess that his relatively hidden location meant he was able to keep hold of his stock just a litle bit longer than anyone else.

I'm off work right until the new year now, so time to put my feet up a bit. Here's a couple of miscellaneous cat pictures that I took today with the mobycam.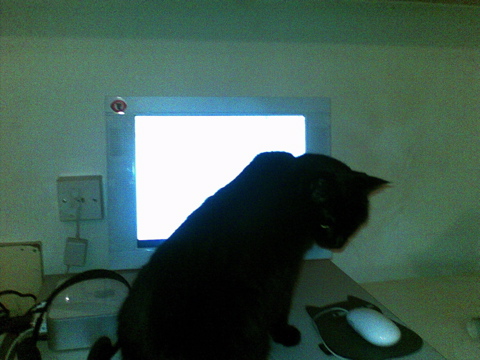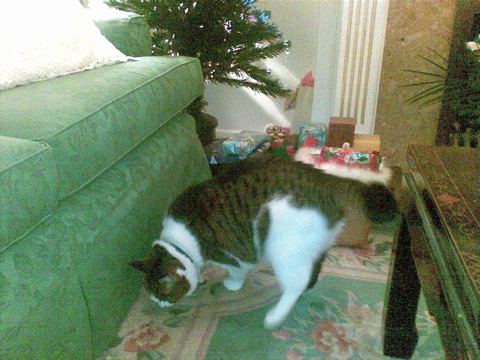 Molly wants to have a go on my Mini-Mac! Or is it just the mouse she is interested in? Cloe narrowly avoids being wrapped up in Xmas paper and getting stuffed under the tree!

I suppose I ought to be doing a litle bit of something creative and possibly Atariscene related in the following days, I guess I'm waiting for the boredom to hit properly. Just give it a couple of days then we'll see! Anyways, merry Xmas, Joyeux Noel, and whatever the Swedish greeting might be (May all your reindeer be nice and tight?!) See you all in the new year. Yo, 2008, I'm talkin' to

YOU

, sucker!


December 9th.
Here we go, it's knee-replacement, episode deux folks!

The 'sort of Novemberish' speculation, a couple or so entries ago actually turned into the 17th December, where we were hoping for 'sort of January' instead. I guess that orthopaedic surgeons want to get in a bit of overtime to squeeze some cash for that last minute Xmas bargain? It is going to make Xmas itself interesting, at least the affected party will be out of hospital before the 25th, but no vigorous dance-based party games are allowed! Also the depth and quality of my New Years celebrations might well take a hit, typical, just when I managed to actually book the time off I wanted for a change!

Still waiting for Milan '040, no hurry Kev, I'm infinitely patient!

Of other tech toys, I'm on the never-ending Nintendo Xmas quest, in this case, not for the Wii, which is rarer than an unsecured weapons-grade plutonium stockpile, but for the nearly as unavailable Nintendo DS. In the very few places where they are on sale, the retail trade insist on 'bundling' them with not particularly attractive games for the late middle-aged demographic I'm buying the DS for. Just when Nintendo deserve a cheer for finally starting to break away from their over-specific age-related niche marketing, the retail and distribution trade come over all dinosaurish and insist on foisting full-price copies of "

Barbie Doll Attack

" and "

Bratz Cannibal Holocaust

" on everybody! (Rant mode off.) I'll try to get a further update in around Xmas, and let you know how that all went in the end.

Still on tech toys, and whilst on the premises of 'Toys-R-Us' (ugh!) I spotted a minature laptop, which upon closer examination, was not one of those fake kiddy laptop early learning toys, but was an actual real laptop, about half the size of the traditional chunky square flat Windowze-driven room-heaters we all know and love. Upon even closer examination, it appears to be very close to this machine with it's hardware spec. Also it appears to be running some form of Linux, features Mozilla Thunderbird as the in-box browser, has wi-fi and a camera built in. I didn't linger too long, but if it is not actually a direct knock-off of the OLPC, it seems to be very closely "inspired" by it. Remembering what I was really there for, I restrained my hand from going for the credit card...

A quick couple of mobycam pictures to brighten up an otherwise dull entry.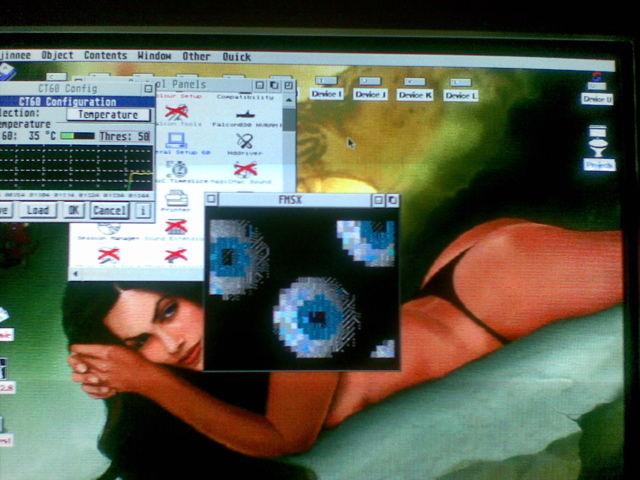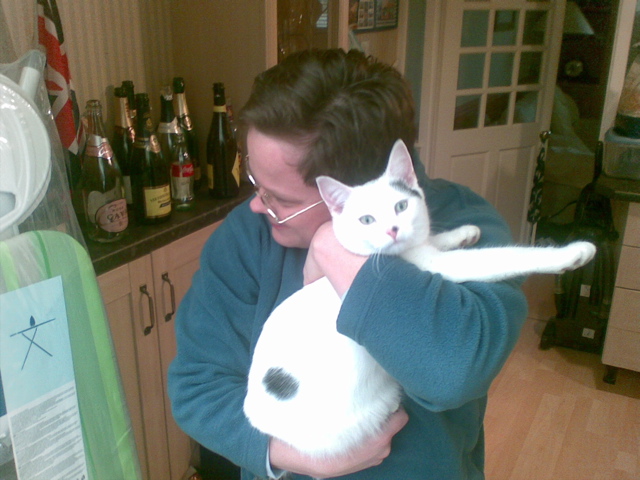 The Fmsx emulator running on my just about working MInt set-up on the CT60 Falcy. Paula with neighbours Hitlercat (quite a charming creature in spite of appearances!)

I've not totally turned off my creative side either, I'm starting to get idea's for another issue of Alive Mag, and I've been working on a collaborative alternative history project, sort of cannibalistic evil magical beings versus a 1940's tech-level human race in a total war setting. The first couple of excerpts from my side are done, I'll let you know more later, probably through the electronic pages of Alive Mag.

I think this will take us nicely to the Xmas period. I've got a bit more spare time there than I normally get, due to overbooking of spare holiday in case my first and second choices didn't come off! So I think I'll update some more around then.



October 27th.
There have been many statements made by famous people, whose words reach down the ages in such a profound manner, that their meaning remains powerfully timeless even to this day.

Off the top of my head, I can think of words like

"The eagle has landed"

- Neil Armstrong. Or perhaps

"I have a dream"

- Martin Luther King, or even

"Get out of yo' bed and do something, yo' lazy child!"

(Martin Luther King's mother.) We're not forgetting Adolf Hitler's final Berlin bunker utterance, in the dying days of the 3rd Reich.

"Eva, ven I'm dead und gone, who vill look affter mein cuddly toy froggie Humfrey?!"

(You made that last one up, didn't you, CiH, you git!)

Well it is time to add some more famous words of huge consequence to the record books, as I will now say that "

FELICE HAS GOT MARRIED!

"

I'm now talking about the New York trip in a past tense, and Felice was forced into his best suit at gunpoint (well, an electric shaver in plastic bag disguised to look like a gun), and driven in company with myself by a maniac Yellow cab driver to the Empire State building, and the deed was done on the 55th floor of said building, when the stretch limo bringing the female half of this famous marital glueing-together managed to force its way through the NY traffic, ten minutes late. So congratulations to Miss Paula Thomas, who is now Mrs Paula Spowart, or is it Felice is now Mr Paula Thomas? I get so easily confused these days? I nearly forgot, Nicky came out with us as well, and did a nice job as bridesmaid. I

think

Felice appreciated my best man's speech detailing some of his more memorable past exploits, the other family members certainly did!

I have got pictorial proof, lots and lots of pictures, so I'll see if I can pop something suitable onto these pages.


All together now, ahhhh! - Nicely emphasises the 'Just Married" and 'New York' aspects as well.
The rest of the NY trip was brilliant, but one thing I didn't manage a lot of was rest and recreation, it really isn't that sort of place. I am still having moments of brain-spazzing tiredness, but most of that is now down to the back to work vibe. At time of writing, the happy couple are still in the States, currently dodging Californian wildfires in Anaheim, but they should be back with us soon. I have another picture I'll share with you, where Felice got ambushed by a mad street rapper when we were waiting in the Times Square queue to join the open-topped tour buses.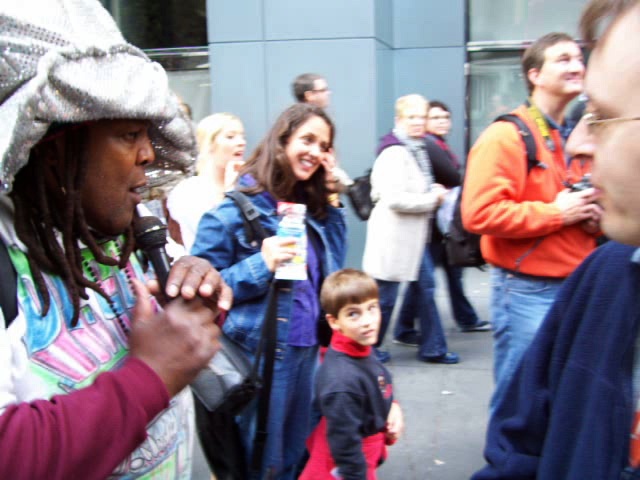 It's a still from a movie clip, hence the blurryness. Felice coped quite well with this gentleman.

In other news, Felice and I managed to get to the latest Jagfest edition in Rochester, the Saturday before we boarded our Virgin Atlantic flight to NY in fact. That went pretty well for a daytrip edition, with myself showing off the Satandisk and STe combination described a couple of blog entries ago. The Falcon CT60 was left in peace at home for a change. I still haven't got around to loading the new emulator ports onto it yet, but I'll sort that out when I next get a good clear day to myself.

Finally for this edtion, there is something else, I've been in contact with Kevin 'Taff' Davies, formerly 'Taff' of the Maggie team, who has just got married himself (for a second time) and is downsizing his hardware collection. For the price of a stiff drink or three, I'll be getting his Milan '040! Cool or what! A nice late birthday present when he is in the area to deliver it sometime in November. Right, the next time I'll probably get around to this is when Xmas will be getting near, probably, so see you then.



September 1st.


I've been a dull person with little conversation, hence the lack of updates...

The knee-op thing went fine, the associated recovery and domestic assistance programme only ended last week, and I've re-established operations at the normal CiH-GHQ address. My atari interests have been sadly neglected in that time, although Heinz finally got his backside into gear and managed to release Alive 14 approximately eight months late at the Evoke party, yet another event I had to have to miss out on, although Felice made a successful road-trip there with a decent "Me-substitute" in the form of MUG-UK. There is even going to be a new edition of the mighty Alt Party taking place from the 2nd to the 4th November, problem is, Felice and I are still recovering from our New York trip, and we will both be financially exhausted. As the other knee is scheduled to be done sort of November'ish, I guess I'm going to have to write off 2007 completely, and reset my scene calender for Outlook 2008.

Other parts of my web "empire" are getting creeping updates, the emulation resources page will be getting some new material, as ports of some more classic computers and consoles have been created for the Atari TOS platform, I'm looking forward to trying out Spectrum 128, MSX and Colecovision on my CT60.

Ah well, time to go off and do something vaguely creative, see you a bit sooner next time...


June 22nd.


There's a new widget in my life which turned up just a week or so ago. This is a storage device for my 'humble' Atari ST which uses SD-Ram cards as a replacement for those bulky mechanical (and hard to get these days) ASCSI hard drives for the ST. It goes under the moniker of "Satandisk", but not for any sinister occult reasons, I might add! This arrival is down to a small group of talented Slovakians, and we only had to wait six months to get it, which is a vanishingly short time in Atari hardware development terms. (Not mentioning all the work done beforehand though!) It really shows how far hardware has come in twenty years, where a hard drive enclosure which took up a fair chunk of coffee-table real-estate in olden tymes, has now reduced to a little box a few centimetres cubed. Cool or what?!

The beauty of SD-cards, apart from their smallness and cheapness, is that you can format for dual PeeCee/Atari compatibility, and with a suitable card reader for the PeeCee, you can transfer back and forth between the two machines without any hassles. It makes bulk transfers between the two a breeze, and also backing up your ST's data onto the dubious safety of another machine's hard drive is an option! Satandisk then also works pretty well as a hard drive for the ST in its own right too.

(You notice I mention 'PeeCee' more than a few times without mentioning the word "Mac". Well I found that OS X can read such a card, it can also transfer files to it, but then tends to add a lot of 'hidden' files of its own, which do naughty things to the card to stop it being read again by the ST!) So I'm using the old Compaq machine as a go-between, which is much better all round.)

I was one of the lucky people who got an early Beta test version of it. At the moment, it is sporting a 256 mb Kingston SD card as my ST-hard drive. Apart from one or two user-made cock-ups, I've managed to get on fine with it. I also took some pictures of Satandisk in operation to share around, so here they are.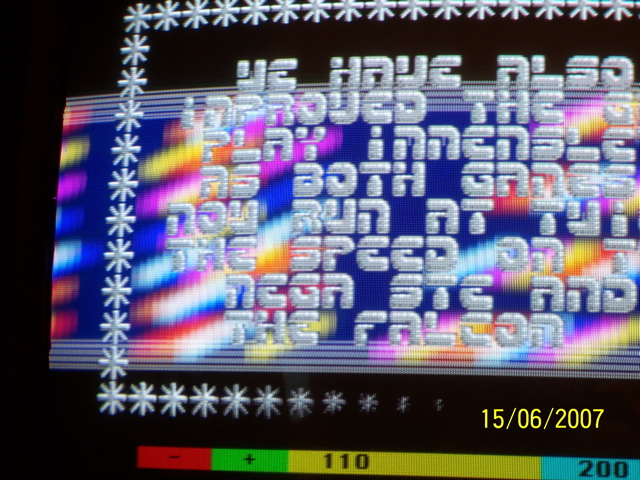 Here's a little demoscreen running, actually the front end of a Dbug menu.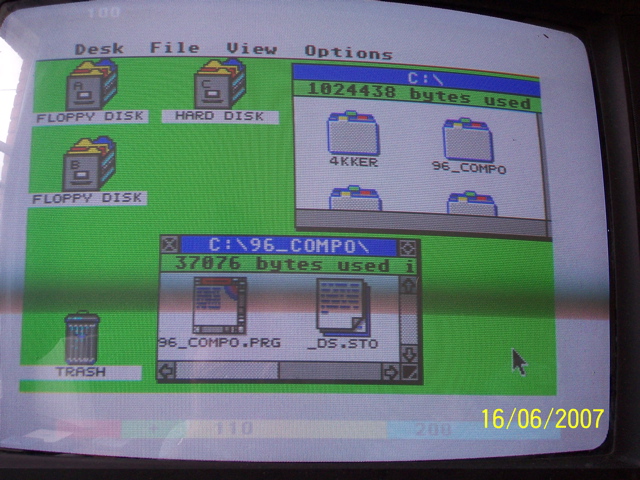 A very early desktop showing Satandisk in operation, the coloured icons aren't from my STe running Falcon TOS, but are
due to a neat little program which give coloured icons to a low-res STe TOS desktop.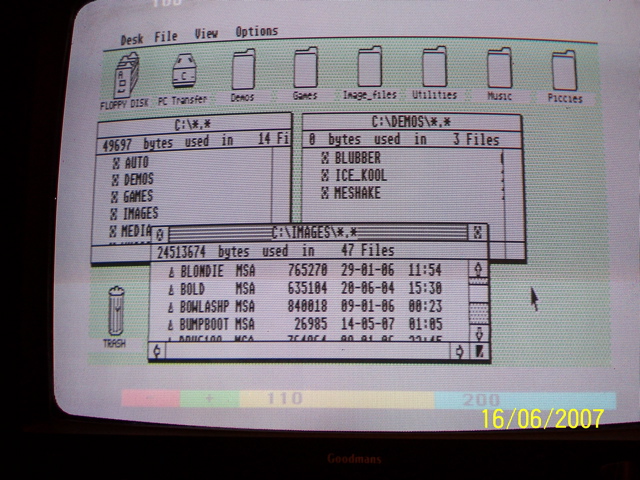 T

his is more like it, a more 'matured' desktop, running TOS 2.06, a logical filing arrangement, and a growing pile of files




on the disk as well. One feature of having a dual ST/PeeCee compatible medium, is that you can only have a single




partition. Hence the fact that everything is drive c:\



In other news, mother finally got her knee-op date, which is about two or three days from now! Which is where life gets interesting, as I will be relocating there for a bit. I should be able to carry on at least some normal activities, as I'm bringing this machine over with me. Apart from that, not a lot else to tell really, so see you all again later.


May 14th.


I guess we're overdue for an update here. I've been slack, and lacking motivation as my major 'creativity anchor-point', the traditional Easter/Spring Atari coding party had been unattainable for this year. We're still waiting on the knee-replacement op thing that I mentioned last time. By the time it was safe to consider the Outline trip, there was no time available at work to book off anymore! So my life is still on the pause button and I'm a little pissed off with that. It also seems that not a lot else is currently going on elsewhere, and people are generally slack, demotivated, and all-consumed with the nine-to-five grind to do anything interesting recently. On the brighter side, we're booked up for New York in the Autumn. Maybe it was a good job we didn't get to Outline, as it looks like New York will be the monster that eats all the travel budget for this year!

Of possible future interest, The Sundown Party in September, which is that rarest of things, a UK-based demo party, down in the sunny Southwest (Budleigh Salterton to be precise!) This is not specifically an Atari party, but we will see if we can get a grey Fuji-shaped machine in there this time? Also, it looks like there are possible stirrings to new life for the ALT Party concept, after a couple of years absence.

I forget to mention before, I picked up an Amiga A1200 some time ago, mainly as a curiousity/gaming rig, but with half an eye on getting a semi-decent accelerator card for the many demo's for it. I'll have to update the geek page at some point soon.

There is at least one strange picture to close with, here it is!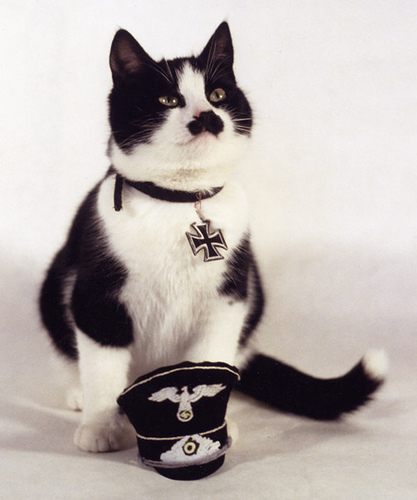 My name is Kitler, Meow Heil!!
There is a cat who looks like that in our neighbourhood! Apart from the peaked cap and iron cross of course. Unlike the real thing, he's a friendly little moggy as well, just a tad unlucky with the colour combinations!

See you next time, in a hopefully slightly more cheerful frame of mind.


February 17th 2007.


We're in the middle of

winter survival going through the motions blah thing!

- Not a lot has happened since the last time, mainly experimenting with various minor illnesses, and slowly adding to my collection of the small idiocies from the spam-makers universe. I've been contacted by a representative of "Llyods Bank" who were concerned with multiple password failures for my non-existent account with them. The clincher this time has to be a Japanese imperial army WWII survivor email that got lost in cyberspace for the last ten years, only struggling to daylight and popping out in my inbox recently, the header reads thus -

"Dial-up access has become affordable, and the advent of ISDN will doubtlessly accelerate this trend."

Cool or what? Let's party like it's 1997!

There is going to be another Netherlands-based Outline party in mid-May, the only problem for me this year, is that this timing is very likely to coincide with a knee replacement operation going on with mother, who will need us around when that takes place, so I don't know if I'm able to go or not at the moment. Sucks a bit.

In other news, Felice is getting married! In Mid-October, in the Empire States Building in NY!! For those of you familiar with the more interesting parts of Felice's past imagination, I can verify this one is CORRECT. The other party in the marital soup is busily stirring the arrangements into life. I'm also going to be there, so is the previously mentioned Nicky as well.

Finally, a BBC news headline announces an

"Action plan for killer asteroids"

. There is going to be a draft UN treaty sorted out about what to do in the event of a large lump of spacial rock threatening to make a big hole in the Earth. I wonder if they will be able to draw on the invaluable knowhow and experience of the ancient arcade game makers. Will their efforts culminate in a small triangular wireframed spaceship to deal with the problem, something like the illustration below?!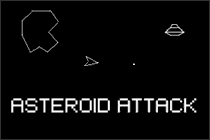 And yes, I'd go on the list to fly it!
I nearly forgot, it's the first anniversary of these new update pages, happy birthday! I will be back before another year passes, don't worry.



December 22nd.


Whooh, it's been three months since I visited this page, amazing when your attention is elsewhere etc. Anyway, a quick update whilst Xmas is breathing hard down my neck. I've not been sacked from my new (in Sept) job, they seem to like me in fact. Also kicked out another bunch of text for the forthcoming in the new year 'Alive 14'. There haven't been any other site updates, but that might hopefully change fairly soon. In other news, I actually seem to be *losing* some weight, as I discovered I dropped a jeans size recently, and possibly a couple! Still, Xmas overindulgence will pause, if not reverse some of that positive trend.

In a grumpy old git aside, I feel like starting a charity called "Headphone Aid", to supply high quality listening devices to the 'yoof' of this borough, who insist on noise-polluting the interior of public transport with their mp3 playing moby's, usually with a rendition of "Yo! Motherf*ck*er da Bomb!" by DeeJay Tonedefc*nt on their tinny speakers. Alternatively, if it works out cheaper, I might suggest another charitable body called "Baseball Bat Aid"?!

I had a few fire-water and coke's tonight, as part of a works 'do'. I managed to stop before reaching any bleariness tipping point, as I've got to be up and about tomorrow, but I'm still fairly prone to making typo's. So it is not a good idea to continue any further. I'll be back sooner next time, I promise!



September 23rd.


Not much to report for this month, mainly settling into the new job. I now say "CPW" unselfconsciously in casual conversations with people, "CPW" being the abbreviated term for 'Carphone Warehouse'. I think there were other things that I took away from the training as well ;-) Generally things have been very quiet over the last few weeks, but it looks like my social calender is kicking into a higher gear soon, especially at weekends, and at a time when it is by no means guaranteed I can have all my weekends off anymore! Ho-hum...

There was one thing I got through my email, which I thought I'd share with you all. This is a so-called "

FRAUD ALERT!!!

" email, which only served to alert me to the fact that whilst fuckwits can use computers in general, and do a fair job of copying and pasting, it's the fine details that let them down! Just take a look at the grab (Fake link to phishville mercifully removed, and the extra comments are mine, done in a Pouetized style of course.)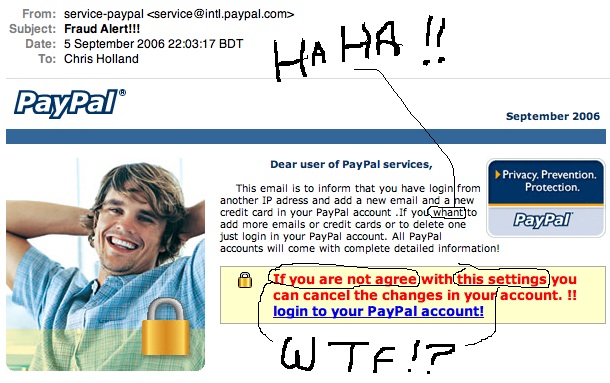 The thicky division of 'Fraud International' strikes again !

Right, no more for now, see you again next time...


August 19th.


Time to catch up on the last couple of months, it has been mostly good news, or at least if there was some less good news, it managed to come with a silver lining hidden in its baggy pockets.

Firstly, I've got a new permanent job starting in September. It is with a national broadband provider, (I'm not going to say who, but UK readers can think "Mowbli" and make an informed guess!) It does provide a significant upgrade to my salary and benefits package over the last job, let alone the (bare) survival rates that I'm currently temping on. So as you can deduce, I'm quite pleased with that development!

Secondly, I've got a new(er) car which replaced my faithful but shagged out Fiat. This chose to stop being able to go around corners, which mitigates heavily against its continued usefulness. Unfortunately, it is old enough for 'official' parts for a new steering column and ignition system to not exist anymore, which would mean hunting in scrapyards at the dead of night, at which point I decided it could become a spares donor itself! The new model is, erm, another Fiat, but one which is a lot less knackered, and came to me courtesy of a nice man at the council who needed something bigger. It's very reasonably priced for what it is as well. As I was sort of half-thinking of changing vehicles anyway, it was a fair result all round.

A holiday in Turkey with the fair Nicky got in there for July, luckily a while before the 'War on Terror' panic mode kicked in, and they started searching inside people's bottoms at airports for hidden explosives! There is a hilarious holiday photo, which will follow shortly, but needless to say, it redefines the whole concept of holiday souvenirs! It was taken on a boat trip along with a bunch or other more or less normal pictures by a Turkish holiday-bothering paparazzi dude.

And there has been more Atari scene activity, with a stunner of a full sized demo called "Derealization" for the CT60 (Falcon '060) by The Dead Hackers Society to round up a very satisfactory few months. Oh, and Alive mag has released its thirteenth issue! It was worth the work, even the stuff which was done under a deadline in the middle of a heatwave. Time for some eye candy perhaps?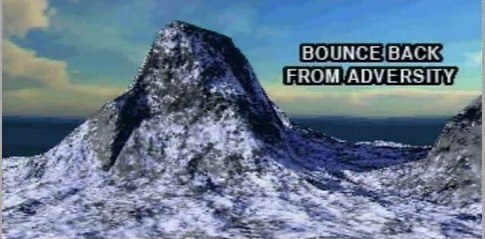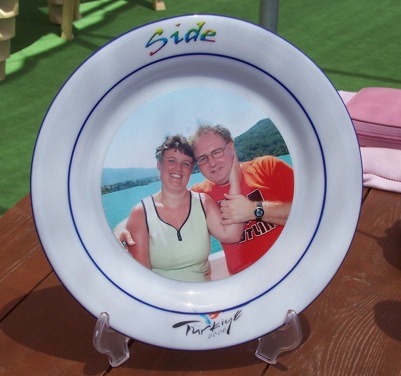 Derealization demo. It looks even better when it's moving! The holiday memento concept is tested to destruction!

And no, I didn't actually buy that plate! Ok, that'll do for now, back later.



June 10th.
We're slow this time around, but quite a lot has happened since the last time.

Firstly, an authentic '

shit happens'

opener. I lost the job that I had for the previous seven years. Careless of me? Well just another

'restructuring'

, and suddenly your job doesn't exist anymore. (And a few others as well, I might add.) However, I managed to bounce back quickly with a reasonable long-term temporary job at the local council, which gives me breathing space to look for a decent new permanent job. And not to mention I did get a little bit of money for being laid off, ho-hum..

On the other hand, I managed to get to Outline '06 in the Netherlands. This was billed as a multi-format party, but with a combination of the good old Atari scene, and the best bits of the mainstream peecee and Amiga scenes, rather than the lame bits which clog up the bigger parties. We travelled over on the 2nd of June, and wound up at an unusual place called

"De Panoven"

, which is like a campsite built on an old brickworks, with some of the workings left intact as an industrial museum.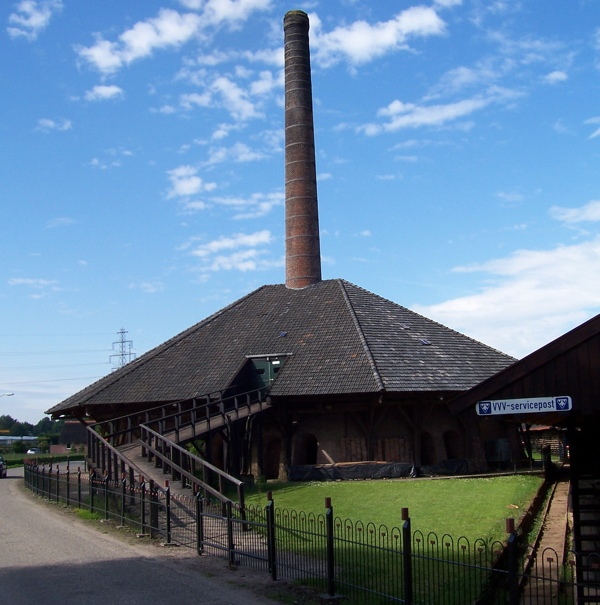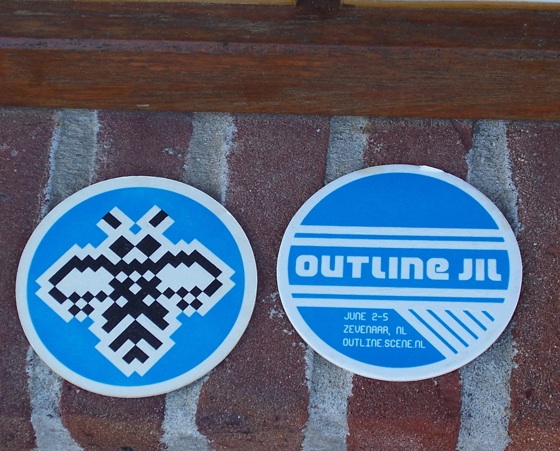 What's she gonna look like with a chimney on her?!
I came to Outline '06, and all I got was this seriously cool beermat! (and the t-shirt!)

I won't go into huge detail, as there is a report pending for the Alive diskmag, which will do that, but needless to say, we had a great time there, and I even managed to do some work beforehand, in connection with another part of this website, the part which featured that lame 'Rainbow' themed slideshow in fact. This is another reason why general website updates have been missing these past few weeks. But instead, you have been invited to

"Dreme of Atari!"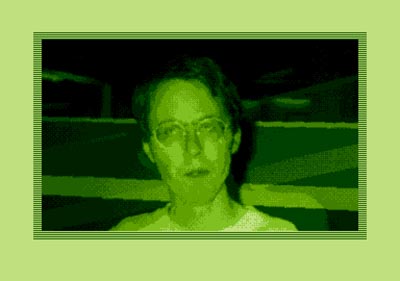 Ferlease feels the rough end of a boozy evening!



Which reminds me, I've got to update that part of the site shortly as well. Never-ending round of work here!

In other news, well not a great deal else. I ought to get on with some diskmag stuff, as deadlines are fast approaching, and then there is the little matter of yet another summer holiday to enjoy with the lovely Nicky.

So it might be a few more weeks before I'm back again, so talk amongst yourselves for a bit...


April 19th.

Hey-ho, and back again, as I blow the dust off the previous month.
In general news, the very overdue CT60 demo revolution has started to arrive, with a great new production from Evolution called '

Supernatural'

. It is a 'party version' (ho ho!) and a bit short, but it does have some superb 3D textures, and may be the kick I need to update the demo screengrab gallery.
With duly contrite apologies to real hardware fans including myself, I have "sinned" by playing the movie version before trying it on physical hardware, but I'm awaiting another major release from

*snip!*

which is due in the next few days, before I burn everything to CD-ROM to transfer to the CT60.
On the other hand, I've made up for missing the Noise Party, by booking to go to

Outline '06

. I get a feeling that there will be quite a lot of people, who weren't able to get together this Easter, also going there!
And changing the subject completely, here we have the first documented appearance of

'BOOBS FROM BEYOND THE GRAVE!'

in the pages of the unmissable

"Love it!"

magazine. This is a publication on sale at the checkouts of most major supermarkets, and with articles like

"My mate chopped up evil ex - Then fed

him to the pigs!"

it is a twisted darkside mockery of the traditional wholesome and knitting orientated '

Women's Weekly'

style. I bet the sort of person that buys those mags, and laps up the dispiriting tawdry muck within, are the same people who want to "ban" the whole internet, "speaking as a concerned mother, to protect the children."

Note, these are real covers for an actual publication which I grabbed on my Mobycam at the local Morrison's, they are almost beyond parody, but you've really gotta try!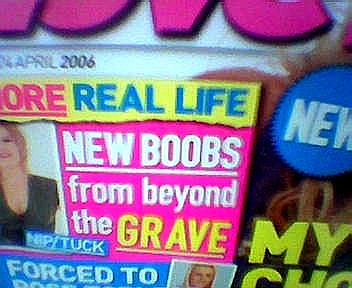 Was Professor Frankenstein a cosmetic surgeon? Just wait for Future Publishing's "Serial Killer Format"!
It seems designed to appeal to a substantial demographic of psychotic women, like that Glenn Close out of Fatal Attraction. Gentlemen, if your new ladyfriend has a stash of back issues of this heartwarming rag, then get the hell out, don't argue, or try to explain, just run!
One wonders if these zombie tits will eventually turn around, and attack their new owners in an undead fashion. In which case Jordan, aka Katie Price, had better blummin' well watch out! Why not go all the way, and feature

"ZOMBIE TITS FROM OUTER SPACE!!"

i

n the next issue? It would be dead good!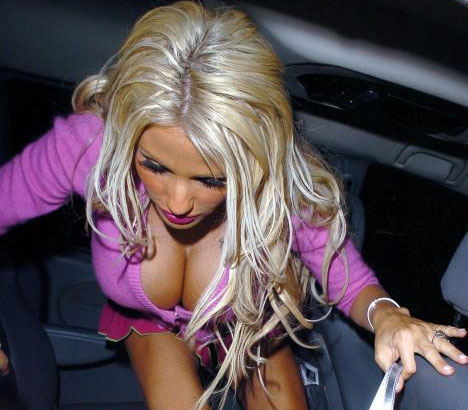 Jordan, aka Mrs Peter Andre, in grave danger without realising it, yesterday...
Ok, that's quite enough for this episode, of screaming madness and fevered dreams of large dangling helium bags, see you all again soon!
March 21st.


Hooray it's Spring! I'm getting a quick update in, as I'm going to be going through one of those periodic disruptive periods, where CiH GHQ is going to be at a couple of temporary locations, until mid-April which might make keeping up with this page a bit spotty again. Of recent interest, we had Felice and Paula over yesterday, with Paula taking part in the

Flora Half-Marathon

at the Silverstone Grand Prix circuit. Yes, that's right, she had to go around without a car! A little tip for people who are interested in this place. It is very bare and open, as befits an old airfield, and in the current semi-winter conditions, the wind seems to have a direct line from Siberia! In other news, the prospects for

Outline '06

are a lot more certain, it is now better than 90% certain that we are going. Also, I've been personally busy, and another
part
of my interweb zone has a new release to show on it.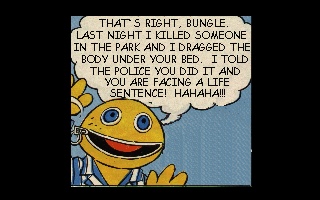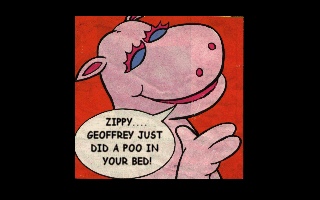 Now we kind of guessed Zippy was a maniac! And George is deeply worrying too!





Yes, those pictures are for real, but not actually done by me. We are planning a further and more ambitious release, to coincide with the previously aforementioned Outline '06 party.




March 3rd.



Not a huge amount to report, but I've added an NEC Multisync CRT screen to supplement my existing LCD screen and replace the knackered old 14 inch thing that has been gathering dust for years. It was an Ebay acquisition, and for a stupidly low amount as well. At a slightly bigger size (17 inches), it boosts the onscreen real estate on the Mac by a decent margin, and provides a flicker-free eye-soothing version of my CT60's current extended screen mode. On the latter machine, you can push it quite a bit further, but it really isn't too clever, when your eyeballs start spinning in their sockets in perfect synch with the flicker!





In other news, Havoc the tall Dutchman has been pulling his finger out over

'Outline '06

'. They've got a plan, a location, and some dates, which are the 2nd to the 5th June. I'm kind of fixing to go, having to suffer the deep lack of an Easter party this year, but there is a rather large and stealthy elephant in the building, as Nicky is looking into moving house. I'll just have to make sure that the Outline weekend is ring-fenced from outside interference at an early stage (arf!)






Feb 10th.



I've acquired a new member of the computing household in the last few days (Thanks John H!). This is an elderly AMD K6-based PeeCee, a

Compaq Presario

running Win '98. It is hardly a state of the art machine, but perfectly good enough for my main intended task for it, for it makes quite a good virtual Enterprise 64/128 with the right emulation software. There's going to be a write-up of some classic games and also some of the newer stuff produced under the Hungarian renaissance for that awesome but tragically undersold machine for the

Alive

diskmag, but I think I might have found one of the killer games for it already. This is a Ball-blazer type game

MagicBall

, which looks and plays closer to something found on the ST/Amiga generation, rather than a quick and dirty ZX Spectrum knock-off. I also had a quick fiddle around with something called

'Pacman City'

, a slower-paced explore-em-up arcade adventure, loosely based on that famous arcade game character. Games of this quality are a small handful on the Enterprise 64/128, the majority of material being quick ZX-Spectrum knock-offs, and not really reflecting the full potential of the hardware. I'll go into more detail on this, when I get going on the article proper.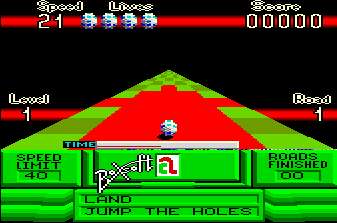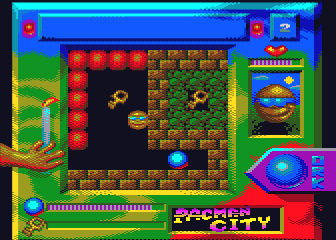 Now this doesn't look like a Speccy game at all! Neither does this! (Pacman City, an arcade adventure.)
A shitey development is being made public on my part, as I'm not going to be able to get to this Easter's demo party, the Noise Party. I was putting this off for as long as possible, but Grey (Michal M.) from the Polish scene asked me. The reason is mainly one to do with me not being able to get away until after the 18th April. However, there is a further edition of the Outline party, promised for around the end of May(ish), and I would very much like to get to that one.
'Tis February 3rd, 2006.. Ahaaarrr!
Is this "talk like a pirate" month or what?
Right, we are cuttink der crap, and it's been over two years since the last update, and I figured it was time to replace the old "Maggie News" with something that is easier to maintain and update on a more regular basis. Since the last time, I've got a whole new computer to go with the rest of my stuff. This is a Mac Mini, which goes quite well with the broadband connection that I also got last year, literally moments later. Coincidence? yeah ok!

I'm playing with a simple webpage constructor, built into a new (re)build of the Mozilla browser, called

"SeaMonkey"

for the Mac. Nice thing is, it doesn't just browse, but it can also be set up as a mailer, there is an IRC client built in, an address book is thrown in, but best of all, from my point of view, is this rather neat webpage builder.
From my perspective,

SeaMonkey

seems to closely resemble

"Wensuite"

on the Atari Falcon!

I guess I will still handbuild some of my stuff, but this is going to be

VERY

useful for those pages which need fairly frequent maintenance, like this one! The intention was always to move my web-building onto the Mac, to make use of the better tools and resources there, but keep the other "creative" projects on my Atari setup. Now we're getting closer to that reality, with recent updates to parts of the site, including a brand new emulation resources sub-site on my NTL webspace.

So what has happened in the past two years, grasshopper?

Well as a long-time Atari demoscene botherer, it's been a mostly quiet couple of years. There's been no great breakthrough for the CT60 as yet. There have been some bits and pieces, glimpsed promises of greater things, but no grandstanding megademo's as yet. if anything, the humbler members of the Atari ST family have been getting more of an intensive workout, with the superlative

"Beams"

demo for the Falcon, and a timely 20th anniversary tribute megademo for the ST. Anyway, you can get a good idea of what has transpired in that area, from my screengrab gallery.

My diskmag activities continue apace, the Alive diskmag is still going. We're up to issue 12. There was a fairly major editor change from

STS

to

Cyclone

for issue 9, but the mag continued unscathed. There has also been some involvement with other publications such as 'Chosneck' and even a few articles for the PeeCee diskmag ''Hugi' .

Nicky, who has been mentioned more than once in the old news pages is still around but we're just friends, albeit very good ones.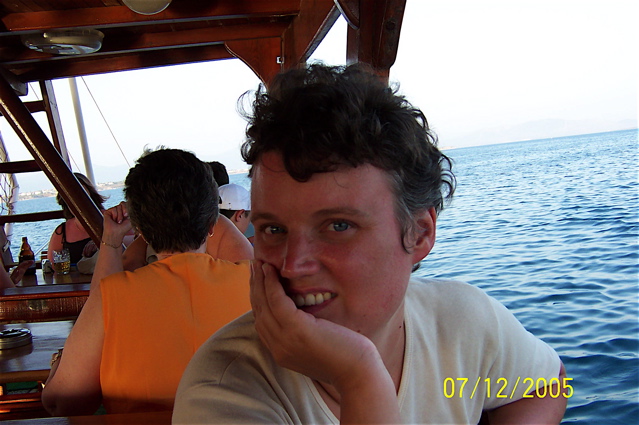 Ironic really, she hates being photographed, and this is quite a good one from a holiday last year in Turkey..



There was some shit stuff to cover briefly here. Dad died of complications from advanced stages of Prostate cancer in the summer of 2004. It was

NOT

a nice year!

The cats are happily unchanged from when I last updated that page. Molly is exactly the same as before, but Cloe is getting a bit more assertive and revealing a mischievous personality!

The 'rush to broadband' led me to take up the Mac Mini. I've also thrown some more cash on the CT60 Falcon, with that machine enhanced further, with un upgraded cpu, a revision-6 68060, capable in theory of up to 100 mhz, (but not quite in practice), and a CTCM control module, so you can tweak the cpu speed on the fly! We are still awaiting the Ethernat USB/Ethernet card, and there are two proposals for graphics cards add-ons as well.

I've started an occasional Ebay habit, and in a triumph of commonsense over infinite wealth, managed to win an Enterprise 64, the foolishly given-away computer of my youth. I will be getting an old PeeCee (shame!) to run the E64/128 emulations. There is a crazy long-term plan to start coding for the soundchip on that machine, to raise its profile on the retro-chip music scene.

Generally, I'm in the same job and living situation as two years ago. I'm too comfortable I guess? it's horrible how time drifts so easily..


Of related interest, the one person who has transformed his life in the last couple of years is

Felice

. He got entangled with a fatal femme,

Paula

, and took up residence with her. We even managed to get her and Nicky to see something of our strange parallel geek existence at the Outline '05 Easter party. Now that was a blummin' miracle it went off as well as it did!

Anyway, that's enough updating for tonight! I'll be back as soon as I can, which will be quicker than two years, honest!

The old Maggie News pages are here..

Return to the Header page here..



(C) CiH, as and when he can..