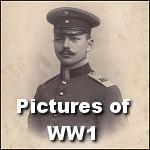 Already a member? Skip to members' section.
Welcome!
Welcome to the home page of the 'Pictures of WW1' net ring. This ring brings together websites which display pictures and photographs illustrating the First World War. One of the main aims of this ring is to provide links to photographic resources available free for educational and non-commercial use.
When I created my "Pictures of the Past" website, displaying a collection of World War One photographs taken by my great-uncle, I didn't expect to get so many emails from students and teachers around the world thanking me for making these photographs available for them to use in their school and college projects. Many of them also ask if I know where they can find other photographs which they can use. I realised that it isn't easy to find free material which can be used for educational and other non-commercial projects. So I've set up this web ring to bring together websites which not only contain pictures of the First World War, but which make some or all of them freely available for non-commercial use.
Joining the ring
Criteria
You are welcome to join the 'Pictures of WW1' net ring, if:
Your site contains a reasonable number of photographs, of reasonable quality, which illustrate the First World War;
You permit some or all of these photographs to be copied and used, free, for educational and non-commercial use; and
You are legally entitled to give permission for people to use these photographs.
NO sites containing "adults only" material or promoting racial hatred or discrimination will be considered.
Site submission
If your website fits these criteria, and you'd like to join the ring, please complete and submit the Join Form below. That will place your site in the ring queue and let me know that you want to join. I'll take a look at your site and let you know if it is appropriate for this ring - chances are that it will be if you've decided that this ring is appropriate for your site!
Ring code
Within a few minutes of submitting your site, you should receive an email containing the HTML code for the ring logo and links. Copy and paste the code into EITHER the page you registered for the ring OR a webring page that is clearly linked and signposted on your site. The ring logo and links MUST appear on one or other of these pages so that people browsing the ring don't have to hunt all over the place to continue from your site!
You should edit the code to replace the phrase "ENTER YOUR NAME HERE" with your own name or nickname.
I've created a selection of ring graphics, below - feel free to use the one you prefer. The first one is the default graphic for the ring. Take a copy of the graphic you want to use, rename it "picww1-logo.jpg", and upload it into the same directory on your web server as the page you pasted the HTML code into. Email me (dms@zetnet.co.uk) if you have any problems doing this.
| | |
| --- | --- |
| Graphic 1 | Graphic 2 |
| Graphic 3 | Graphic 4 |
When the ring code is set up properly on your page, the ring banner should look like this (with, of course, your chosen graphic and your own name):
If you prefer, you are welcome to use a simple set of text links, instead of the ring banner shown above. For example:
---
This 'Pictures of World War One' net ring site
is owned by Donna Smillie.
(a RingSurf net ring)
[Skip Previous | Previous | Next | Skip Next | Join]
[Previous 5 Sites | Next 5 Sites | Random Site | List Sites]
---
Use the following code if you want to use these text links instead of the graphic banner. You'll need to change the following:
Change ***SITE EMAIL*** to your own email address (the one you entered in the ring join form).
Change ENTER YOUR NAME HERE to your own name or nickname.
Replace every occurrance of ***SITE ID*** with the site ID sent to you in the joining email.
Here's the HTML code:
Final check
When you are happy that the code is set up correctly on your page, email me at dms@zetnet.co.uk to let me know. Don't forget to include your site ID and the URL of the page on which you've put the ring code. I'll check that everything is OK, and then move your site from the queue to the ring. And that's it!
Bookmark this page
You may want to bookmark this page so that you can come back here to edit the details of your site (eg if your email id or site URL changes, or if you want to change the description of your site), and to check the ring statistics.
Feel free to email me at dms@zetnet.co.uk if you have any questions or problems. I look forward to welcoming you to the ring!

---
You can login here to edit your site details: