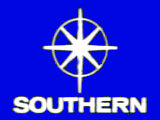 Southern Programmes
Like most of the "smaller" companies it was a struggle for Southern to get anything onto the network, despite them having an advertising revenue which was not that short of Yorkshire.

Like others in the same position the strategy was to attack niches, which for Southern were children's programmes and opera. The former were built up by Jack Hargreaves, the inventor of How, and continued by Lewis Rudd.

Below is a small subjective list of programmes. If your favourite Southern Television programme is missing let me know, and I will add it.
First Programmes

17:30 Southern Rhapsody
17:40 ITN News
17:50 'Filmed Drama'
19:00 Coming Shortly (clips from future programmes, including I Love Lucy, Dragnet, Gun Law, and The Adventures of Robin Hood)
20:00 Southern Rapsody - networked variety show hosted by Alan Melville, featuring Gracie Fields, Frankie Vaughan, Anne Shelton and Charlie Drake, J B Priestly, Gilbert Harding and Lionel Blair.

Children's Programmes

How
Runaround
Famous Five
Midnight is a Place
Worzel Gummidge
Freewheelers
Flockton Flyer

News and current Affairs

Day by Day
Scene South-East
Southern Report
Opinions Unlimited

Documentary

If the Shoting Starts
Out of Town

Light Entertainment

The Frankie Vaughan Vaudeville Show
Moon Movies
Houseparty

Religious

Come Sunday

Drama

Churchill - The Wilderness Years
Spearhead
and finally: And It's Goodbye From Us
---