PULSE REVIEW IN SKYWINGS MAGAZINE
[Skywings]

Joe Schofield reviews Airwave's new sports glider
Airwave's new Pulse 2 was first revealed to UK pilots in prototype form at last year's Telford show. The glider is developed from the original Pulse built by Airwave's Pacific Airwave factory in the USA. The glider has been very successful in America for several years and now features an improved sail cut and other refinements. Three sizes of this new 'sports class' glider are now available, BHPA certificated and built on the Isle of Wight.
Sports class? Airwave say the Pulse 2 is aimed at '...the early CP pilot or the recreational pilot who wants to go cross-country flying without the hassle of the heavier, high-performance machines'; it's a wing that '...does not demand a high level of regular flying practice'. What this means in practice is a glider aimed at the widening gap in the market between the intermediates and the high performance racing machines, and a welcome development at that.

More power to Airwave's elbow, say I. For too many years pilots could only buy intermediates, with their limited performance and perceived lack of sky cred, or advanced machines designed to win competitions but actually flown by the majority of UK pilots, competitive or not. After you'd grown out of your beginner's wing you bought a monster that, although pleasant enough on a gentle day, had wayward handling, ferocious speed and, as a consequence, was not easy for a pilot of limited experience to land in a confined space or fly well in crowded skies. Airwave were as guilty as anyone of this you'll-get used-to-it-sonny pressure to fly advanced machines and it's refreshing to see them trying to forge a new niche lower down the performance scale.
In point of fact Avian have been building gliders with manners for several years, but recent fears that hang gliding is on its way out have concentrated other manufacturers' minds on making flying fun again. For it has to be said that for every upwardly-mobile ridge cowboy soaring towards League stardom aboard the latest rocket-ship there were too many pilots whose first year of flying was their last, their first hot wing a glider too far. The Pulse 2 is a step in the right direction, offering pilots who don't aspire to competition flying an opportunity to have some fun in the air and sending the message that there are other ways to fly than flat out till you hit the deck. A further positive aspect is the range of sizes available; the three wings cover pilot weights from 100 - 2501b (45 - 113kg), allowing more pilots the freedom to fly a glider of optimum size.
I recently flew the Pulse 15 and 18 and was impressed by their qualities. The first shock is the weight. These wings are light! The Pulse 15 (i.e. medium) weighs in at a mere 531b (24kg), although on close inspection it's hard to see where the weight is saved.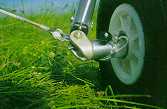 Construction quality appears excellent throughout. Fittings, such as the push-button nose catch, are generally neat and several of the rigging wires have very tidy ball-end swages, common in the US but not here. Round uprights and a speed bar are fitted as standard, connected by pip pins and not the irritating nut-and-split-ring items that the Americans favour, although one of the test gliders was so equipped.
Launching on the winch was simplicity itself, even the 15m version coming off the ground in a just couple of steps, although a slight tail heaviness meant concentration was required to keep the nose down. The recommended weights for the Pulse range give a much larger wing area than we are used to; the 18m model which I'm bang in the middle of the weight range for offers almost 190sq ft although I normally fly a 15m (160sq ft) wing; these low loadings contribute in large measure to the easy launch (and landing) characteristics.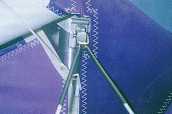 In the air both versions were very easy to fly. A noticeable characteristic was the effort required to start the wings turning, implying a solid roll stability, but this was effectively overcome by the old-fashioned technique of pulling on a little speed before rolling into the turn. Once turning the Pulse would go round on a sixpence and was a real joy to crank into the tight, punchy thermals that existed low down on the day I flew. After discovering this quality initially with the 15m size 1 transferred to the 18m version and had a real ball playing in the strong lift; once turning I found 1 could centre on the bar and make effortless corrections as the lift tried to chuck me out on repeated occasions. This was fun and most definitely not strenuous, and the glider seemed to climb very well. The stall on both gliders is innocuous and the bar pressures are light but stiffen up towards the top end of the speed range. I had no functioning ASI so 1 can't give a top speed figure, but Airwave say the glider will aerotow easily; it certainly made headway when asked - and quietly - although, as you would expect with this kind of machine, the glide is not brilliant at speed.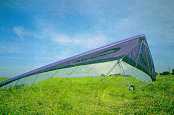 landing was the best bit of all and will particularly appeal to the low timer or infrequent flier. You can park the Pulse just about anywhere. It's completely forgiving of poor flare timing (I experimented) and flies so solely that you can run it on easily if you choose to. It seemed to float on well for the sort of glider it is, but whacking the uprights out would kill the float at almost any speed. It was almost reminiscent of a training glider in the way that there's a perceptible pause between actually flying and coming to earth. You'd have to be trying hard to screw a landing up on this machine.
Al in all, for the market it is aimed at, Airwave's Pulse is a good, honest machine. After flying it I was better able to understand what Airwave are talking about with their sports glider concept. It goes round and round and up very well and you could probably land it while rolling a cigarette at the same time. it ain't ever so fast but it sure is fun!
I applaud Airwave's timely attempt to redefine the hang glider market. The Pulse 2 is a step on the road to achieving this aim and is apparently already selling well to post-CP and established club pilots. It retails at £2,555 for all sizes; the three sizes and the wide pilot weight range they cover will be one of the glider's advantages in a competitive market. It comes complete with an XC bag as a hint to its ambitions and is fun to fly. Here's to sports gliders!
Taken from[Skywings] August 1996