Gas Turbine Project Pages
You are visitor number:
(Counter reset 29/3/02)
Below are a selction of companies who have been particularly useful or generous.
Click on the logos to link to their sites.
Everrett Aero Specialist suppliers of ex. Military Aircraft, Engines and Spares: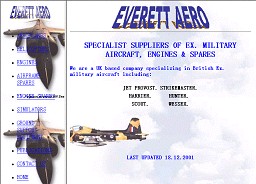 Bowman Power, an amazing collection of diverse technologies combined in one compact package:

If you have an interest in educational products (particularly GAS TURBINES!), then visit TecQuipment's web site:

Avon Aero is the world's source for Military/Civilian Gas Turbine Engines and Components for aviation, marine, industrial, training and research applications:

H S Aviation, an impressive facility for the overhaul of turbine engines:

AEROTECDATA a good source of manuals for US turbines:
Richard Brown's site. A man of singular skill and dedication.

Gas turbines: I'm OBSESSED by turbines. Of any sort, but particularly gas turbines. I've built one using a turbocharger and other bits.
One question I am often asked is 'What do you do with it ?' The only only answer is 'If you have to ask, you couldn't possibly understand'.
My projects, and some similar links:

Artouste Airborne Auxillary Power Plant.

T62 page Another, slightly bigger Ground Power Unit engine.

Nimbus page A slightly less small turboshaft engine fitted to Westland Wasp and Scout helicopters.

Microturbo page  A small gas turbine fitted to RR Adour propelled Hawk and Jaguar aircraft.

Lucas GTS/APU page  A small gas turbine fitted to RR Pegasus propelled Harrier aircraft.

Garrett GTP30  A small gas turbine for electrical power generation fitted extensively to aircraft and ground power units.

Gnome page If you think this is a very sad pun - you're wrong !

Turbocharger turbine project pages First efforts - home made gas turbine.
Links
Useful Shell Aviation Oils information (88kb) 
Ian Bennett - Probably Europe's foremost individual turbine collector ! Lots of links from this page.
Eirik Karlesen - The lucky owner of not one but two Gnome turboshaft engines.
Mark Nye - Some fine projects and engineering.
Thomas Baumgart - More fine projects and engineering, also ignition and rotor balancing electronics
Yahoos list for DIY gas turbine yahoos !
Mail me - rmarmion@zetnet.co.uk (Please insert a dot between the 'r' and 'marmion')
Home page