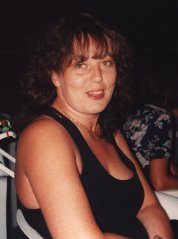 Lynn's Domain
---
Hello. My name's Lynn. I'm the mum, wife, BOSS!!
I enjoy netball (my team, sponsored by Golden Wonder, is doing quite well), and keep fit. I love music like Elvis Presley, Queen and Bryan Adams. I'm not too bothered about films, but like to watch the soaps and police dramas like Taggart and Morse.
As for work, I'm an assistant supervisor for Kwik Save. Enough said.

---

Shaun
Christopher
Joanna
Lady
Creative Stuff
Downloads
Gallery