Photo Album Index Page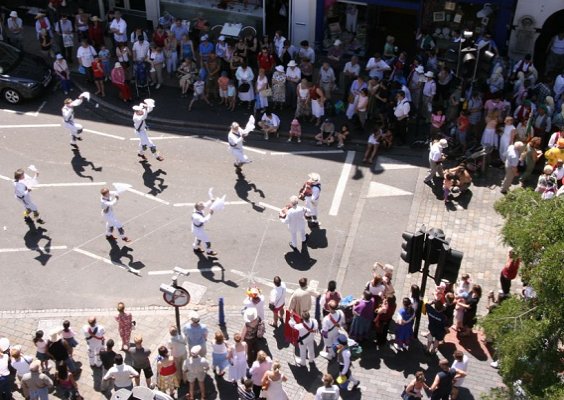 SAMM dancing in High Street, St Albans Festival Day of Dance, Sat 1st July 2006.
[Photo taken from the Clock Tower by Christine Bennett. Another nice one here]
---
Follow the links below to see a wider selection from our archives.
---

Photos of our "characters", musicians, current members and some Plough Mondays
---
Photos from our 2005 programme - our 75th Anniversary Year.

Photos from our 2004 programme

Photos from our 2003 programme
We also appear in some photos of dancing in Trafalgar Square during the Westminster Morris Men's Day of Dance, as captured by ukstudentlife.com

Click here for "Glover's Galleries" - which include shots of SAMM in 2002

A Synopsis of 2001 including the Pursuit of Happiness Tour, USA

Visit of Foggy Bottom MM and Rock Creek MW to St Albans - July 2000

May Day 2000

Visit to Toronto and Niagara Falls - September 1999

May Day 1999

May Morning and Herts Show 1998

Visit of Green Fiddle Morris of Toronto to St Albans - July 1997

Brock Wedding - June 1997

Mediaeval Fair, Crecy, France - August 1996

Some publicity photos from 1989

Winzerfest, Alzey, Germany - September 1988

---
Return to S.A.M.M. Home Page.
Updated 17th August 2006. Webslave - John Price. Mail me.